Roca Meridian-N
From a technical point of view, the term "meridian" is used to describe a line that passes through two points in order to divide one location from another; providing a sense of navigational balance. In some ways, this observation is just as appropriate when discussing the line of the same name that Roca has created. read more
Showing 1 - 11 of 11 items
Roca Meridian-N Range
From a technical point of view, the term "meridian" is used to describe a line that passes through two points in order to divide one location from another; providing a sense of navigational balance. In some ways, this observation is just as appropriate when discussing the line of the same name that Roca has created.
Roca Meridian products are known for their ability to tie numerous features of a bathroom together by adopting a unified aesthetic approach. It can also be argued that these items are some of the most versatile which the designers at Roca have ever created. Let us take a quick look at two popular categories and briefly examine what each has to offer.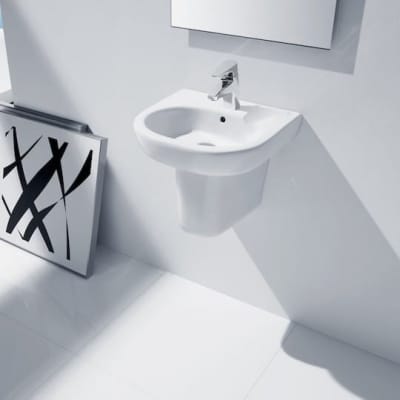 Roca Meridian-N Basins
Roca Meridian basins can be purchased in four different configurations:
Wall-hung
Corner
Semi-recessed
Inset

These Roca wall-hung basins are often preferred within smaller bathrooms, as they are able to maximise the amount of available space. Corner-mounted units are likewise compact in nature and they may be better suited within cloakrooms semi-recessed alternatives are unique due to the fact that their frontal lip will hang partially over a countertop while inset designs can be mounted flush atop a counter.
Regardless of which model is eventually chosen, all basins to be found within the Meridian-N range use durable vitreous china, they are equipped with pre-drilled tap holes and they boast a rounded rectangular shape. Pedestals and partial pedestals are likewise options on many models.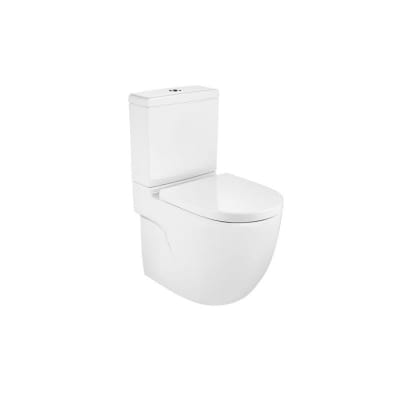 Roca Meridian-N Toilets
Once again, the Meridian-N range of Roca toilets is available in a host of configurations. These include close-coupled, back-to-wall and wall-hung models. Back-to-wall and close-coupled designs will project less into the room; great solutions in terms of space. Each of these toilets boasts the very same rounded rectangular design that has become a hallmark of the entire range. It is also wise to mention that Meridian-N toilets offer additional features such as a top-mounted dual-flush system, a variety of dimensions and a rimless configuration to ensure superior levels of hygiene.
Why not pair a deluxe Meridian-N toilet seat with any of the models mentioned above? Roca offers many of these seats with a soft-close design; helping to protect the hinges and plastic over time. Standard and slim versions can also be selected (based upon the type of toilet and the personal desires of the customer). The use of quality materials and an ergonomic shape further emphasise the characteristics of these luxury toilet seats.
The Meridian-N collection of Roca products certainly deserves a closer look. Please take some time to examine each in greater detail. You may then contact us to place an order or to address any questions that you may have.