Roca Basins
Traditional craftsmanship and a passion for people make Roca an obvious choice when outfitting your bathroom, but they're also qualities that have made the brand a global leader in the bathroom sector. Even after over 100 years of history, there's no question that Roca products still feature the same quality and innovation that helped propel the brand to its current he... read more
Showing 1 - 60 of 82 items
Roca Sinks
Traditional craftsmanship and a passion for people make Roca an obvious choice when outfitting your bathroom, but they're also qualities that have made the brand a global leader in the bathroom sector. Even after over 100 years of history, there's no question that Roca products still feature the same quality and innovation that helped propel the brand to its current heights. In every basin throughout Roca's flagship collections, you'll find premium materials and accessible designs aimed at creating a better bathroom experience in your home and for your family. Whether big or small, classic or contemporary, you'll find durable basins that suit your tastes and exceed your expectations for long-lasting use.
At it's most fundamental, the countertop basin design is not only a practical bathroom solution but an elegant addition to any space. Not obstructed by any other elements, a countertop basin is on display for homeowners and guests to admire, and in Roca's case, highlight the work of its award-winning design team. Models like the Urbi 1 and Bol countertop basins give centre stage to the curved lines and asymmetrical style of Roca's modern sensibilities while also providing a reliable product made of high-quality vitreous china. Designs like Roca's soft, round and square countertop basins from the Inspira collection, on the other hand, feature more balanced dimensions that work in bathrooms of all sizes. They also represent the best of Roca's signature Fineceramic® – a durable, lightweight material that will ensure your basin stands the test of time and remains a standout addition to your bathroom.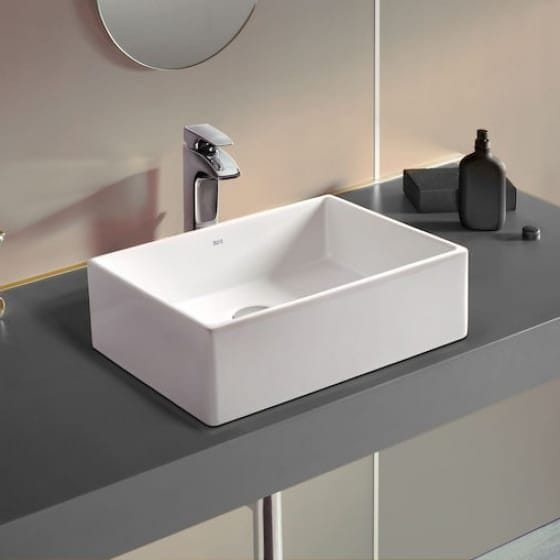 Roca Basin Units
If preserving space is paramount, Roca's cloakroom basins offer the same high quality in a compact size. The cloakroom wall-hung or vanity basins work in one of two ways and save space thanks to their small dimensions. When paired with one of Roca's Maxi furniture units, you'll help conceal plumbing while also maximizing storage space. Roca corner basins are also synonymous with space-saving and take advantage of an often underused area of your bathroom. Left and right-hand corner basins in the Hall collection make the most of small spaces and virtually impossible bathroom layouts by also including a partial vanity, leaving you with a little more room to place your things on than a typical corner basin would offer.
Roca Basin Styles
But when space is abundant or there are seemingly no limitations, Roca has just what you need to expand your possibilities and create a bathroom tailored to your needs. Stratum-N and The Gap collections feature wall-hung designs that offer plenty of surface area as well as beautifully constructed basins. With one or two-basin options, you'll never fight for space again. For a more traditional look, models like the Carmen wall-hung basin will not only provide a generous basin bowl but will also keep things looking and feeling sophisticated and elegant. Designed to recreate Roca's most popular basin of the 40s, Carmen is a testament to the history and achievements of one of the industries most exemplary brands.