Concealed Cisterns
A concealed cisterns discretely sit behind the wall serving the purpose of the visible cistern you see on a standard close-coupled toilet. Not only can this make for a far more clean, minimalist feel but also reduce the amount of space that you need. This is especially important when you are tight on space. read more
Showing 1 - 34 of 34 items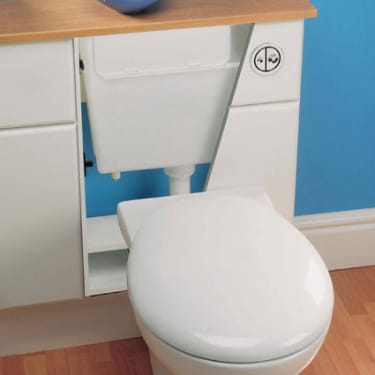 Installing a back to wall toilet in your bathroom is a very on-trend decision. However, this style of pan can't work on its own. You'll need to pair it with a concealed cistern & flush plate to become a fully functioning toilet. Given this, you'll see how important it is to get the right cistern for your toilet seeing it will be installed behind your wall.
What is a Concealed Cistern
A concealed cisterns discretely sit behind the wall serving the purpose of the visible cistern you see on a standard close-coupled toilet. Not only can this make for a far more clean, minimalist feel but also reduce the amount of space that you need. This is especially important when you are tight on space.
How to Select a Concealed Cistern
When selecting a concealed cistern the first thing you will want to consider is the style of flush plate you would like. Since this is the only part which is visible once everything has been installed you'll want to ensure that it suits the rest of your bathroom.
In most cases, your choice of flush plates will be restricted to what is compatible with a particular cistern. By picking the plate out first you will be able to work backwards from there.
After this, the next step will be to choose your concealed cistern. With this, you'll want to consider the amount of space you have available behind your wall to accommodate a cistern.
If you found that you were quite restricted on space there are still options for you. The first one would be to look into a slimline cistern, these have a reduced depth in comparison to a standard model.
Alternatively, you could consider going in the other direction & creating a bulkhead which is essentially a box which will house the cistern. It could also be used with fitted furniture to create a stylish & seamless look.