Roca Laura
Have you been looking to add a softer touch to your current bathroom? Do you wish to enjoy superior craftmanship in combination with a bespoke sense of elegance? Whether you are planning to make minor changes or you have instead committed to a complete redesign, the Laura range of basins and toilets offered by Roca represents an excellent choice to consider. read more
Showing 1 - 9 of 9 items
Roca Laura Range
Have you been looking to add a softer touch to your current bathroom? Do you wish to enjoy superior craftmanship in combination with a bespoke sense of elegance? Whether you are planning to make minor changes or you have instead committed to a complete redesign, the Laura range of basins and toilets offered by Roca represents an excellent choice to consider. What are some options at your disposal and what makes these accessories rise head and shoulders above more generic bathroom furniture?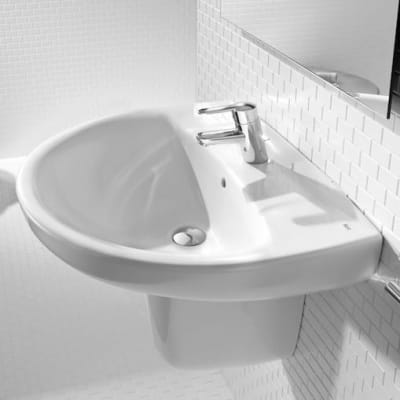 Roca Laura Basins
The line of Roca Laura basins is primarily defined by high-gloss vitreous china finishes and a rounded design. The use of gentle curves will perfectly complement similar elements and a gleaming white finish is sure to subtly capture nearby light. Although the outer appearance of Laura basins is impressive, flexibility is also important.
Users can select from semi-recessed models, wall-hung units and even basins that are small enough to fit comfortably within a cloakroom. The minimal presence of hardware immediately draws one's focus to the circular shape of these models and naturally, their durable nature will ensure years of continuous use with few maintenance concerns. Please note that this selection works well with the line of Roca Laura toilets. This leads us to the next main section.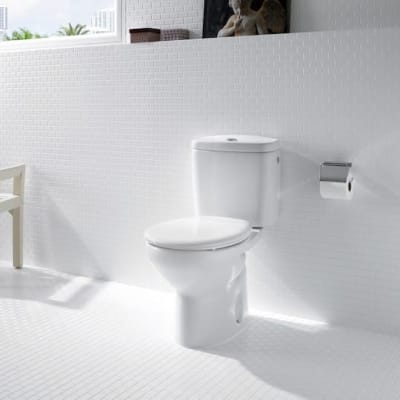 Roca Laura Toilets
Similar to the basins described above, there are several toilet configurations within the Roca Laura line. It is possible to choose wall-hung, close-coupled and back-to-wall models. The main point here is that their subtle appearance and sinuous curves are complemented by the ability to be used within bathrooms associated with a limited amount of space. Still, the comfort of these toilets is just as impressive as their standalone style.
Let us also remember that there are brilliantly engineered Roca toilet seats that are specific to the Laura line. Durable brass hinges can be equipped with a soft-close function in order to limit noise as well as to extend the lifespan of the seat. Constructed from high-quality plastic and resistant to wear, these seats will perfectly compliment any Laura toilet. Please note that every seat comes equipped with a full two-year warranty; another hallmark of Roca reliability.
The Laura range of Roca basins and toilets will provide any bathroom or cloakroom with a soft sense of elegance. Please do not hesitate to examine the technical specifications in greater detail. As always, one of our experts is standing by if you require further assistance.