Just Trays
Just Trays is a very well established designer and manufacturer of high-quality shower trays that are based in the UK. In fact, the Leeds-based company has been making shower trays exclusively for the best part of three decades and how now established a well-deserved reputation as a top British name in bathroom products. read more
Just Trays Brand Page
Just Trays is a very well established designer and manufacturer of high-quality shower trays that are based in the UK. In fact, the Leeds-based company has been making shower trays exclusively for the best part of three decades and how now established a well-deserved reputation as a top British name in bathroom products. In the past, Just Trays brought many innovations to the fore in the shower tray market. For example, it was among the first UK manufacturers to produce an acrylic capped shower tray and it also led the way with adjustable concealed legs which allowed their trays to be incorporated seamlessly into many unconventional bathroom designs.
These days, Just Trays continues to focus on design excellence, something that is backed up by its manufacturing processes and quality control systems. Regarded by many as the number one specialist shower tray manufacturer in the country, Just Trays is a member of the Bathroom Manufacturers Association and has ISO certification in quality assurance and environmental management.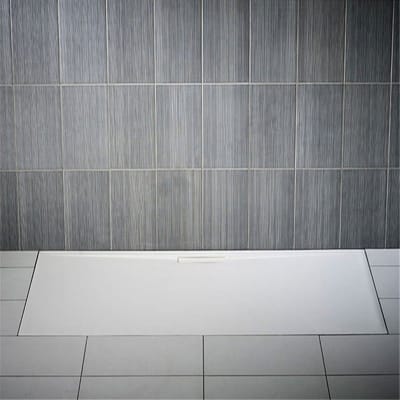 Just Tray's Shower Trays
The Evolved by JT shower tray is a typical example of the high-quality products on offer from within Just Trays' extensive portfolio. This particular one has a low, 25 mm profile which means stepping onto it is much like entering a one-level wetroom. The Evolved range offers square, quadrant and rectangular shower trays for all bathroom and en-suites while the adjustable legs mean installing them is a breeze. Along with the popular gloss and matt white versions of the Evolved shower trays, there are plenty of other colour options, such as Sage green or Astro black, so there is something for every type of bathroom design. Even better, Just Trays offers a 25-year product warranty on both the standard and the non-slip versions of this shower tray.
Looking for something a little different? If so, then Just Trays' Naturals range may be for you. Inspired by the Yorkshire landscape, the Naturals range provides a stone effect that feels great underfoot while never compromising on performance. These shower trays come in colour options like Flamborough white and Malham grey, among others, and you can even opt for matching waste covers to achieve a seamless look. All of the Naturals by JT shower trays also come with a 25-year guarantee.
There again, Softstone by JT also provides a very naturalistic look while providing an ergonomically designed and non-slip surface to stand on while showering. This range of exceptional shower trays is recyclable when the product finally comes to the end of its life and, again, can be supplied with matching grilles. Even better, these award-winning shower trays have antimicrobial properties. If you are after a luxuriant, slate-like feel from your shower tray, then Softstone by JT is likely to appeal.
Finally, the low-profile shower tray designs by Just Trays also includes the popular Fusion by JT line. This group of shower trays comprises no fewer than 47 different products, making it the ideal choice for all sorts of bathrooms, shower rooms and en-suites. There are various riser kits available and some great colour options, such as Astro sand or Malbec red, to name but two. Anti-slip variants are available within the Fusion range, as well.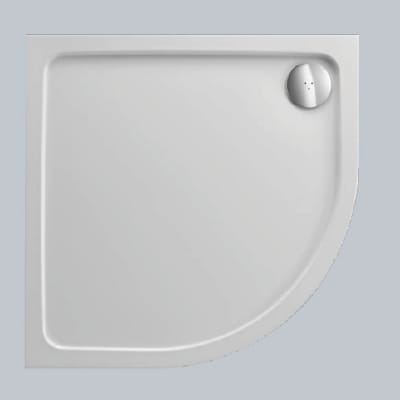 Just Tray's Deep Shower Trays
Available in 39 different size variants, the Merlin range made by Just Trays features an ABS capped acrylic stone resin throughout. Easy to install with an integrated upstand option, every Merlin show tray has adjustable feet that are cleverly concealed behind removable panels. Available as squares, rectangles or rounded-off quadrant shower trays, Merlin shower trays also come with a 25-year warranty period.
Alternatively, check out the Ultracast range. Made in white only, this elegant shower tray product range is perfect for awkward installations, whether they are to replace existing shower trays or being fitted in a completely redesigned bathroom space. These products are ideal for controlling water flow and ensuring your bathroom does not get wet even when your shower is pumping water out at a fast rate.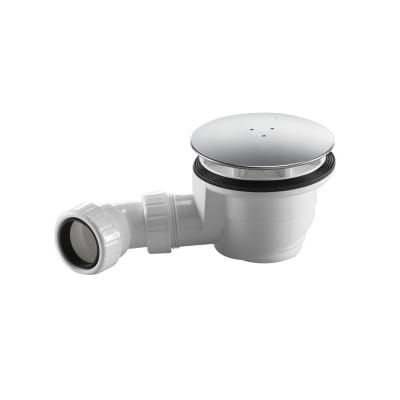 Just Trays' Shower Tray Accessories
There are plenty of great shower tray accessories you can obtain for your shower tray within the Just Trays portfolio, too. To begin with, there are plenty of intelligent water removal systems on offer that will fit Just Trays' shower trays down to the ground. Conforming to British Standards, these accessories are able to handle plenty of water flow and can be easily unscrewed for cleaning. Flexible hosing options mean that fitting them under the shower tray is even easier. Just Trays even produces an anti-slip product that you can retro-fit to an existing shower tray making it safer to use overnight.