Bathroom Radiators
Our extensive range of designer radiators cater for any style of bathroom, whether you want a more traditional look or an ultra-modern design you'll find it at Bathroom Planet. Choose from electric bathroom radiators or central heating bathroom radiators from quality brands such as Reina in a range of different finishes, colours and sizes to suit any style. read more
Showing 1 - 55 of 55 items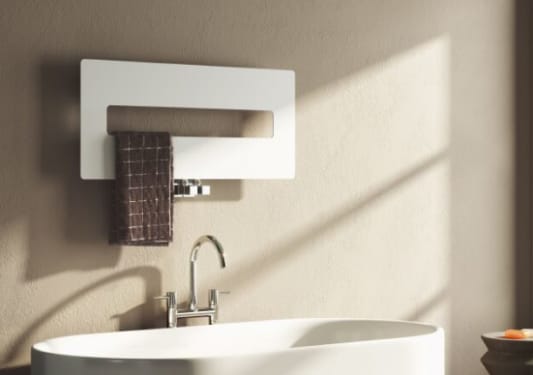 Bathroom radiators are an important consideration for any bathroom design or update because who doesn't want to be warm when they come out of the shower or bath?
With advances in radiator technology over the past few years, radiators no longer need to take up large areas of floor space, meaning that you can choose from a range of wall-mounted options which are ideal for saving space and tailoring to your specific needs.
Radiator Fuel Type
When selecting your bathroom radiator there are 3 options when it comes to fuel source which includes electric, central heating or dual fuel which is also known as hybrid radiators.
Firstly, we have electric radiators which have been decreasing in popularity as 80% of UK households are fitted with a combi boiler which is powered by gas or oil. These radiators can still be suitable for households which don't have a central heating system installed and do offer other benefits such as they don't break down if your boiler does, bleed or have leaking problems and electric radiators can also be fitted with a thermostat for more control.
Central heating radiators work straight off your boiler and can work with both gas or oil. If your boiler works off gas as most do you will save money over alternative options such as oil or electric installations. Gas central heating systems are also around 90% efficient which leads to less wasted energy saving you more money on your energy bills.
The last option duel fuel radiators combine the benefits of both electric models and central heating ones. This means that the radiator will operate exactly the same way a regular model does just with the added benefit of being able to operate with electric instead of gas. This feature is great during summer when the central heating is off but you might still want to use a heated towel rail to dry off towels. The electric component of duel fuel radiators can also give a radiator a quick boost in heat taking effect faster than the central heating.

Radiator Style
When selecting a bathroom radiator fuel type is not the only consideration there is also style. The rise of designer bathrooms has led to many styles of radiator being created. Current models include horizontal column radiators, vertical column radiators or traditional radiators.
The vertical and horizontal radiators come with options for both flat panel or tubular style however this decision purely comes down to style preference. There it is also possible to have a radiator with towel rail functions such as the Reina Victoria.
Another way you can personalize your radiator is in colour. Most models are available by standard in both white and anthracite there is however an option for additional colours. Reina, for example, offer their radiators in over 40 finishes! These are special order and do take a little longer to be delivered but can an excellent finishing touch to any bathroom.
When it comes to material radiators are generally aluminium or steel. Aluminium radiators typically feature radiators that with the steel radiators are more associated with the traditional styles of a radiator.
There are also a variety of options when it comes to radiator valves. Selecting the correct valves can complete a radiator especially if you have opted for a radiator of a particular style or colour. All radiator valves should work with any radiator regardless of make or model so you will not need to worry if they will be compatible when you buy them.