Bathroom Mirrors
Make them shine bright and illuminate up your bathroom, with our hand-picked selection of bathroom mirrors, there's really something here for everyone. From leading manufacturers such as Burlington or Geberit, you'll easily brighten your bathroom up in a special way. read more
Showing 1 - 60 of 134 items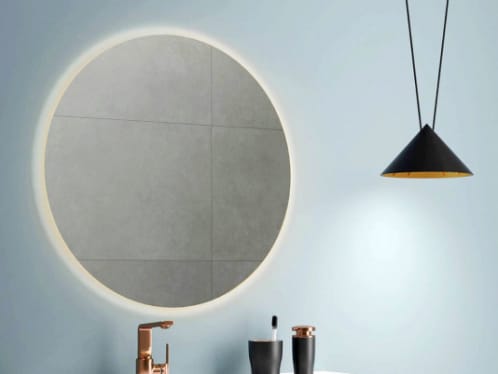 Bathroom Mirrors
You'll find we have cabinet-based mirrors and non-cabinet-based mirrors, both of which make a great enhancement towards your bathroom.
Give a sense of stylishness towards your bathroom with our superior range of bathroom mirrors. Enabling your bathroom to visually shine and stand out, we have LEDs built into a portion of our mirrors section, or you can discover we have excellent quality mirrors that come with infrared switches and mirrors with lighting built-in with sensor switches.
The cabinets are great for storing all your bathroom essentials in. Inside the cabinets are packed professionally and designed not to clutter up, giving you breathing space. The cabinet comes with an interior power outlet and integrated USB port, which is useful for hairdryers, electric toothbrushes and shavers. This also offers to recharge for other portable items as well.
The shelves are height adjustable, which is a huge advantage for your storing requirements. See more from the Roca mirror range, these mirrors are sleek in design. Check out the Geberit Acanto mirror cabinet, it comes with LED lighting, power socket and USB port, all-ready to be used efficiently. You can hide away any charging wires and neatly pack your cabinet up with your everyday fundamentals. These excellent mirrors are designed to help bring your bathroom to life and provide a luxurious touch.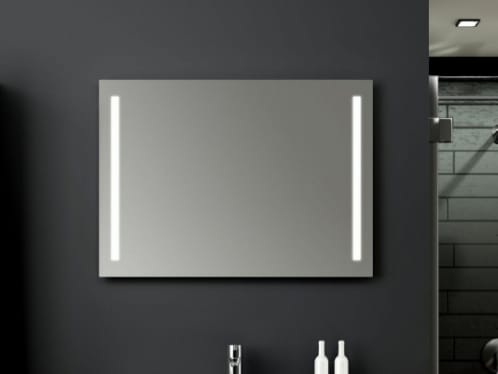 Illuminated vs Non-Illuminated
When it comes to choosing a bathroom mirror there are two options available which are illuminated and non-illuminated. Both types of mirror have their own benefits over the other and we will drill down into those here.
Firstly, we have illuminated mirrors. These mirrors are mostly lit by LED lights. These lights are cheap to power making this mirror a very cost-effective solution. The majority of these mirrors are connected to the mains but there are models too which are battery-powered. This would definitely make it much easier and cheaper to install than the models which are connected to the mains.
There are also mirrors lit by fluorescent lighting tubes. These tubes will sit behind the mirror and can enhance what you are seeing. This is great for shaving or putting on make-up really allowing you to see what you are doing.
Many models also come with integrated shaving sockets or plug sockets inside the cabinet. This is great for charging electric toothbrushes or any other appliance you might have in the bathroom.
Another great feature you will find on bathroom mirrors is the mirror demisting when the room steams up or condensation begins to build up. These mirrors use a thin heat pad behind the glass to keep it clear for you even after a really steamy shower.
We also have non-illuminated mirrors these are also a great option for your bathroom. Typically, cheaper than the illuminated models this type of mirror is simple, minimalist and timeless. They are really easy to install as they don't require any additional wiring so an electrician won't be required. You also won't have to worry about having bulbs to replace. There can models available that are framed or without a frame so regardless of the style of mirror you are looking for we will definitely have one to suit your bathroom.