Shower Trays
With the huge array of shower trays that are currently available, we understand that picking the right one can be difficult. Clearly the shower tray has to be the correct size to fit snugly into the shower enclosure.  read more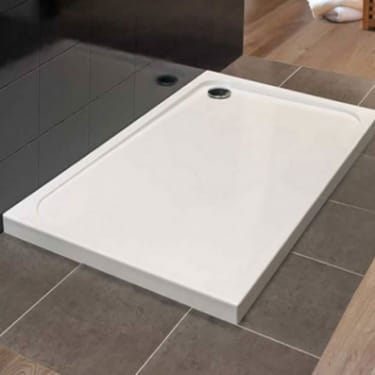 Shower Trays
With the huge array of shower trays that are currently available, we understand that picking the right one can be difficult. Clearly the shower tray has to be the correct size to fit snugly into the shower enclosure.
Naturally, this alone will narrow the available options, but there are many other things apart from the shower tray sizes that might have to be taken into account.
It is worth remembering that although the principal reason for having a shower tray is to ensure that water is prevented from damaging the floor beneath it and causing damage to any ceiling or room below, they can also be an attractive feature.
Which material for the shower base will suit the enclosure the best, normally these shower trays are manufactured in either acrylic or acrylic tone capped resin, occasionally they can be of pure plastic.
What colour is going to suit the bathroom or shower room the best? Traditionally white has been the colour of choice, but this is no longer the "go-to colour" as may colour options can be chosen, although this may be subject to special order and short waiting time.
At Bathroom Planet you'll find trays to suit a huge array of shower enclosures, wet rooms and walk showers.
We have a large selection of shower trays available and our staff is eager to help you with your order or to ask a question about our products. For further information visit our FAQ section or email us at sales@bathroomplanet.com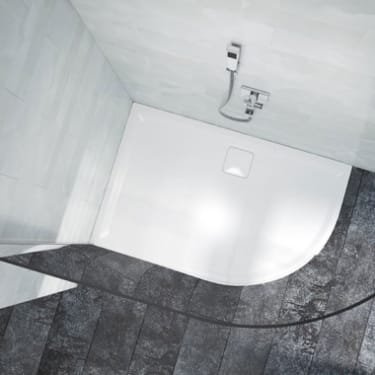 Shower Tray Materials
When it comes to choosing your shower tray choosing one that is made from the correct material can be very important. There are 3 options we sell online when it comes to material including acrylic capped abs stone resin, solid stone resin, & standard acrylic shower trays.
Firstly, we have Acrylic capped abs stone resin shower trays. This style of shower tray is known for being quite heavy and durable. They have the same finish as standard acrylic trays making the shower tray more scratch resistant. Merlyn has a range of this style of trays called Touchstone.
Then we have solid stone resin shower trays. These shower trays have been becoming an increasingly popular choice given their durability and range of high-quality finishes.
Acrylic shower trays are also a very popular option. These trays are light and easy to install and can be more cost-effective than stone resin trays. Check out Zamori's offering to learn more about acrylic shower tray.

Tray Colours & Finishes
Style can play a large role when it comes to selecting a shower tray depending on if you were replacing a shower tray in an existing bathroom or a new fitting a whole new bathroom. Shower trays are available in a large range of colours and finishes. Our shower trays are also available in a variety of sizes ranging from 700mm all the way to 2000mm!
Colour is a great way to make sure your shower tray fits straight into the style of your bathroom. With certain ranges available in up to 5 colours you won't struggle to find a shower tray to match the décor of your bathroom.
There are also different finishes available for shower trays with standard white, non-slip white trays and a slate effect. Many manufactures offer ranges with standard finishes without anti-slip, these trays can be a great addition to any bathroom with their sleek minimalist design suitable for both wet rooms and shower enclosures. Check out Merlyn's Level 25 range of shower trays for more. The non-slip feature is a great safety feature and is most commonly found in Zamori shower trays or the Kudos Connect2 range. Another great feature of the Kudos Connect2 range is that it has 2 waste position options ensuring that you miss those wooden beams underneath that would force you to raise the tray.
Lastly, we have slate effect trays. This style of shower tray has proved very popular for modern bathrooms adding a real luxurious feel. There are slate effect trays that come with an integrated waste such as Merlyn's Truestone range of shower trays. They are also very thin and can be fitting both on or level with the floor making this tray ideal for a wet room.
If you would like to have you shower tray above floor level you also have the option of having your tray installed on a plinth kit or with a leg set to have your plumbing above floor level.