Walk In Shower Trays
Having the correct shower tray can be the perfect finishing touch to your walk-in enclosure, complementing your bathrooms modern style. Also, any colour scheme in your bathroom given the wide range of finish options.  read more
No products found
Sorry, there are currently no Walk In Shower Tray products available. Please try an alternative category or try searching for a product.
Shop by department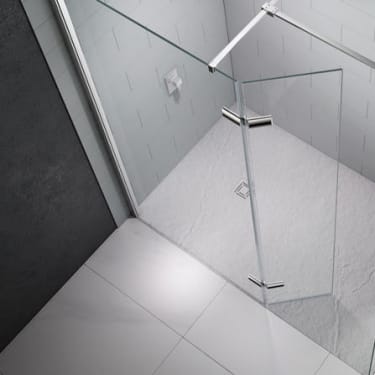 Walk-in showers have been increasingly growing in popularity over the years. Given their minimalist, contemporary feel this will come as no surprise.
A key component of this set up is selecting a shower tray that can complement its style. Having the correct shower tray can be the perfect finishing touch to your walk-in enclosure, complementing your bathrooms modern style. Also, any colour scheme in your bathroom given the wide range of finish options.
You will find the shower trays in this category will be slimline. Some measuring a mere 30mm high, there are also models which can be installed flush with the floor. Having your shower tray flush with the floor will add an extra level of luxury to your bathroom.
Another benefit if these shower trays often being flush with the floor is accessibility for the elderly and people with disabilities. Rather than having to climb into the shower, they will be able to just walk in with ease. This could be life-changing for a person who used to have to climb into a shower bath before.