Showers
If you're looking to create the shower of your dreams or, at the very least, one that suits your space and needs, there are many factors to first consider before diving in. read more

Showers Guide
The shower style and type of enclosure to the tray and design accents, each component is a piece of the puzzle that will ultimately represent a large part of your bathroom once put together, both in design and functionality. Furthermore, different shower designs will require different dimensions, plumbing access, space and more, so beyond the aesthetics of a luxurious shower, ensuring that it can be properly installed and operated also plays an important role in choosing the right one.
Mixer
By using both hot and cold water supplies, mixer showers effectively "mix" the water before it leaves the shower head to achieve your preferred temperature. In order to install this type of shower, you'll need readily available pre-heated water from either a combo-boiler or water heater.
Thermostatic
This type of shower uses a thermostatic mixing valve that, like a mixer shower, blends hot and cold water. Thermostatic showers, however, have additional mechanisms that make it safer and more consistent; not only are they more comfortable thanks to their regulated temperature, but thermostatic showers also prevent scalding that can happen when water is turned on elsewhere, like in the case of a flushed toilet or a running tap. This is especially practical for families with small children.
Electric
Unlike other showers that source their hot water from a boiler, electric showers heat water on demand. By taking water from the main supply and passing it through the heating element inside the unit, they warm up the water in no time. While you'll never run out of hot water with this style of shower, you will need a high-capacity electrical supply to achieve good pressure and flow.
Digital
Combining the best features of other types of showers, the digital variety not only looks good but operates just as well. Digital showers can use the same mechanics as an electric or mixer type but are instead controlled by a digital panel or remote control. Unlike other types, however, the plumbing is typically completely hidden, allowing you to enjoy a modern overhead design, for example, that looks both sleek and minimalist.
Discovering what makes each type of shower desirable will have a big impact on how you chose the right style. As noted, thermostatic showers feature a higher level of safety than others which is ideal for the protection of your children. On the other hand, choosing between an electric or mixer style may come down to what kind of plumbing you already have in your home. Flow rate is also a crucial factor to consider, especially when searching for an efficient unit that not only saves you money but also helps the environment. To that same point, water pressure will vary depending on the shower type. While a thermostatic shower, for instance, will provide an even and steady flow, electric ones will require a high kilowatt rating to achieve the same.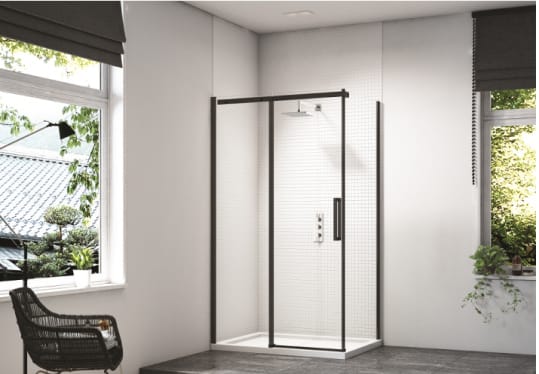 Shower Enclosures
A shower can't be fully appreciated until you get under the water and try it out for yourself, but it's not hard to see why even just the look and style of one can make it the centrepiece of your bathroom. Beautiful glass and unique shapes can make any room seem like an oasis, so usually, when we talk about what makes a shower beautiful, we are actually talking about the enclosure. The cramped shower stall you might be used to doesn't even scratch the surface of what a shower enclosure can really offer and how it might change the environment of your bathroom.
Square and Rectangle
If you've got a large bathroom, you may be lucky enough to have the wall space for a square or rectangle shower enclosure. These styles typically form a square or rectangle shape by using the corner of two walls. Glass panes form the other two sides to create a spacious shower that is a great option when floor space is not an issue. In some bathrooms, square or rectangle enclosures can even be formed by using three existing walls and a glass pane with or without a door.
Quadrant
If all you have allotted for your shower space is a small corner, a quadrant enclosure may be the perfect fit for you. Like a square enclosure, the quadrant style is installed in a corner but instead of adding two more glass panes, quadrant enclosures are formed with curved glass that helps to cut down on square footage.
Offset Quadrant
Like the quadrant style, an offset quadrant enclosure features the same curved glass but is extended to one side to create a wider showering area. As far as space goes, this style falls somewhere between a rectangle and a standard quadrant, offering just a little bit more room if you can afford it.
D-Shaped
D-shaped shower enclosures, as you may have guessed, are named for their shape. Sometimes referred to as U-shaped, their design is perfect when short on space; unlike others, it doesn't require a free corner to install. Instead, one side stands flat against the wall, while the rest of the enclosure is surrounded by curved glass, creating a shower that, while smaller than others, still offers an enjoyable experience.
After choosing a basic shower enclosure style, you can begin to make it your own.
If you're bathroom permits it, for example, you have the option to use a shower door along with an inline panel to create a walk-in shower or enclosure. This is typically possible when you have walls that form 3/4 of the enclosure. Choose between different shower door styles, like in-fold, bi-fold, sliding or hinged. During this process, you'll find shower doors offer a lot of flexibility when it comes to installation, making almost any wall and shower door combination possible – you can use them on their own in a recess, with one side panel in a corner or with two panels to use only one wall. The thickness of the doors and glass also varies, ranging from 4mm to 10mm thick. As a general rule, the thicker the glass, the stronger you can expect it to be.
Merlyn's 10 series sliding door is a great example of how an enclosure door can elevate a shower and complete a look. Not only is it modern and understated, but it's a space-saving measure that helps to maximize your bathroom's usable area. If a sliding door is not possible, however, Merlyn's 8 series infold door also showcases just how to work within your bathroom or shower's limitations without compromising style or practicality.
When it comes to styling, there are also many ways to make your shower enclosure stand out from the rest. For example, frameless glass can provide a modern look, while black frames can add a touch of sophistication and an aesthetic that's on-trend. The glass itself can also be finished in different ways for different looks. For example, frosted, smoked and modesty variations all provide an alternative to standard glass and, in addition to looking great, offer an added sense of privacy.

Shower Trays
When picking out a shower tray, you'll find its design goes hand in hand with your shower enclosure of choice. Depending on the style of the enclosure, you'll be able to narrow down your search and find something that compliments your bathroom and accessibility needs.
Just like your enclosure, shower trays are available in all different shapes and sizes, like square, rectangle, quadrant, offset quadrant and walk-in. Each one is made for a different enclosure type but they'll also each have their own benefits depending on brand and manufacturing process. For example, anti-slip shower trays offer an increased level of safety when showering, perfect for the elderly, those with low mobility or anyone who just wishes to take every precaution possible.
Shower trays also come in a variety of different materials and finishes. This is a great opportunity to add a personalized touch to your shower. From stone resin to acrylic and ABS, each material offers its own advantage. Acrylic, for example, offers a contemporary look that's easy to clean and maintain for years after its installation. You can also choose different colours to match your decor or make a bold choice. While white or off-white is a common pick, just like with the glass enclosure frames, choosing black can make a statement and subvert the expected. Merlyn's Truestone brand takes this concept even further, offering pieces that might change how you see your shower tray. Ultra-slim and made of high-grade resin, they're available in white, slate black, fossil grey, pure black and sandstone. With a discreetly integrated waste, the Trustone rectangle shower trays can be seamlessly and organically integrated into your shower.
Zamori rectangle shower trays offer a similar level of quality that can enhance your shower and create a difference in your bathroom experience. Again, you'll be afforded the choice of more than just white, and with available anti-slip protection, these shower trays not only look beautiful but will feel safe and secure under your feet too.
In any bathroom, it's the little things together that can make a big difference. Components like high-quality shower trays, space-saving enclosure doors and on-trend designs are all capable of taking your shower to new heights while also increasing efficiency that will put your bathroom in line with modern styles and ideals.