Aquadart
Based in West Yorkshire, Aquadart is a leading manufacturer and designer of bathroom products. The company is particularly associated with its shower enclosures and anti-splash products which often have a highly functional yet elegant style. read more
Shower in complete luxury in a walk in shower from BathroomPlanet.com, whether you are a looking for a traditional period look or a more modern black finish
Aquadart
Based in West Yorkshire, Aquadart is a leading manufacturer and designer of bathroom products. The company is particularly associated with its shower enclosures and anti-splash products which often have a highly functional yet elegant style. The British firm says that it wants to blend luxurious home comforts with a design style that offers straightforward functionality. It is easy to see why when you start to inspect its range in closer detail.
For example, Aquadart's trademark-protected Clean & Clear glass treatment is used on its shower enclosures and screens to provide enhanced protection from water ingress and other potential problems, such as colour fading, peeling or even cracking. However, this functional glazing system also makes shower screens look that much more attractive, as well. The non-stick surface afforded by Clean & Clear treatments means that water does not streak or steam up so easily, resisting water spotting and limescale, an important consideration for the long-term durability of such products in hard water areas, of course. What else does the impressive Aquadart range afford modern bathroom settings?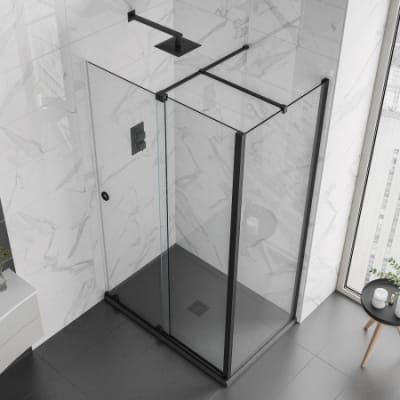 Shower Enclosures
There are plenty of options when it comes to shower enclosures designed to suit contemporary bathroom styles with Aquadart. To begin with, its walk-in showers are a delight to look at whether they are located in an en-suite, a family bathroom or a wetroom, for that matter. The Aquadart Asino 6 hinge door and side panel is an obvious example designed for corner installations. This particular enclosure has 6 mm thick glazing and sturdy framing which is nevertheless unobtrusive. The glazed door comes with the aforementioned Clean & Clear treatment while the choice of six different sizes means that the enclosure will suit smaller bathrooms as well as much more spacious environments.
Alternatively, why not look at a shower like the Auqadart Inline 3 sided hinged enclosure. This has three different widths and three different depths so it comes in six different sizes in all. It will make a bold statement of sophisticated style in any setting. Although the product's chrome fixings look very neat, they are kept to a minimal size so that the eye is not interrupted by them as you look into and beyond the enclosure itself. This would be a good choice for a bathroom that needs to make the most of the available space because it is so transparent, unpretentious and restrained in its styling.
There again, the Aquadart Venturi 6 framed bifold door would be an excellent choice if there is limited room to fully open a single panel door. This glazed enclosure has a handy additional hinge which means the door can be opened without needing space outside of the unit to get in. It comes in four different sizes and – all Aquadart shower enclosures come with a lifetime guarantee, affording buyers plenty of peace of mind going forwards.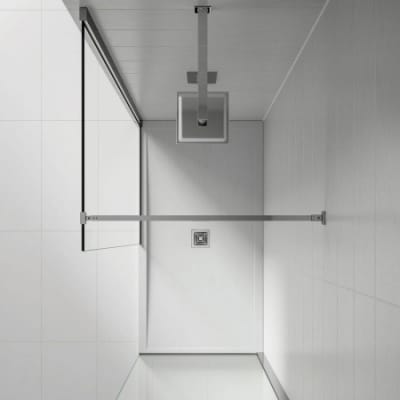 Shower Trays
As well as its superb shower enclosures which will look good in wetrooms as well as conventional shower rooms, Aquadart makes some lovely shower trays that combine with its other products perfectly. For a coordinated look with the rest of your bath or shower room design, you can select between white and slate effect finishes. Either way, the shower trays Aquadart makes will be ABS capped in their British production facility. You can also obtain a choice of grille coverings for the water drainage hole covering. Aquadart produces chrome and matt black colours to suit any type of installation.
Indeed, Aquadart's shower trays come with cleverly produced slimline designs that mean they are unobtrusive and need very little step up to get onto. There are conventional square shower trays as well as a number of rectangular models that will suit the various dimensions of the company's enclosures to a tee. What's more, you can also obtain quadrant shower trays which are perfect for corner installations. These have three right-angled corners and one that is rounded off. It is also worth mentioning Aquadart's impressive array of anti-slip shower trays, too, which are just the ticket in certain circumstances.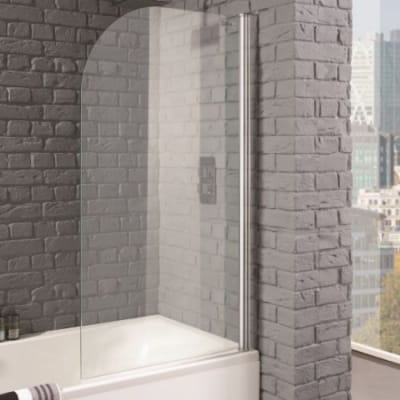 Bath Screens
If you have an over-bath shower installation, then Aquadart also has some exciting products to peruse. Check out the Venturi 6 bath screen, for example, which makes quite a bold statement and will look good on any straight-edged bath. You can opt for a fixed panel or a hinged one and there is also the option of a four-panel folding variant for installation where you will want to tuck the screen away from time to time. The Venturi 8 is a similar set of bath screen products to the Venturi 6. The main difference with the former is that it comes with 8 mm toughened glass as opposed to 6 mm for an even more luxuriant feel. Like the other products Aquadart makes, its bath screens also come with a lifetime manufacturer's guarantee.