Bayswater
Drawing inspiration from the enduring styles and innovation of the Victorian and Edwardian periods, Bayswater designs and manufactures high-quality traditional bathroom pieces, including baths, furniture, taps and more for your home. read more

Bayswater
Drawing inspiration from the enduring styles and innovation of the Victorian and Edwardian periods, Bayswater designs and manufactures high-quality traditional bathroom pieces, including baths, furniture, taps and more for your home. With decades of experience in the market, the Bayswater design team is able to strike the perfect balance of practicality and elegance and effectively keep the refinement of Victorian and Edwardian style alive and relevant. With ranges that shine a spotlight on the materials and craftsmanship of the time, Bayswater relies heavily on tradition but also aims to match the inventiveness of an era long gone by making the old new again. By combining the aesthetic values of these periods with the contemporary technology that we've become accustomed to, Bayswater creates bathrooms that are beautiful and, above all, functional. The results are porcelain, brassware, furniture and fittings that provide benefits you may never have experienced before.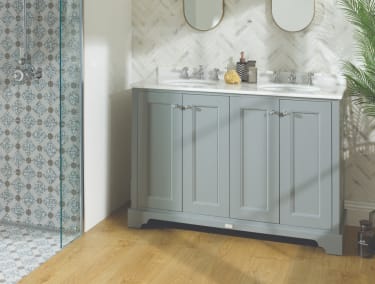 Bayswater Furniture
The distinct look and lines of traditional furniture help make a bathroom unique and its why Bayswater takes their time to expertly craft and perfectly engineer their offerings. From cabinets to marble tops and basins, Bayswater furniture stays true to the spirit of Victorian and Edwardian style while also bringing something new to the table.
Available in several configurations, Bayswater basin cabinets feature 2, 3 and 4-door designs perfectly suited for your traditional bathroom. Ranging in size from 600mm to 1200mm, all room sizes are accounted for, as is functionality. Bayswater's larger 4-door cabinets, for example, are spacious enough to be fitted with double basin bowls with either 1 or 3 tap holes. When combined with one of two mirror wall cabinets, the tallboy cabinet or WC cabinet, you'll have plenty of options for storage while keeping the aesthetic authentic.
When it comes to colour and finish combinations for their cabinets and marble tops, Bayswater does their best to include options based upon historic colour palettes. Choose from one of three colours from Farrow & Ball, each with a wipe-clean eggshell finish: Pointing White, Plummett Grey or Stiffkey Blue. Black, grey and white marble tops complete the basin cabinets and also feature distinctive markings and veins that help make each piece of furniture one-of-a-kind.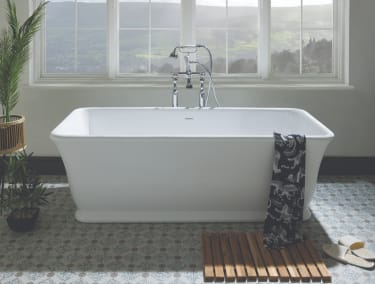 Bayswater Baths
A good bath can be the difference between an exceptional bathroom and an average one. With a selection from Bayswater's product line, you can be sure you'll create the most extraordinary bathing environment possible that just might help transport you to another time and place. Whether free-standing or built-in, each bath from Bayswater is manufactured from double-skinned Lucite acrylic and comes in a high gloss finish.
For a quintessentially traditional look and feel in your bathroom, a Bayswater freestanding bath can offer the look you want in the style you find most comfortable and enjoyable. The Leinster double-end freestanding bath is spacious and versatile in both available sizes, while the Pembridge slipper bath features a high-back single-end design with the same length options. The 1700mm Courtnell back-to-wall bath, on the other hand, can be paired with a wall tap instead of a floor-standing bath tap while still retaining the classic clawfoot tub aesthetic. For something a little different, Bayswater's single-end freestanding baths can be combined with a Radius bath screen to create a shower bath worthy of your Victorian-inspired bathroom.
The Radius shower screen can also be combined with Bayswater's built-in art deco baths, the Bathurst single and double-end tubs. These built-in designs can be paired with bath panels for a clean and sophisticated look. Bath panels are also available in the same colours as Bayswater cabinets to create a cohesive theme throughout your bathroom.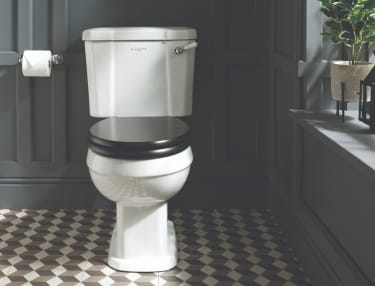 Bayswater Toilets
While plumbing has been modernized and advanced since the Victorian and Edwardian periods, the look of the ceramic toilet bowl itself hasn't seen the same reinvention. That's why the main differences you'll find among the Fitzroy range of traditional toilets from Bayswater are in the cisterns. Choose from close-coupled, low-level cisterns, high-level cisterns and concealed cisterns to suit your needs best and maximize the space in your bathroom.
While close-coupled toilets most match our modern ones, you'll find low-level and high-level cisterns harken back to a different time when plumbing work was intricate and exposed. Both designs feature a flush pipe, while the high-level cistern also requires brackets and a pull chord flushing mechanism in place of the more modern lever. The back-to-wall design, on the other hand, hides the cistern completely and features push-button dual flushing.
Fitzroy traditional round wooden seats contribute to the timeless look of Bayswater toilets and are available in five different colours to match the brand's furniture and bath panels and create a unified look throughout your bathroom. Choose from Plummett Grey, Pointing White, Stiffkey Blue, White and Matte Black. Each seat also includes soft-close technology to keep things quiet and prevent slamming.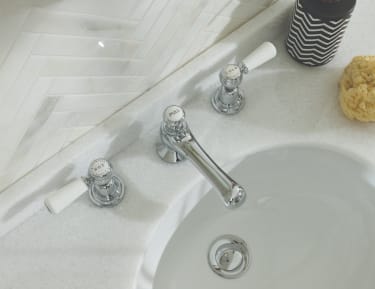 Bayswater Taps
Brassware has the ability to change the look and feel of a basin or bath like no other component and the addition of traditional designs can elevate your bathroom to a more sophisticated and elegant level. Bayswater taps are available in a variety of different styles, both in their aesthetic as well as their functional design. Choose from a selection of crosshead taps, lever taps for both basins and baths, as well as wall-mounted bath shower mixers and fillers.
Crossbead taps feature a classic design and come in several configurations to fit your basin style. 1, 2 and 3-hole styles can all be found and offer an easy solution for dispensing water. Lever taps offer similar ease of use and can be fitted to most basin styles while also including a touch of ceramic.
Bath tap styles feature similar mechanics but can include a hand shower for versatility. For freestanding baths, in particular, Bayswater also offers standpipes and the proper fixtures to equip your tub with plumbing that comes up through the floor as opposed to the wall-mounted variety.
Bayswater Heating
Like their other products, Bayswater's radiators and towel rails offer the look and feel of a traditional Victorian or Edwardian bathroom while also playing an integral role in creating a more luxurious and comfortable bathroom.
Bayswater towel rails come in a variety of sizes and shapes but all have one thing in common: a reliable and steady source of warmth. The Juliet floor and wall-mounted towel rails, for example, feature 1095 BTU/HR and 918 BTU/HR outputs respectively, while the Benjamin model features an output of 987 BTU/HR and includes multiple rails and plenty of space.
Towel rail/radiator combinations like the Clifford, Franklyn and Wesley models also feature more compact towel rail designs with space to hang but offer increased warmth and the capability of heating small bathrooms.
Bayswater's selection of dedicated radiators, however, is where you'll get the most heat delivered in a fashionable way. Nelson double and triple radiators are available in vertical and horizontal designs in both gloss black and white and can offer up to 5169 BTU/HR. Paired with the right valves, Bayswater radiators offer both style and substance.