Vanity Units
Completing your bathroom requires the right bathroom furniture. Our selection of bathroom vanity units will allow you to create your ideal bathroom, whether you're looking for something typically traditional or sleek and modern, all at fantastic prices. Choose your vanity style to fit your needs, with standard or designer ranges. read more
Showing 1 - 60 of 150 items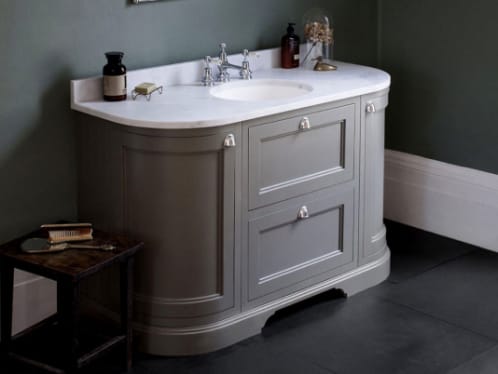 The bathroom vanity unit designs we stock include floor standing sink vanity units and wall hung vanity units. We are proud to stock products from top brands including Burlington, Vitra and Bayswater and offer a wide selection of bathroom basin designs to complement our product ranges.
Bathroom mirror cabinets can be a great option to offer extra storage in a bathroom or contribute to a clean or minimalistic look by allowing you to store everything within the cabinet rather than on the vanity unit. When selecting your vanity unit, you will have the option of single door, double door or a very large 3 door mirror cabinet. These cabinets can range from 450mm all the way up to 2000mm wide so you can definitely find one to suit your space. Our large selection of mirror cabinets are also available in various colours and sizes to tie in with your other bathroom furniture.
We also have cabinets that also have mirrors on the sides as well as the front such as Geberit Options mirror cabinet. This allows the mirror cabinet to blend into any colour scheme without having to have any considerations for décor.
When it comes to mounting your mirror cabinet on the wall there are generally two options; the first one is mounting it on the surface of the wall and the other option would be to have the cabinet recessed within the wall making the mirror cabinet appear like a standard mirror. The recessed option can be an excellent way to use void space within walls check out the Keuco Royal Match Semi Recessed Mirror Cabinet for a recessed mirror cabinet.
Another factor to consider when selecting a mirror cabinet would be illuminated vs non-illuminated. Illuminated mirrors would have to have access to a power source but they will not be a huge draw on electricity given they typically use LED's. There are also options for bathroom cabinets with magnifying/make up mirrors as part of the mirror or even USB charging points within the cabinet.

Style of Units
When it comes to the style of your vanity unit there are many considerations to be made. Firstly, we have the style of the unit, there are two options here which are modern or traditional. This might be determined by the style of the rest of your bathroom or personal preference but we do offer ranges that fit both with Burlington, RAK Ceramics and Bayswater having traditional units and Roca with a nice range of more modern units.
Our vanity units are also available in a variety of colours from more standard white, grey or black to blue, green and even red. This means that regardless of the style of your bathroom you will not have any problem finding a vanity unit to match in with the style of your current bathroom or find an adventurous colour to set the tone of a new bathroom.