Toilets
With a huge range of toilets across brands like RAK Ceramics, Roca, and Vitra. We think you'll have no problem finding a WC setup to fit into your bathroom's size, style, and flow. Bathroom Planet hosts a huge collection of close coupled, wall-hung, and back to wall toilets at discount prices. All in modern or traditional looks. read more

Wall Hung Toilets
Featuring sleek, minimalist designs, wall hung toilets are a space saver's dream and, depending on your budget, may offer just enough benefits to justify their high cost. Unlike more common toilets, the wall hung frame means there's no visible cistern to take up precious square footage, especially in smaller bathrooms. Instead, the plumbing is hidden behind the wall. In order to install this design to replace an existing toilet, however, the wall needs to be opened and taken down to the studs, while the tile where the old toilet stood will need to be patched. But in new builds or for those looking to do a full renovation, a floating toilet is highly customizable and can be installed to your specifications fairly easily. The wall-hung pan, for example, can be installed at the height of your choosing. Because the toilet doesn't actually come in contact with the floor, this also means cleaning is easy, allowing mops and brooms to reach all areas of the floor. In essence, wall hung toilets offer a certain elegance that can make your modern bathroom a room you'll want to show off. Many premium brands such as Vitra, Ideal Standard, and RAK Ceramics have stunning collections to choose from when upgrading your bathroom.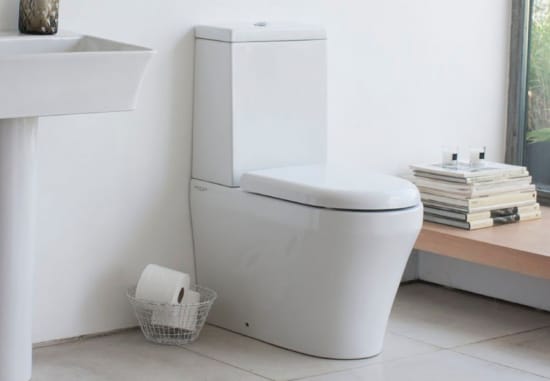 Close Coupled Toilets
Like its name suggests, a close coupled toilet features the close coupling of the toilet pan and the cistern. Even if you're unfamiliar with the name, chances are you've used one yourself, as it's the most common toilet available and has been for over a century. What exactly makes it such an enduring model? Close-coupled toilets are both cheap and easy to install and the immediate access to the plumbing components makes it easy to repair and maintain. Because of their popularity, parts are also very easy to come by and small replacements can likely be done without the aid of a plumber. Aesthetically, most close-coupled designs are bulky and take up space in small bathrooms but convenience and their low cost have made the trade-off well worth it. In the medium to large-sized bathrooms, however, close coupled toilets fit well and offer the same functionality as most other classic designs.

Another perk of the close-coupled toilet is that most buildings are already fitted to install them. From homes to office buildings and restaurants, should the toilet break or need replacement, odds are a standard close-coupled toilet can be installed with no issue in just a short amount of time at a relatively low cost. While other designs may make for a more sophisticated bathroom, the reliability and universality of close coupled toilets have made them a staple of the western world.
Back to Wall Toilets
Like the wall hung variety, back to wall toilets do away with a visible cistern, opting instead for a more minimalistic look when compared to common, close coupled toilets. This new-age design isn't just for looks, however. In most parts of the world, toilets must meet strict building codes that regulate, among other things, the amount of space required from the edge of the toilet forward. Because the concealed cistern is built into the wall, this allows for additional room to help meet these standards, especially in tight spaces. Back to wall toilets also often feature a rimless design that is not only easier to keep clean, but they can even cut down on the amount of water used when flushing. While these types of back to wall pans are pleasing to the eye and take up little space, they come at a cost. Because the plumbing is located behind the wall, homeowners often have to open up their wall or update their pipes in order to install.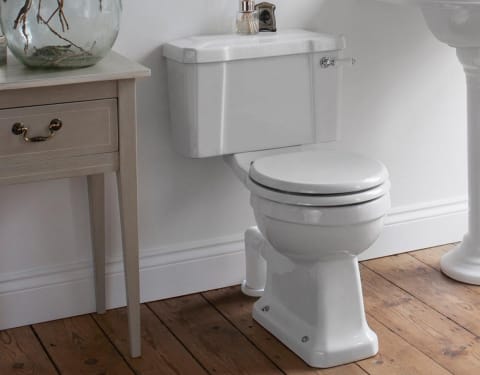 Traditional Toilets
While plumbing technology has expanded over time to become more efficient and streamlined in its design, there's still a place for the old-fashioned. Traditional close coupled toilets, for example, feature charming designs that offer a stark contrast to the sleek, minimalist lines of modern bathroom fixtures. Often considered a classy, timeless alternative to the more contemporary close coupled toilets, traditional victorian toilets often include intricate and ornate embellishments, such as brass hardware or hardwood seats and lids that add character to your bathroom. When paired with other fixtures, like roll-top bathtubs, they help create a classic period look and feel.
Traditional toilets may feature a close-coupled design similar to that of modern toilets but they come in a variety of others too: low, medium and high. A low-level traditional toilet features a cistern that sits directly above the pan and is connected by a flush tube. As you may guess, medium-level toilets have a cistern that is mounted slightly higher, while a high-level toilet features a cistern that is mounted several feet above the pan that is flushed using a pull chain. Availability from leading traditional bathroom brands like Burlington and Bayswater proves there's still a demand for traditional designs and it's clear why. Roca also has an incredible popular Victoria collection. Installing a victorian-style toilet gives your bathroom a tailored look, as pull chain handles, seats, lids and even the brackets that mount the cistern can all be customized to your specifications or to be as authentic as possible in a period setting.
Toilet Seats
Seats and accompanying lids add both personalities and increased functionality to any toilet and can mean the difference between a comfortable use and an unpleasant experience. Available in a variety of materials and styles, finding the right seat comes down to personal preference and taste. For example, wooden seats may highlight other fixtures and tie a theme together while a classic white seat might present a clean, simple style. Beyond looks, however, is functionality. Seats are available in a number of different comfort levels that benefit the user greatly. Soft, padded seats can help those recovering from childbirth or surgery or even the elderly. Heated seats are also available for those who take temperature seriously. Additionally, if you live in a household full of children, you may opt for a soft close toilet seat that won't slam when dropped, keeping noise levels down and preventing damage.

Not all seats fit the same, however. While seats don't come in different sizes, toilets do come in different shapes, meaning it's important to know what shape of seat you'll need before deciding on the material. Certain seats will only work with certain toilets and trying to install the wrong seat on a toilet may result in a poor fit or one that likely won't fit at all.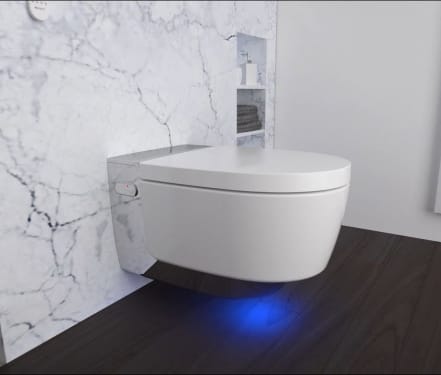 Bidet Toilets
Bidets are the primary way in which people around the world clean up after using the toilet, so it's no surprise there are a number of different bidet toilet options to choose from. Bidets themselves are traditionally a separate fixture from the toilet, often situated right beside them. They spray water and clean gently and easily. Bidet toilets, on the other hand, are toilets that feature an integrated bidet that helps clean messes much as the standalone fixture does. In this case, however, you save space in your bathroom by combining two fixtures and reducing the hassle of having to move between the toilet and bidet. The Geberit Aquaclean Mera, for example, is a smart toilet that combines all the best features of modern toilets into one and cleans like a bidet. Seat heating, adjustable pressure settings, TurboFlush technology, odour extraction – the list goes on. The same can be said for the Vitra V Care Rimless Shower Toilet. Like the Aquaclean Mera, it offers handsfree use and cleans like a bidet while offering many more features, like drying and air purification options.

In addition to bidet toilets that combine the best of both worlds, aftermarket attachments are also available for existing toilets that can increase their functionality to act as a bidet. Equipped with a nozzle, these specialized bidet toilet seats clean you up when you need it. Though not nearly as impressive as the shower toilets from Geberit or Vitra, they are affordable and compatible with many toilets and offer those with standard fixtures a glimpse of the luxury that a smart bidet toilet provides.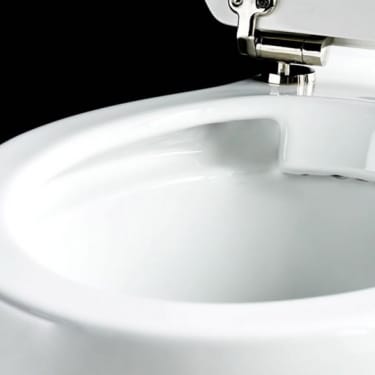 Rimless Toilets
Though they may not look like much upon first glance, rimless toilets offer a significant advantage over the standard rimmed pans we've come to know. Standard close coupled toilet rims are designed to supply water at different points around the toilet pan, pushing it down the drain. Most toilets over the past century have utilized this flushing method but the rim-free design offers something new and more efficient. Using a direct flush technique, these toilets project water around the entirety of the toilet pan, cleaning everything and leaving behind only sparkling ceramic. Using toilets with typical pans means bacteria and waste can get trapped beneath the rim – a place only a toilet brush can reach. Rimless toilets, on the other hand, offer a cleaner clean, so to speak, than standard rimmed pans and do away with the bacteria often left behind. Because it cleans so efficiently after every flush that means less physical cleaning for you and a more hygienic toilet and bathroom for everyone else.

Though the water stream is strong, you'll find it's actually more economical and uses less water than the standard method. This means you save money on your water bill and have peace of mind knowing you're using a more environmentally friendly fixture that cuts down on water waste.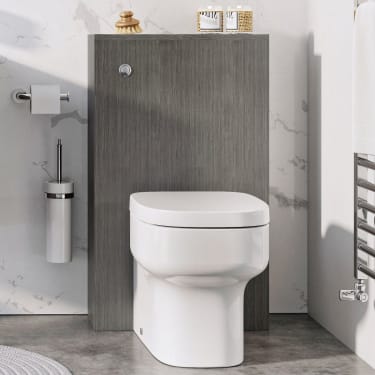 Cloakroom Toilets
When limited space becomes an issue in the bathroom, there are a number of options that can maximize the room you do have. Cloakroom toilets are, by necessity, smaller in size and able to fit spaces most standard size toilets can't. Short projection toilets, for example, have a shorter depth thanks in part to their round pans and don't protrude out from the wall as far as others, freeing up precious space in a small en-suite or cloakroom. Another solution for a small area is a corner toilet. Most regular-sized toilets can't be placed too far into a corner should they need repair or maintenance so even when trying to utilize space as effectively as possible, the corners of a bathroom end up being wasted or underused. A corner toilet mitigates this problem with a specially designed cistern that fits snuggly and saves room.

Back to wall and wall hung toilets are also excellent options for small bathrooms. Because they feature cisterns that are concealed behind the wall, they free up additional floor space. With a wall hung toilet, in particular, the space below the pan is also free and at the very least creates the illusion of more space. If replacing or installing a toilet is part of a larger renovation, you may consider a toilet and basin combination to cut down on the amount of space used in your tiny room. Like you may expect, these combination units can essentially cut your fixtures in half while still offering functionality in a cloakroom or similarly small en-suite.