Quadrant Shower Trays
Our extensive range of quadrant shower trays creates a stylish and modern feel to any bathroom. They are ideal for smaller bathrooms where space is at a premium. read more
Showing 1 - 33 of 33 items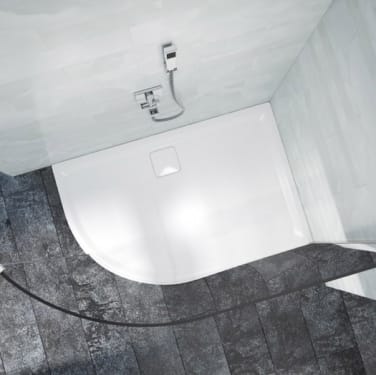 Our extensive range of quadrant shower trays creates a stylish and modern feel to any bathroom. They are ideal for smaller bathrooms where space is at a premium. These corner shower trays make use of every nook and cranny available in your bathroom. They are available in a range of different finishes including ABS acrylic & stone resin.
Quadrant shower trays are a great alternative to square or rectangle trays. They can create a modern look, with clean lines and an elegant feel to provide an eye-catching focal point in the space.
Specially designed to complement our range of quadrant enclosures, these corner trays have a low profile. Making it easier to get in and out of the shower. There are optional riser kits available to raise the shower tray to your desired height.
Our offering of contains products from some of the leading manufacturers. These include Kudos, Merlyn and Zamori which all offer premium quality products for your bathroom.
These stylish and functional shower trays can be the finishing touch to your dream bathroom. There are two options when it comes to quadrant shower trays symmetrical and offset.
A quadrant shower tray is suitable to install in a corner of your bathroom. This style of shower enclosure is a great space saver as the door does not open out into the room but inside the enclosure. The offset quadrant shower tray offers a bit more length than the quadrant enclosure.
Sizes for quadrant shower trays start around 800mm and go all the way up to 1400mm offering a large range of options to fit any bathroom. The standard quadrant radius is 550mm which will suit the majority of shower enclosures even if it were from a different brand.