Geberit
With nearly 150 years of experience and a strong commitment to design and technology, Geberit has solidified itself as a producer of high-quality bathroom products that strike the perfect balance of style and substance. read more

Geberit
With nearly 150 years of experience and a strong commitment to design and technology, Geberit has solidified itself as a producer of high-quality bathroom products that strike the perfect balance of style and substance. With offerings that are both elegant and functional, Geberit provides complete bathroom solutions that look great while making life more comfortable, more enjoyable and more economical.
Using quality materials, Geberit crafts bathroom essentials that are high-end but still designed for every home; space-saving, economical and beautiful, their lines of bathroom furniture, basins and toilets feature modern innovations that help set Geberit apart from the competition as a global leader.
With a special interest in water conservation and environmentally-conscious bathroom design, Geberit products are also responsibly manufactured and eco-design tested to the highest standard for long-lasting quality of life that benefits not just the customer but also the planet. These requirements can be seen not only in the durability of each product but also in their focus on sustainability and innovative water management that will positively impact future generations.
To meet the high standards Geberit sets for itself, their products must also align with their message and mission: to create bathrooms designed for life. In addition to being socially responsible in their design, this requires that products bearing the Geberit name create more space in your bathroom, are easy to clean, aesthetically styled, accessible, user-friendly and, last but not least, comfortable.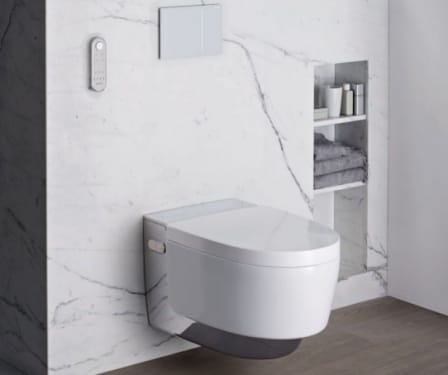 Geberit Toilets
Geberit's tested and true technological advancements can be seen throughout their products but no more than in their toilet design. From the seat to the cistern and beyond, there's plenty to love about a Geberit toilet.
One of the most shining examples of such innovation is the line of Geberit AquaClean shower toilets – the Mera, Sela and Tuma. Each model offers something special and unique but all feature a distinct design from the award-winning brand. Crafted with personal hygiene in mind, a Geberit AquaClean wash dry toilet provides a natural option for cleaning with water; with just the touch of a button, the integrated WhirlSpray shower technology ensures freshness and a sense of well-being not possible with a traditional model.
To retrofit an existing wall hung toilet, the AquaClean 4000 is a Geberit toilet seat that offers entry-level functionality to help enhance the user experience. Featuring a soft-closing seat and lid, the model also includes intuitive electronic controls that can increase and decrease the intensity of the spray and guarantee cleanliness. The AquaClean 4000 also has an integrated user identification function that allows you to customize your personal settings; for recognized users, the water will start heating up as soon as they approach the WC. Also available as a full set, you'll find the enhancement solution combined with a matching ceramic unit, perfect for complete bathroom restyling.
The AquaClean 8000 and its predecessor, the Mera Care, offer the same great features but still manage to take the concept of a shower toilet to new heights. Integral lady wash, touch-free operation thanks to the opto remote, warm air-dryer, adjustable height and more make the 8000 and the Mera Care model each a highly accessible toilet for everyone.
While technological advancements are best represented in the innovation of the AquaClean, Geberit's bathroom series' also help to highlight the brand's award-winning style and design. The Geberit Acanto, Geberit iCon and Geberit Smyle bathroom series' each feature an array of shapes and solutions, but all include hygienic rimless WCs or QuickRelease hinges to make the installation of seats easy and cleaning a breeze. Hidden cisterns also make their style modern and minimalist without taking up precious space in your bathroom.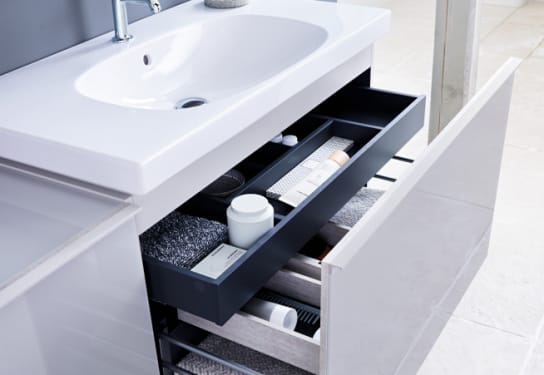 Geberit Furniture
Like all their offerings, Geberit's bathroom furniture features the markings of craftsmanship and integrity that have helped make the brand a leader in product quality and design. In their effort to create bathrooms for everyday life, they've designed products that not only look and feel great but also offer impressive value for their money. Geberit's contemporary Smyle series, for example, helps achieve a relaxing and ambient bathroom environment thanks in part to the Style Square – a timeless and understated work of bathroom cabinetry. With different combination possibilities for different storage needs, each one offers soft-closing drawers and moisture-resistant materials that help make it last.
The Geberit Acanto, on the other hand, offers the same high-quality design and materials with even more creative freedom and unusual combination possibilities for the most diverse bathrooms. Finally, Geberit's iCon series is underscored by clean, linear lines that provide a minimalistic and modern vibe but still offers a surprising degree of flexibility. No matter which style you prefer, you can count on Geberit to provide a high level of personalization in its design and installation to accommodate your space.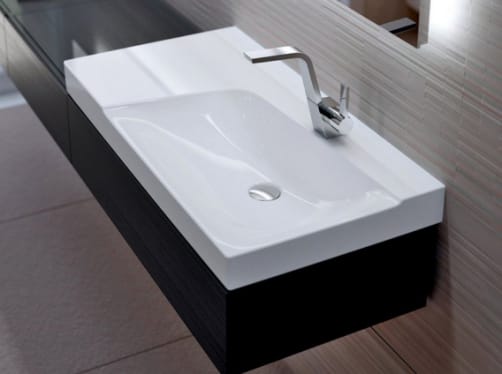 Geberit Basins
Geberit basins, like all of their products, are crafted to be seamlessly integrated into your space and work together with other pieces to bring your vision of your bathroom to life. When combined with a toilet and furniture from the same bathroom series, you'll achieve a cohesive design and a functional experience that is made just for you. In the Geberit iCon series, for example, you'll find subtly rounded basins that contrast the defined outer geometry that sits perfectly atop an iCon cabinet. When these two are put together with a mirror, the result is a bathroom vanity that's not only highly functional but beautiful and carefully designed to reflect the innovations Geberit can offer.
Similarly, Geberit's Acanto series features a basin that serves to compliment both the furniture and fixtures within the same line and offers a practical yet attractive design. Geberit's Clou system highlights just this – a modern washbasin concept without an overflow hole that, while still eliminates the risk of overflow, provides a smooth ceramic surface with no place for bacteria and dirt to hide. Another testament to Geberit's dedication to innovation, their basin designs perfectly encapsulate how ordinary components can become extraordinary to make your bathroom and home even more incredible.