Shower Doors
A critical component of any shower enclosure is the doors. Without them, the bathroom will seem incomplete and without any sense of style of privacy; not to mention the fact that containing water in the enclosure will become a major issue. This article provides a review of different shower door styles that can be fit used to complete your bathroom.  read more
Showing 1 - 46 of 46 items

What Are the Various Styles of Shower Doors Available?
A critical component of any shower enclosure is the doors. Without them, the bathroom will seem incomplete and without any sense of style of privacy; not to mention the fact that containing water in the enclosure will become a major issue. This article provides a review of different shower door styles that can be fit used to complete your bathroom.
Shower doors come in a variety of styles and types. Various classifications can help you decide on the best shower door type to install for your bathroom. These include:
Classification Based on Operation
Based on their mode of operation, shower doors can be categorized into:
Hinged Doors
Sliding Doors
Fixed Doors
Folding Doors
Hinged shower doors – the hinged shower doors work like regular doors, with pivots built into the design to facilitate the swinging whenever someone exits or enters the bathroom. This door type can be used for any bathroom type, they are most ideal where space is not a problem as they take up a significant amount of shower space.
The sliding shower door – also known as the 'bypass' door, this door is made of a panel on rollers, allowing it slide open and shut to facilitate entry and exit into the bathroom. These can also be used for various bathroom types and do not take up any shower space.
Fixed bathroom doors – these feature glass panes that do not move once installed. As such, they give the bathroom a modernistic touch. These doors go best with large bathrooms hence you should only opt for it if you have enough space.
Folding shower door – these doors, coming in either the bi-fold or tri-fold designs can bring to life even the most boring of bathrooms. They are made of a fixed glass panel with other panels attached to it using hinges to allow folding and movement.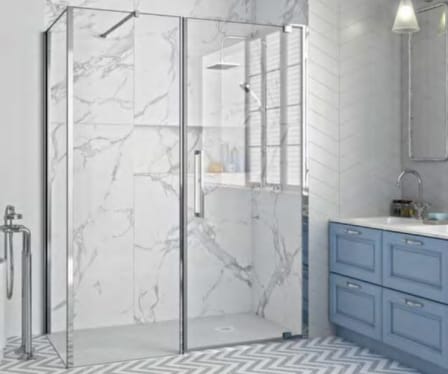 Classification based on the shape
Based on shape, shower doors can be categorized as;
Corner Shower Door
Alcove Shower Door
Round Shower Door
Corner Shower Door – the corner shower door features a fixed panel and hinges which allows the door to swing freely from one corner of the bathroom. Best for wide spaces where the shower space can be compromised without altering comfort.
Alcove Shower Door - the alcove door is best for small spaces as it facilitates the outward opening. The only space required is at the front to enable the door to swing open optimally.
Round Shower Door – these doors have a sliding mechanism that allows the door to slide open in a circular motion, creating the opening required. It is a great space saver and can add elegance to the bathroom.
Classification Based on frames
Based on frames, bathroom doors can either be fully framed, have no frame holding the glass, or be framed and unframed in some parts.

Classification Based on Glass Style
Different styles of glass give the shower enclosures different feels. Depending on what you are going for, glasses can be styled to achieve various effects. The main types of glass styling include;
Clear Glass
Frosted Shower Doors
Patterned Glass Shower Doors
Obscure Shower Doors
The Rain Door
The Tinted Glass Door
The Hammered Glass
This guide provides a comprehensive review of all shower door types available. When you go shopping, you will decide the blend of styles that suits you best based on different classifications. For instance, you could opt for a sliding, round shower door with frosted glass made with the modern style in mind.
Whichever style you choose, our website will provide you with a variety of brands from which to choose, including Merlyn, 8 series, and 10 series. Feel free to browse our site and contact us if you need assistance with anything from shower enclosures to shower doors.