Roca Bathroom Furniture
Developed by internationally acclaimed designers, Roca bathroom furniture features the same quality standards and timeless styles as its renowned basins, baths and toilets, helping its customers create cohesive bathrooms that look great and last, even as their tastes and needs evolve. read more
Showing 1 - 60 of 61 items
Roca Bathroom Furniture
Since entering the bathroom sector in 1929 as a manufacturer of baths, Roca has continually expanded and diversified its selection of products to provide a more complete and comprehensive bathroom experience for its customers. Not only just experts in sanitaryware and ceramics, but Roca is committed also to providing solutions for your whole bathroom, including furniture and auxiliary storage. Developed by internationally acclaimed designers, Roca bathroom furniture features the same quality standards and timeless styles as its renowned basins, baths and toilets, helping its customers create cohesive bathrooms that look great and last, even as their tastes and needs evolve.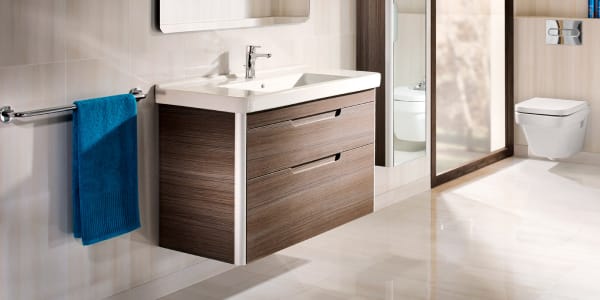 Roca Vanity Units
Depending on the size of your bathroom, outfitting this space for maximum storage and configuration possibilities comes with plenty of options. Most bathrooms, however, even small ones, can benefit from a vanity unit. Roca vanity units, like the Dama-N wall-hung unit, provide homeowners with a base for their basin that not only conceals plumbing but creates storage space, offering an introductory into the world of bathroom furniture and the benefits it can offer. Even the smallest bathrooms and cloakrooms are considered in a design like the Roca Mini Compact wall-hung vanity unit set that includes a short projection basin and an optional mirror cabinet.
When space is not a limitation, Roca offers larger vanity units that not only include more drawer and cabinet space but room for an additional basin too. In a model like the Roca Victoria-N wall-hung vanity unit, you'll find the modern and sleek aesthetics are matched in its practical design with the inclusion of towel rails on either side – a small luxury but a testament to Roca's attention to detail and desire to create the best products possible.
While vanity units toe the line between aesthetics and functionality, auxiliary units go all-in on storage and deliver space-saving possibilities that small units simply can't. The Roca Anima tall wall-hung bathroom unit, for example, offers ample shelf storage with MDF construction and two different finishes, providing a fitting that's both durable and attractive. Modern materials and manufacturing can also be found in Roca pieces that don't necessarily look the part. The Carmen tall floor standing bathroom unit is a perfect representation of the luxuries of modern furniture offered in a timeless and sophisticated style, perfect for traditional bathrooms.
Roca Shelves
Wall-hung shelving units and mirror cabinets also make use of often unused space to provide storage without affecting square footage. Roca's Luna wall-hung shelf adds a more homely feel to your bathroom with exposed storage and can be hung on its own or to supplement existing styles. Roca's range of mirror cabinets aims to do the same, but in this case, concealing its storage for an uncluttered and minimalist solution. If simple shelves and mirrors are what you're looking for, however, you'll find Roca has plenty of styles and designs to offer as well. Glass shelves from the Nuova and Hotels 2.0 ranges provide sleek solutions while the square, rectangle and round mirrors can help open up your bathroom and complement other Roca pieces in ways you'll love.