Heated Towel Rails
Heat your towels, warm the bathroom and finish off the design of your bathroom with one of our heated towel rails. Available in a range of different sizes and designs from contemporary to traditional, our extensive range of heated towel rails is hard to beat. read more
Showing 1 - 60 of 111 items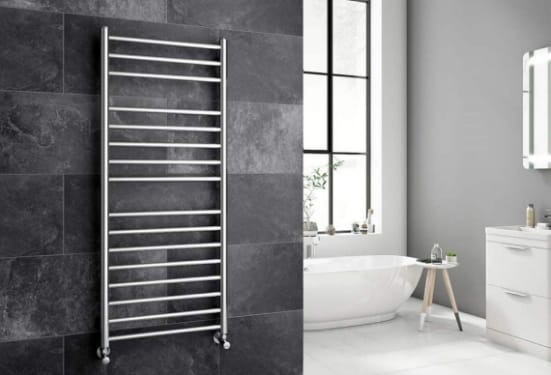 Nothing is better than getting out of the bath or shower and into a perfectly warmed towel, especially on those cold mornings.
Whether you are looking for a central heating towel rail that seamlessly connects to your existing heating system or prefer the flexibility of an electric towel heater, Bathroom Planet has the product for you. Featuring premier bathroom brands such as Reina you are bound to find the perfect towel warmer for your bathroom.
There are a range of different colours and finishes, our range of designer heated towel rails are ideal for big or small bathrooms alike, and provide the ultimate in comfort and luxury to any bathroom, ensuite or cloakroom toilet.
For something a bit different, why not have a look at one of our wall mounted heated towel rail shelves. These heated shelves can be mounted almost anywhere in the room, and provide an elegant focal point to any bathroom.

How to Pick a Towel Rail
When selecting your bathroom towel rail, the first step is to decide which fuel type you would like to go for central, electric or duel fuel. Each of these come with their own benefits but central heating is by far the most popular option given that 80% of UK households have combi boilers installed.
Next, you need to pick where you want it installed. This might be predetermined by pipework or if you are replacing an old towel rail. Also, consider the size of the towel rail you would like and the layout of the bathroom as towel rails come in all shapes and sizes. If limited by space take a look at Reina's range of small towel rails. There are also contemporary radiators available now too with towel rail attachments which can warm large bathrooms more effectively whilst still drying towels.
You can also work out what size of radiator you need to heat your space but using a BTU calculator. This will work out how much energy will be required to heat your bathroom and can help you select a model.
The popularity of designer towel rails is another consideration with contemporary or traditional models available with a vast range of colours to choose from making it easy to find one that can suit your bathroom. Our preference is definitely going with a chrome towel rail though and if going for a modern radiator you will want to check out our range of ladder towel rails.
When it comes to the material there two variations steel and aluminium. Steel is what you will find older towel rails and radiators are made from however aluminium is known to heat up significantly faster than the steel models.