Bath Screens
Bath screens turn your simple bath into a complete showering space. Keeping your floors and the rest of your bathroom dry. You can take your pick from fixed, hinged and folding models. As well as P and L-shaped screens for those matching baths. All of which come in different sizes and glass styles to fit your space and bath. read more
Showing 1 - 41 of 41 items
Bath Screens
A bath screen is a seriously underrated but effective addition to a bathroom. Sometimes called "shower screens". These simple but effective panels sit above your bath's rim and cover a portion of the bath. Letting your bath become a combination shower space. Where the panel keeps water inside the enclosure instead of on your floor. These panels come in a variety of different looks as well as styles of motion. With models that are fixed in position, ones that pivot on a hinge and even screens with multiple panels that fold down to save space.
You'll also have to consider the compatibility with your shower's setup. Depending on what end of the bath your shower is fitted, a bath screen can be fitted left or right-handed. Some panels are reversible. Where the panel can be rotated to fit on either side. However, this is not universal and you should always check before purchasing.
The last factor worth delving into is the glass used in the screen. Each manufacturer and/or range will use different thickness, shapes and treatments of glass. Shapes usually come in the options of square or rounded. While thicknesses and treatments are usually a lot more diverse. You'll find that if your choosing an Ideal Standard bath screen or Burlington model they will all be a little different.
Glass thickness determines a screen's strength. And even though most screens use shatter-proof safety glass. This thickness can dictate how tough it is and how ready it is to put up with the knocks and bumps of a busy bathroom. For this, the thickest 10mm glass provides excellent rigidity and longevity. But with strength comes weight. Making movement more cumbersome if you have a moving panel. So, if you intend to use this panel in a home with less traffic or an occupant who is less physically able. Lighter weight 6mm or even 4mm glass offers easier motion.
A feature that is becoming more common is treated glass. These coatings intend to help reduce the friction on the glass' surface. Cutting down on suds and water circle marks that can be difficult to clean. Each brand has its own unique take on this feature. So, it's important to read the description to find out which coating does what.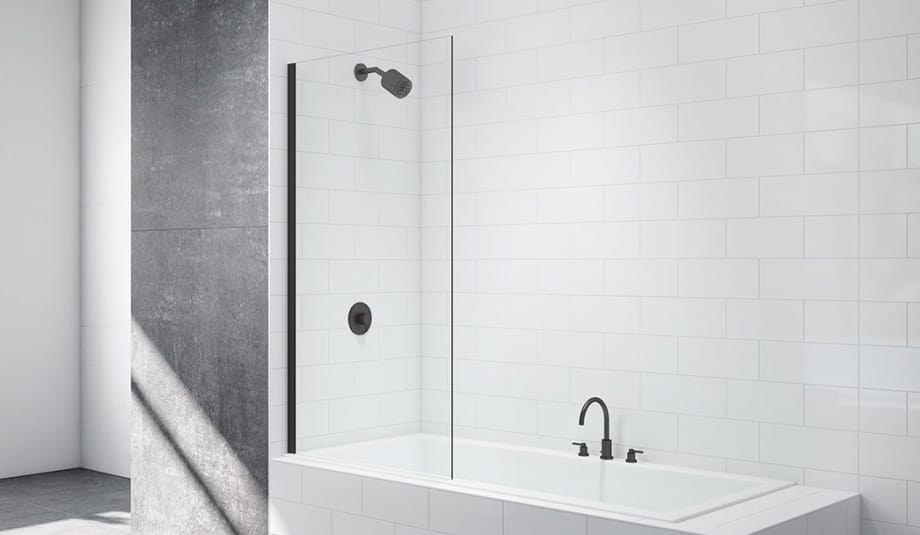 Fixed Bath Screens
Fixed bath screens are one of the most common types of panel you'll find. They usually fit directly into a fixed wall channel. Meaning no movement. This also allows the bond between the bottom of the screen and the bath's top edge to be sealed for a watertight seal. Fixed screens are usually the cheapest in the category because of their simplicity.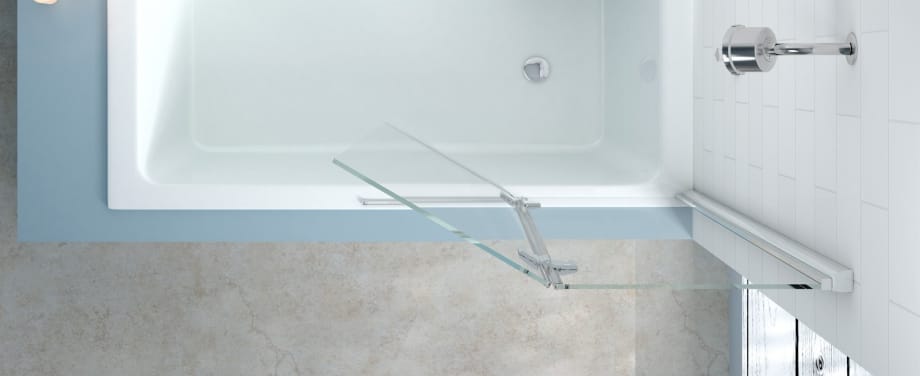 Hinged Bath Screens
Sometimes known as "folding screens", these models include a pivot point. Allowing for easier access to the bath for getting in and out or for cleaning. Standard models will have a wall joint that the panel attaches to and will pivot from there. Other screens feature a fixed panel with a hinge at the end where a second panel can pivot. Providing a blend of fixed water retention and hinged movement. Each model may have a different range of motion. With some folding completely flat to a wall. And others only pivoting in one direction.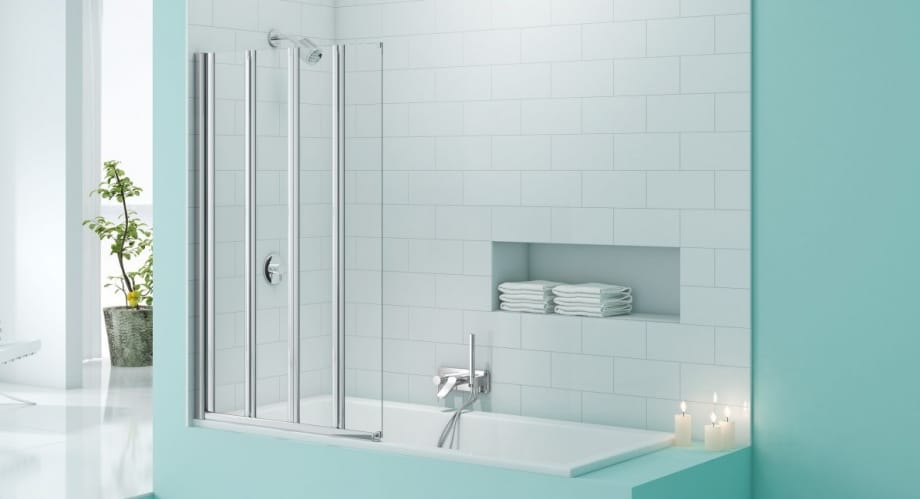 Folding Bath Screens
For complete access to your bath on demand. Folding bath screens offer maximum flexibility. Offered in anywhere between two and five panels. These models join several pieces of glass together with multi-way joints. Allowing each panel to fold into the next for an almost flat foldaway.