Roca Wall Hung Basins
Compact and stylish, wall hung basins are a clever way to give your bathroom a spacious and decluttered look. A wall hung basin can transform the look of your space & make your bathroom functional at the same time. If you've been looking for the best addition for your en suite or cloakroom, a wall hung basin adds the functionality of a basin without compromising the spac... read more
Showing 1 - 21 of 21 items
Roca Wall Hung Basins
Compact and stylish, wall hung basins are a clever way to give your bathroom a spacious and decluttered look. A wall hung basin can transform the look of your space and make your bathroom functional at the same time. If you've been looking for the best addition for your en suite or cloakroom, a wall hung basin adds the functionality of a basin without compromising the much-needed space. At Roca, you'll find both traditional and contemporary wall hung basins designed to elevate your bathroom into an enjoyable sanctuary perfect for relaxation.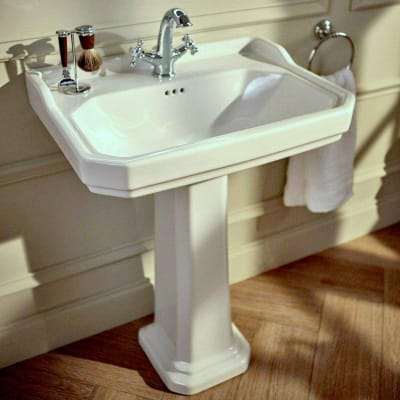 Roca Carmen Wall Hung Basins
Add an extra touch of traditional flair in your bathroom with this stunning basin from Roca's Carmen range. Coming in two widths (650mm or 800mm), with a choice of one or three tap holes, finding the perfect companion for your bathroom will be effortless. You can even choose to pair the stylish basin with an equally classic pedestal for added traditional vibes. Alternatively, if looking for practicality and extra storage, this wall hung model sports a gorgeous chrome washstand that you can use to drape the towels, as well as a stylish glass shelf for storing other necessities. For a perfectly coordinated bathroom, consider combining this with other items from the Carmen range.
The Laura wall hung basin is another traditional-styled creation perfect for modern spaces. Boasting quality Vitreous China construction and a glossy finish, this basin does exactly what you need it to do and looks great while doing it. Available in three sizes; 600mm, 560mm and 520mm, with the option of one or two tap holes, the basin is ideal for differently sized bathrooms. The model also comes with the choice of including a pedestal (full or semi-sized) designed to conceal the pipework. A fine addition to the Roca's basins.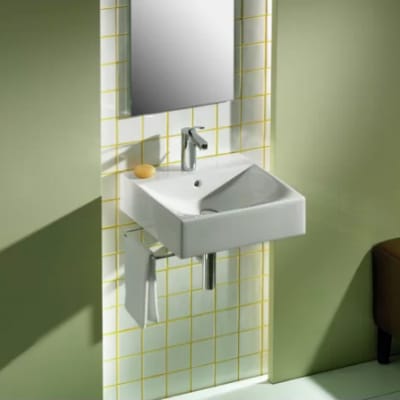 Roca Diverta Wall Hung Basins
Are you a lover of bold designs? This stunning wall hung basin from Roca's Diverta range makes a statement in any space with its boxy design. The sleek basin comes in two widths (470mm or 750mm), with each reaching out 440mm to the user for a comfortable wash space. It also comes with a pre-cut central tap hole and an overflow hole, making it easy for you to fit your desired Roca basin tap. As you can expect from all Roca's sanitaryware, the basin features high-quality construction built to last.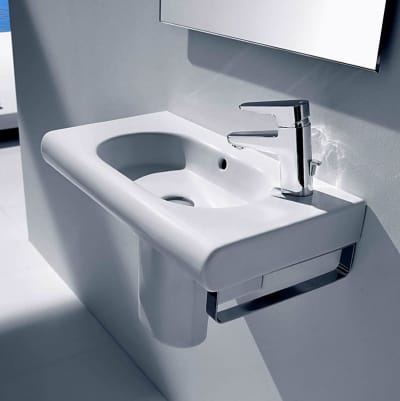 Roca Meridian-N Wall Hung Basins
Speaking of bold designs, this Roca Meridian-N wall hung basin comes with features that you won't find in a standard basin. Its thoughtfully designed crescent-shaped cut-out lets the user get as close as needed, while the integrated soap dish adds to the practicality of your space. From the same innovative range is this wall hung basin designed with functionality in mind. Thanks to the included ledge area, you get plenty of storage room for your essentials. And if in need of even more storage room, you can add a towel rail to either side of the basin. With three widths to choose from (700mm, 860mm and 1000mm), you can be sure to find the right size for your room.