Heating
Keeping your bathroom warm and cosy is important. Especially when leaving your shower on a cold morning. This is where bathroom heating steps in keeping your bathroom at the perfect temperature. The practical benefits are not only practical with a broad selection of styles available to suit any bathroom. read more
How to Select the Right Bathroom Radiator
Because the insulation of a house or flat can vary, adequately heating your home can seem like a difficult task. After all, not all rooms will require the same level of heating and you may notice some of your rooms are colder than others. By selecting the right radiator, however, there's no doubt you can achieve a comfortable temperature in any given space, including your bathroom. To do this, there are several factors and variables to consider first. Style and size, heat output and fuel source all play a role in the effectiveness of a radiator and you'll quickly find not all are designed alike.
Available in many different styles, radiators primarily aim to achieve one thing: heat the room, though different models may also simultaneously warm your towels. The material used to construct the radiator will play a major role in doing just this. Steel will provide a cost-effective solution, and you'll see this used in many commonplace radiators, but other materials, like aluminium, can be formed to create unique shapes and designs. Aluminium also offers many advantages when it comes to mounting due to its lightweight and low minimum requirements for water volume. It heats up faster than many other materials but loses heat just as quickly when its shut off. On the other hand, cast iron radiators are heavy and take time to heat up. The benefit, though, is that they remain warm for much longer than others after they've been switched off.
Unsurprisingly, heat output will have a significant impact on just how effective a bathroom radiator will be. This is measured in British Thermal Units per hour (BTU/h) and calculating the requirements for your bathroom can be done a couple of different ways. One is by using an online calculation tool that takes into account your bathroom's dimensions, window sizes and even wall material and location. This will give you a rough estimate of the heat output required. Consulting with a professional plumber or heating engineer is your other option and, while it will be an additional cost, it will provide you with the most accurate measurement possible.

Radiators can also be powered differently with each offering a different level of efficiency, effectiveness and cost. Boilers fuelled by natural gas heat up water which then travels through the radiator pipes, providing heat to the room in which it is located. This has been the most common type of radiator for decades. Electric radiators, on the other hand, draw their power from electricity. They may include programmable smart controls and cost less upfront than a gas-fired boiler but they will cost much more to operate in the long run. Depending on where you live and your regional climate, each fuel source can offer its own benefits. One thing is for sure, though, when considering all these factors: there is no shortage of radiator types for every bathroom.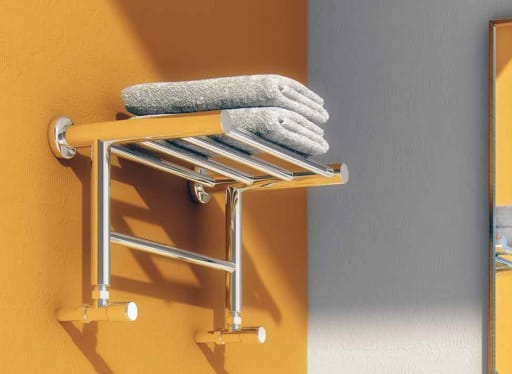 Towel Rail or Bathroom Radiator
Dedicated towel rails and radiators may look similar but their heating outputs vary to serve different purposes. When choosing a towel rail, you have to decide whether you want it to solely warm towels or warm towels while also heating your bathroom. You see, most towel rails on their own will warm towels but won't heat the room. This is especially true when the towel rails actually have towels on them. A common mistake homeowners make is installing a towel rail thinking it will serve both purposes without considering the heat output requirements of the room, meaning they may get warm towels but their bathroom is left cold.

Depending on the size of your room and the heat output requirements, some powerful towel rails will, in fact, be able to heat the bathroom, but for those looking for a model that can truly pull double duty, they may be more interested in finding a bathroom radiator that has a built-in towel rail.

Many bathroom radiator models have the option to add rails to the existing design to allow for multiple towels to be hung while still providing enough heat to fill the room. More classic styles offer a radiator insert that is surrounded by a frame on which you can hang your towel so it is never placed directly on the radiator itself but still receives the heat.

Towel rails and radiators that warm towels also come in a variety of different materials, finishes and colours to fit any room and amplify your bathroom's heating if necessary. Stainless steel towel rails, for example, are available in polished and brushed finishes and provide even heating. In contrast, chrome, while attractive, will reduce the output by nearly 20% because the material can trap the heat in the rail itself. For small bathrooms, this may be sufficient but larger ones may benefit from a material more conducive to radiating heat.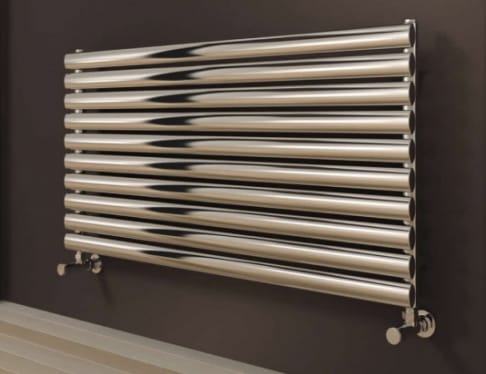 Bathroom Radiators
If you're looking to heat your bathroom appropriately, the choice between a radiator and towel rail is an easy one: radiators provide much more heat and are available in a wide range of styles, finishes, colours and materials. As the most popular option for heating your bathroom, you'll find many different variations on the classic column radiator look, many of which are designed to fit bathrooms both big and small. The availability of both vertical and horizontal options means that fitting a radiator into your bathroom will be easy and will provide consistent, even heating.

Beyond the heating capabilities of a radiator, the seemingly endless choice of design options means you'll be able to easily integrate a radiator into the existing aesthetic of almost any bathroom. Most typical radiators are made from materials like steel, aluminium and cast iron but as far as design elements go, that only scratches the surface. After choosing a material, you're spoiled for choice when selecting finishes and colours. Brushed, polished, matte and more give a radiator texture while primer and topcoats will provide just about any colour you can imagine. Cast iron radiator finishes can also withstand high temperatures (some up to 600oC) without discolouring.

Radiator styles don't just differ based on finish and colour, either. With many different shapes and sizes, both modern and traditional, there's likely a radiator fit for every bathroom. Traditional radiators from brands like Bayswater, for example, offer period designs that are just as much decorative pieces as they are practical heating sources. With attention to detail that draws heavily on Victorian and Edwardian design elements, they're also equipped with some of the latest technology that makes them surprisingly energy efficient. In contrast, modern radiators offer a designer look that stands out in the best way possible. Popular models like Reina's Casina Vertical Radiator are minimalist and classy while the Dimaro Radiator is like having a freestanding work of art right in your room. Whatever look you're trying to achieve, there exists a radiator that can help.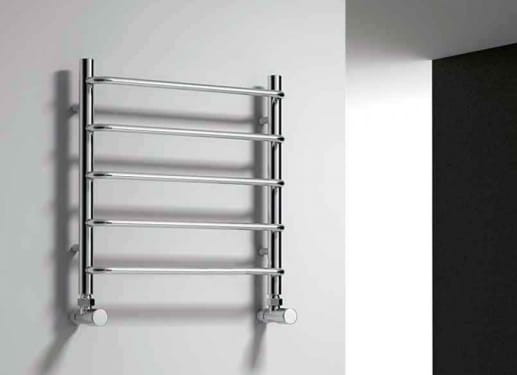 Heated Towel Rails
Though you may think that heated towel rails are simply a nice way to keep your towels warm and toasty between uses, their intended use was originally to keep towels dry. Damp, humid bathrooms are a breeding ground for mould and bacteria and simply hanging your towel up on a regular rail or hook between uses isn't always enough to completely dry it. Still, there's no doubt grabbing a warm towel after a shower or bath is a welcome perk of a heated towel rail and it even helps cut down on laundry.

Furthermore, this multi-functional fixture can help make a room look good. Available in many different styles and finishes, a heated towel rail can be both practical and attractive. Choose from shades like black and white or metallic looks to complement your existing furniture and fixtures and you'll have a room that looks cohesive and sharp. Models like the Reina Helin Towel Rail offers a modern look that is both practical and attractive, while the Reina Grace Towel Rail model offers a similar look but features mounting bars positioned together to one side; a perfect solution for corners or tight spaces where wider mounts just won't fit.

Like radiators, traditional towel rails can be powered by different fuel sources that will determine how cost-effective they are and how efficiently they heat. In cold regions, for example, they can be part of larger central heating systems and fuelled by natural gas. For warmer climates where heating is used more sparingly, however, electric towel rails offer an affordable up-front cost and low operational costs due to the infrequency of their use. Alternatively, for the best of both worlds, a dual fuel towel rail offers the option of which fuel source to use – draw from the central heating system when it's cold or electrical heat during warmer months when the central heating system isn't up and running.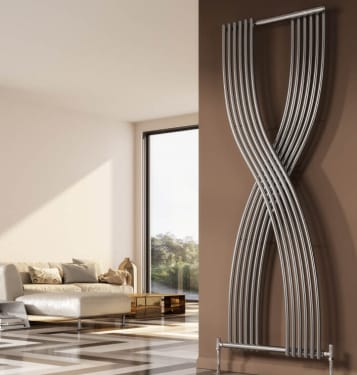 Designer Radiators
Heating your bathroom doesn't just have to be practical. In fact, radiators can add a design element to your bathroom that other fixtures and furniture may not be able to and can even be the jumping-off point for decorating ideas that fill the rest of the space. Combining both effective heat outputs and stylish aesthetics, designer installations look just as good as they perform.

Like other radiators, they're available in a number of unique finishes and colours, like anthracite, but also offer more contemporary design elements that set them apart from the rest. Flat-panel radiators, as an example, are both thin and stylish so they remain out of the way but still eye-catching. Radiators that feature a slimline design can also be hung on the wall due to their lightweight, and can save on precious floor space in smaller bathrooms.

When it does come to colour, you can likely have your pick from a gorgeous palette when choosing a designer model. Reina, for example, offers 40 RAL colour options on certain models that can be specially ordered for a personalized touch. With richer, deeper hues and unconventional options, as well as conventional ones, you'll be able to choose something special. This highly customizable design element can make your radiator seem like one of a kind and complement your space perfectly.
Radiator Valves
On every radiator, you'll find valves that control how it's heated. One valve controls the hot water that enters the radiator while the other controls how much heat the radiator gives off. These valves are also shaped according to how the radiator is positioned. Straight radiator valves come up through the floor and are part of most traditional installations. Angled radiator valves, on the other hand, are typically used as part of the wall-mounted variety and those that don't conform to typical radiator installations. In some cases, both straight and angled valves are used. In dual fuel radiators, for example, one fuel source may require copper pipes to come up through the floor while the other comes out from the wall. Just like radiator colours and finishes, valves can be found in the same styles and feature a wide variety of options.

For a practical solution to radiator heating controls, a thermostatic radiator valve (TRV) offers an alternative to the common manual radiator valve. Thermostatic radiator valves are designed to automatically adjust the amount of hot water that fills the radiator based on the temperature of the room, not the temperature of the radiator itself. Because of this design, TRVs have the potential to save energy and prevent overheating that is so often the result of manual valves.