Freestanding Baths
A symbol of luxury and comfort. The freestanding bath has been around for decades. And in that time, it has evolved to be one of if not the most appreciated ways to enjoy a bath. With options available in modern and traditional looks. Materials stone and acrylic. There's never been a better time to invest in one of these fantastic tubs. read more
Showing 1 - 60 of 75 items

Freestanding Baths
The freestanding bath is a piece that can immediately elevate any bathroom's appeal. Turning an average space into a luxury space. And this is because of these baths exceptional styling and premium construction. They don't just look good. They feel good. And you'll notice that difference the moment you sink into your first bath. Being surrounded in sumptuous comfort for a bathing experience like no other.
But don't let the appearance and reputation fool you. These baths can be very affordable, and a smart investment in your home. With exceptional longevity assured by the quality materials used to craft each stunning model.
Finding the right size shouldn't an issue either. More often now, brands are providing petite versions of their most popular bath styles. Shrinking down their dimensions for a smaller package. While still maintaining that high level of bathing richness and craftmanship. Making for a fantastic option in smaller bathrooms.
Single-end or Double-end
Like standard baths. Freestanding options come in both single and double-ended forms. Allowing for specific tailoring of the bathing experiences you need.
Single-ended models feature one sloping end for the bather to relax in. With a waste located at the opposite end where brassware would usually be located. These are perfect for the lone bather who wishes to completely unfold in their own extravagant space.
Double-ended baths are made for two. With a symmetrical design that sees a gentle slope at either end of the bath and waste located in the middle of the bath. Providing one or two bathers with a comfortable space to enjoy a romantic soak. A design like this can also be beneficial for families. Making it easier to bathe young children in the centre's large space. And with brassware being located here, it's easier to control water flow and temperature.
Styles of Bath
No matter your personal taste. There is guaranteed to be a style of freestanding bath for you. From Burlington with their traditional offering to RAK Ceramics with more contemporary examples. Covering modern and traditional cornerstones, these baths are as diverse as they are beautiful. With each style offering their selection of single-ended and double-ended models.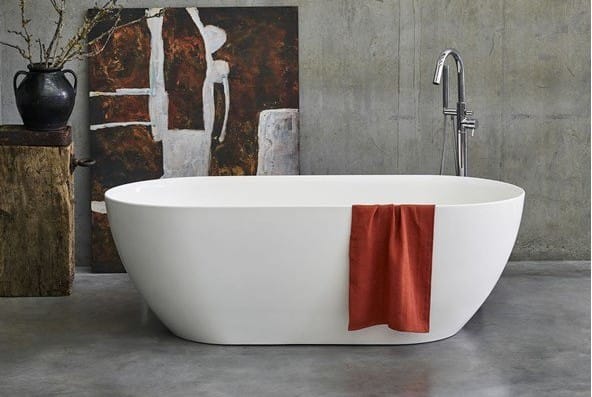 Flat-top Baths
The most prevalent type of freestanding baths. The flat-top style covers a plethora of different body shape subtleties. With the common feature amongst all them being a level bath rim. Styles like this offer a neutral platform and can be very simple in design. Creating a pure and straightforward look.
Some designs can be more audacious. With egg-shaped and teardrop silhouettes available. Offering a more quirky look for those with a specific design in mind.
Flat-top baths are usually symmetrical. Lending their designs to that of a double-ended bath. However, there are exceptions that are built with a single-end.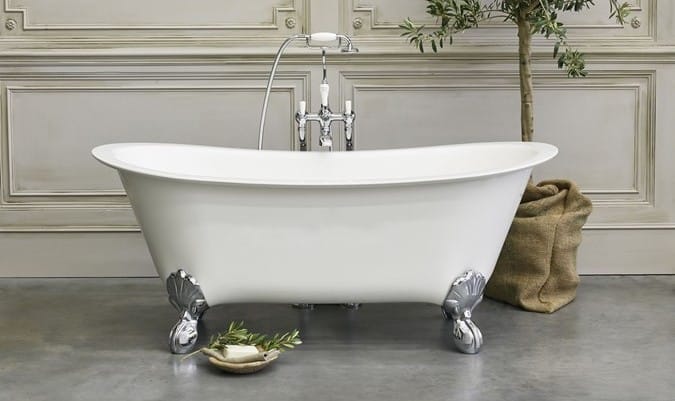 Boat Baths
The boat bath is a much more traditional shape. These baths are usually very deep. Featuring high ends in a double-ended configuration with a subtly rolled rim. Because of this depth, they are very comfortable to bathe in.
They usually stand on an integrated or separate plinth. But sometimes can be found in the most traditional guise. Using legs to support their frames.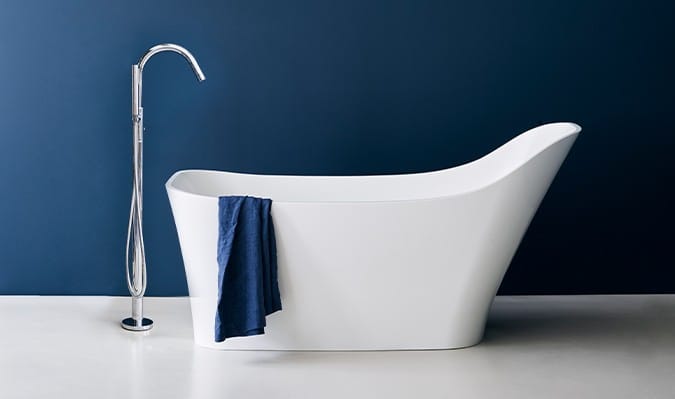 Slipper Baths
For the absolute maximum in personal comfort. Consider investing in a slipper-shaped bath. These baths host a single high end that reaches up to support the bathers back, neck and head. Letting them fully lean back and rest their body while they soak.
Baths like this come in contemporary and vintage looks. Allowing for use in any space that needs to be a haven of luxury and comfort.
Materials
The material used to build a freestanding bath is very important. Not just for the looks. But for the longevity and resilience of that bath. For this reason, only the highest-quality of crafting elements are used to build these premium pieces.
One of the most popular options in the current market is stone baths. These use a stone resin made from a blend of purified natural elements. This is then injected into a mould and cured for several hours.
The result is an incredibly tough bath with a one-piece look. And because of the natural heating properties of the stone. These baths offer exceptional heat retention. Holding heat for much longer than the average acrylic bath. Allowing for warmer baths for longer.
The only downside of these baths is their increased weight. Limiting the floors they can be placed on. Especially bathrooms with under-floor heating. Meaning you should check with your fitter before committing to a stone bath. As well as the weight. Manufacturing processes are more specialized and take longer to produce. Leading to higher costs.
So, if you're looking for a lighter and more inexpensive option. Acrylic and acrylic compounds can provide a happy middle ground. Acrylic is light and strong while also being easier and cheaper to manufacture. Resulting in lighter baths with an even lighter price tag.
Though some reinforced acrylic blends provide much greater strength than standard acrylic. They still can't stand up to the natural toughness and warmth of stone baths.