Roca
In it's more than 100-year history, Roca has slowly developed its original take on bathroom products thanks to its dedication to versatility, innovation and design. It's these qualities that best exemplify what makes the brand so enduring and exactly how they've become a world leader in the production of bathroom solutions today. read more
Roca Bathrooms
In its more than 100-year history, Roca has slowly developed its original take on bathroom products thanks to its dedication to versatility, innovation and design. It's these qualities that best exemplify what makes the brand so enduring and exactly how they've become a world leader in the production of bathroom solutions today.
Expanding upon their first foray into the bathroom space with the production of baths in 1917, Roca now produces a wide variety of products ranging from basins and brassware to furniture, toilets and more, each featuring trademark quality and progressive development. Roca products also feature innovative designs and eco-friendly technology that set them apart from the competition. The same can be said of their production and manufacturing methods behind the scenes. From conception to distribution, Roca's technological excellence ensures the highest quality and a commitment to environmental protection.
Throughout their product lines and ranges, Roca's unique aesthetic designs also help to make your bathroom shine. From the curves and soft angles of the Inspira range to the vintage characteristics of Carmen basins and baths, you'll find inspiration for both modern and traditional bathrooms. But no matter what your style, you'll find Roca products are, above all, efficient, long-lasting and expertly crafted.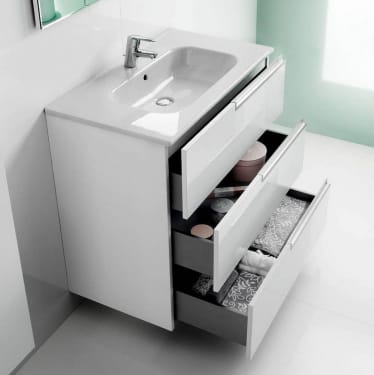 With a variety of bathroom furniture manufactured to the highest standards, Roca offers collections that provide stylish designs and finishes coupled with functionality to many suit different tastes and storage needs.
Roca Vanity Units
Base units provide the foundation of your bathroom space and Roca's designs help to build it from the ground up with units that are practical and stylish, providing the storage you require with the classical or contemporary look you want. The Carmen collection's square and rectangle base units are a perfect example of how all of these elements come together. Available in oak and gloss white finishes, Roca's vanity units can be combined with an integrated or countertop basin. Their two drawers with optional mirroring provide ample storage and can also fit Roca's organizing box accessory.
From a design standpoint, the Inspira collection relies on contrasting shapes and lines to make your bathroom pop. The square shape of the base units, as well as the storage-friendly column units, ultimately complement the round and soft shapes of the collection's other pieces for an unconventionally harmonious bathroom space worth showing off.
For bathrooms that are lacking in space, storage can be hard to come by but Roca has a solution for that. The Gap Original collection provides a compact and functional style that helps optimize the space you do have while maintaining modern elegance. Their base units with square or rectangle countertops are available in smaller sizes than the Inspira but still offer the same fine finishes and attention to detail that Roca is known for. These wall-hung units can be found in one or two-drawer configurations and perfectly compliment the collection's reversible column unit that's designed to fit any space necessary.
Whatever size or shape your bathroom is, you'll be confident knowing Roca has styles that work for you. From the basin/shelf combinations that make up the Modo collection's furniture offerings for large bathrooms to the Maxi collection that quite literally maximizes precious floor space, Roca's furniture design, finish and size combinations are seemingly endless.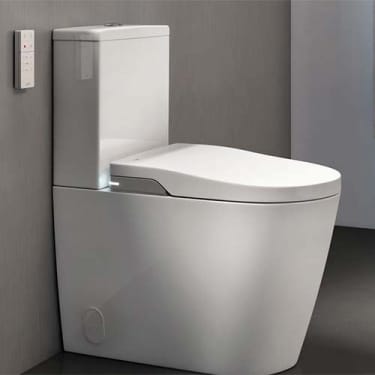 Roca Toilets
Made from vitreous china and produced to the highest standard, Roca toilets are a large part of the brand's long history and identity. With designs that include In-Tank, close-coupled, wall-hung and back-to-wall configurations, there are plenty of options for every home.
The In-Tank variety of toilets from Roca is the brand's first to not require the installation of a cistern. Instead, the tank is incorporated within the bowl to create an all-in-one space-saving solution. There are even more options when considering the common close-coupled style. With floor-standing designs that fit within each of Roca's collections, like Inspira, The Gap and Carmen, you'll easily find a style and shape that suits your bathroom's requirements while still benefiting from features like rimless technology or dual outlets.
Roca Wall Hung Toilets
Roca's wall-hung variety of toilets help to modernize your bathroom and provide an elegant solution to space-saving efforts. Available in round and square shapes with different depth dimensions, you'll find these toilets don't stick out as much as close-coupled ones and the room underneath will help your bathroom to feel more spacious. The similarly-styled back-to-wall design combines the higher comfort level of a close-coupled toilet with the space-saving benefits of wall-hung thanks to its concealed cistern. Like other styles, you'll find some varieties with rimless technology and square or round shapes to match their corresponding collection perfectly.
Roca Bidet Toilets
The brand's truly revolutionary toilet, however, is the Roca In-Wash smart toilet. Expertly developed by Roca's team of designers and engineers, the In-Wash offers the best of both WCs and bidets in one state-of-the-art product. While it shares some features that other toilets do, like rimless technology and a soft-closing Roca toilet seat, the Inspira In-Wash raises the bar by including features like user detection and LED lighting.
With a special focus on personal hygiene, the In-Wash provides a complete cleaning solution that fits perfectly alongside other furniture, basins and brassware from the Inspira collection. The integrated nozzle is self-cleaning and the water is filtered and treated before its sprayed. A clever presence sensor also prevents accidental spray while the seat is not in use. Furthermore, the remote control is intuitive and users can operate the In-Wash with just the touch of a button. The smart toilet features an additional side panel that can also control the cleaning and drying functions and can be programmed to stay lit for up to eight hours so usage in the middle of the night is no problem.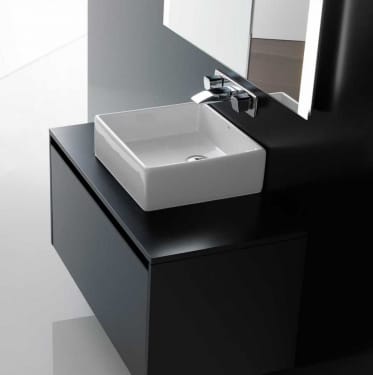 With so many different options for base units and countertop styles, you'll find just as many basin products to fill the space. From over, in and under-countertop designs to vanity basins, semi-recessed, freestanding and wall-hung varieties, there's no doubt you'll find a basin from Roca that suits your bathroom size, space and style.
Roca Wall Hung Basins
Wall-hung basins will help your bathroom appear more spacious because of the little space they take up. But even for larger bathrooms, you'll find a wall-hung basin with the versatility of countertop design. Inspira FINECERAMIC basins, for example, feature generous space on both or one side of the basin bowl and provide a surface even when a base unit isn't possible. You'll also find Roca wall-hung basin designs with multiple basins for his/her options.
When a base unit is possible, an over-countertop option is the perfect addition and offers the choice of a round, square or soft-angled basin, whereas in-countertop basins or semi-recessed styles can be built into existing countertops.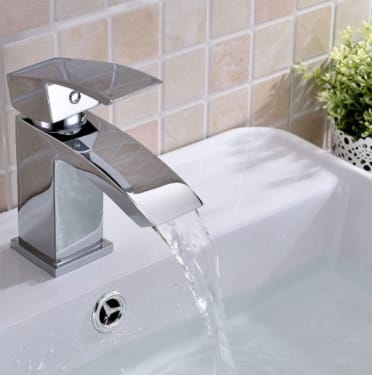 Roca Taps
To finish off the look of your basin or to properly outfit your bath or shower, Roca offers a wide range of brassware designed to limit water consumption without sacrificing aesthetics.
Roca Basin Taps
Roca basin mixers consist of single-lever, twin-lever, electronic and self-closing designs, giving you the choice of style to suit your needs and taste. Featuring classical and contemporary designs and finishes, you'll have no problem finding a mixer to match a Roca collection or adorn your modern or traditional basin. Mixers featuring Cold Start technology also aim to increase energy savings by limiting the need to turn on the water boiler unless absolutely necessary.
Roca Bath Taps
Roca also offers a diverse lineup of bath and shower mixers that feature many of the same sustainability technological advancements as their basin taps in an effort to conserve and improve the environment. Their range of thermostatic bath and shower mixers, for example, keep temperature consistent while saving water and energy, making them not only ecological but also economical. Like all of Roca's products, they benefit from the brand's commitment to quality and dedication to innovation.