Basins
Basins come in a variety of different designs and styles so when picking one out for your bathroom, you'll likely be spoiled for choice. To help you narrow down your search, there are a few key elements to consider that will help you get the most out of both your space and budget. read more
Basins come in a variety of different designs and styles so when picking one out for your bathroom, you'll likely be spoiled for choice. To help you narrow down your search, there are a few key elements to consider that will help you get the most out of both your space and budget. These include the material of the basin, the installation, taps and waste. Together, these components can create a beautiful and customized basin that suits your bathroom layout and decor in the best way possible that won't break the bank.

If you have a basin style in mind or are still searching for the perfect fixture to compliment your bathroom, you'll find the look and feel of a basin will greatly depend on the materials used in its construction. Commonly used materials include ceramic, resin, stone, stainless steel and glass, with each one providing its own distinct benefits. Materials that create a smooth surface, like ceramic, resin and glass, are easy to clean and maintain, for example. Stainless steel has the added benefit of being especially hygienic thanks in large part to its non-porous finish that makes it difficult for germs and bacteria to linger. Each material also features unique characteristics that help contribute to a specific look. High-gloss finishes found in glass and resin basins look sleek and sophisticated, while stone basins have a distinct texture and look that helps to create a more natural and organic aesthetic.

Once you've decided on a material, you can begin to consider just how large or small your basin can be. This will depend on the size of your bathroom and the overall layout of the space. If you can afford the room, a large basin will feel like a luxurious amenity, but even in close quarters, you can still find a fashionable and functional basin that does the job well. Thanks to the variety of designs and installation types, you'll be able to install a bathroom basin almost anywhere, including typically under-utilized corners.

Last but certainly not least, you'll have the opportunity to select your taps and waste. The style of your tap, whether the 1, 2 or 3-hole variety or wall-mounted, will depend on the style of the basin itself. While all different types will provide you with hot and cold water, they all do it a little differently. In any case, you'll find there are many different finishes and styles available, from modern matte looks to traditional taps. Once you find a matching basin waste, you'll see just how easily the entire thing comes together.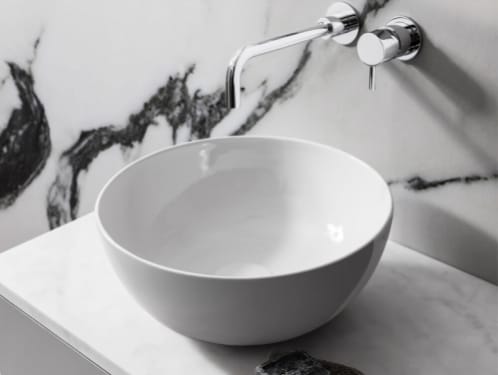 What Types of Basins Are Available?
Countertop Basins
If space permits it, a countertop basin can add a sophisticated touch to your bathroom and one that's relatively understated. With this type of basin, the deconstructed design in which the basin bowel sits atop the counter allows you to take some extra liberties with its style. For example, you can choose between round and rectangular bowls that vary in depth and size to create a highly personalized fixture.

You'll also find that some countertop basins will include tap holes and some will not. Basins that include holes for taps incorporate them in the same way that a common wall-hung or semi-recessed basin does, whereas those without either require a freestanding tap or the wall-mounted variety. Both can provide a clean and minimalistic aesthetic but require a bit more work to do so, unlike the relatively easy installation of the basin bowl itself. Because the plumbing has to be accessed by removing and replacing drywall or creating a hole in the countertop, wall-mounted and freestanding taps will require an extra step when installing in an existing bathroom.

A great example of the simple yet distinct style of a countertop washbasin is the Roca Inspira On Countertop basin. Available in round, square and soft – a hybrid of the two – there is a shape and size for everyone and every bathroom. Its ultra-modern look is only outmatched by its innovative basin material, Fineceramic, that's 30% stronger and 40% lighter than porcelain. This means that even though it may look elegant and luxurious, it stands up well to regular use and meets the demands of almost any bathroom. You'll find similarly modern takes on the countertop basin from brands like Crosswater and Laufen.

Traditional offerings also take the best of modern countertop basins and deliver them in a package that draws from long-established shapes and designs for a classical appearance. BC Designs, for example, creates unique but simplistic countertop basins that speak to the finer details of design, with hand-polished finishes and lines that recall beautifully-crafted bathrooms of the past.


Cloakroom Basins
When fitting a cloakroom with a basin, you might find that you need to be precious with the space you have. You'll also have to be clever, as many cloakrooms are rather small and don't necessarily lend themselves to most standard installations. As a result, small cloakroom basins are specifically designed to maximize functionality in a very little area. You'll find basins that don't protrude as far out from the wall, for instance, and oftentimes, taps will be off-centre so the basin can fit up against the wall as snuggly as possible.

But beyond basins that are designed specifically with cloakrooms in mind, compact versions of the many other styles of basins work just as well in these small bathrooms. Corner basins are perfect when lack of space is an issue, as are some wall-hung and washstand basins, the latter of which can incorporate a towel rail or storage into an otherwise lacking bathroom.

Even though cloakroom basins will more than likely be small, they don't have to sacrifice style just to fit. Many larger basins are available in smaller sizes, offering the same materials and finishes that can help complete the look and enhance your decor. In fact, a smaller basin may force you to think outside the box and make a design choice you otherwise may not have that can actually elevate your cloakroom.


Corner Basins
Like cloakroom basins, corner basins are the perfect solution for limited space and can fit in areas that wouldn't typically be used by other fixtures, meaning you really can get the most out of your space. Though they're typically compact in design, appealing to those who are looking for the bare essentials, corner basins are also available in larger more practical sizes too; if it's the corner style you want, you'll be sure to find one that fits even a medium to large-sized bathroom without looking out of place.

Corner basins are also unique in that their design incorporates elements from other basins styles. For example, corner basins can be wall-hung, on a pedestal or as part of a washstand. Like other designs, they're available in both contemporary and traditional styles that work well to complement different decors and existing furniture. In order to keep extras at a minimum, however, you'll find that corner washbasins typically adhere to the 1 hole tap design, though this can be a benefit if you're a fan of the all-in-one approach to water temperature and pressure control.


Inset Basins
Large countertops are one of the many small luxuries one can include in their bathroom design. It's the little things that make the difference and when added up with all the others, countertop space can really set your bathroom apart from others. Inset basins help you maximize this space and in doing so, also provide you with a stylish and modern aesthetic.

Inset basins, like their name suggests, are set into the countertop, either flush or just below the edge. When compared to a cloakroom basin or corner unit, it's like night and day. Even compared to countertop basins, whose bowl can take up precious room on the counter, an inset design allows you to utilize every bit of surface space and show off that beautiful granite or marble countertop. The basins themselves, however, are also something to be excited about and can help elevate your bathroom in ways that other basins can't. Their sleek, minimalist look will fit right in among your contemporary bathroom style but they're also functional, often large and deep in size, but still easy to clean. They also give taps and wastes a chance to shine. Freestanding taps and wall-mounted taps are both great additions to an inset basin and can even further amplify the basin's modern looks with simple designs and matching finishes.


Wall Hung Bathroom Basins
Although counter space is always welcome, it's not always necessary, and in smaller spaces, it's a luxury you can do without if it means more room to manoeuvre. Wall hung basins fit perfectly in small to medium bathrooms and can still provide enough surface area to hold a soap dish or other small toiletries. What they can do even better, however, is provide a feeling of space when it's lacking. Because nothing is located underneath except the bottle trap, as most of the plumbing is typically hidden behind the wall, wall-hung basins not only create the illusion of more room, they actually provide a little more of it.

Wall-hung basins are typically wider than other basins in an attempt to keep them closer to the wall too. Whether rectangular or oval, they'll provide a stylish fixture that will fit in alongside your existing furniture without overpowering the room and taking up space. When paired with a wall-hung toilet, for example, you'll find your eyes are drawn to other elements of the bathroom and its decor instead of the imposing look of a standard toilet and full pedestal basin.

Though not required, wall-hung basins can be combined with other typical bathroom fittings, like a floating countertop. In this design, you'll still have space beneath the basin but you'll also have much more surface area to work with, assuming you can afford the space.

Even when space isn't an issue, the look of a wall-hung basin may still be desirable. For a wall-hung basin with no limits, look no further than the Gerberit iCon series. Available in a double washbasin design, it's stylish and highly functional and utilizes the space it's given without being imposing. When combined with other fixtures in the line, like the wall-hung toilet, it helps to create a modern, minimalist environment with no frills.

The Geberit Acanto wall-hung basin is also a standout and features a similarly wall-hung cabinet, proving that even when storage and surface space is limited, you can make your fixtures work in your favour.


Semi Recessed Basins
Much like an inset basin, a semi-recessed worktop basin can help maximize counter space but does so in a different way. Semi-recessed washbasins sit slightly above the level of the counter, sometimes even half-in/half-out. The basins also protrude further out from the countertop, making them a focal point in any vanity. It doesn't just look good, though. A semi-recessed basin allows you to come in closer contact with the basin as there's no countertop space between you and it. This makes washing up easier as you'll be less likely to splash water around and make a mess.

Like the other basin designs, you'll find different shapes and sizes to choose from, like round, oval, rectangle and even more contoured designs that don't conform to any traditional shape. They can also be found in modern, simplistic designs as well as traditional, meaning you can benefit from the characteristics of a semi-recessed basin no matter what your bathroom decor is. Whether with 1, 2 or 3 tap holes, you'll also be able to fit them with a tap and waste that complements your tastes.

As a space-saving measure, semi-recessed designs also make it possible for you to have a large basin without necessarily requiring you to have a large countertop that takes up room. Instead, it provides space where you need it and does away with it where you don't.

Traditional or Contemporary
No matter what style of basin you choose, you'll likely be able to find them in both modern, contemporary designs and traditional ones. That's not to say some designs don't better exemplify modern or traditional elements more than others.

For example, traditional fixtures often embrace the ornate and certain embellishments. Even when a pedestal basin isn't necessary, for instance, it may still help to create an aesthetic that falls in line with your traditional decor. The same can be said for basins with freestanding taps and exposed bottle traps. BC Designs does this well and their traditional basins are a perfect match for their freestanding baths and brassware taps.

Modern designs, however, typically favour cleaner lines and attempt to do away with unnecessary bulk and adornments, even if that just means hiding them. Wall-hung basins are perfect for this, as are inset basins. Paired with simple wall-mounted taps, these basin styles help create a specific atmosphere that gravitates toward innovation and the cutting-edge. Crosswater basins are a shining example of this style and cover everything from modern, minimalist basins and vanities to contemporary bottle traps. Laufen takes the same concepts even further. Their streamlined designs hold back wherever possible to provide functional basins that are smooth, clean and symmetrical and could easily be mistaken for modern art.

Whichever design you prefer, you'll be sure to find a basin that suits your tastes, meets your needs and looks great too.