Shower Enclosures
Whether you have just woken up or arrived home from a long day at work, a good shower is always a surefire way to orient and prepare yourself for the next step. It, therefore, makes sense that you take your time to get a shower enclosure that will give you the ideal showering experience.  read more

Everything You Need to Know About Shower Enclosures
Whether you have just woken up or arrived home from a long day at work, a good shower is always a surefire way to orient and prepare yourself for the next step. It, therefore, makes sense that you take your time to get a shower enclosure that will give you the ideal showering experience.
The large variety of shower enclosures available in the market guarantees that regardless of your taste or preference, there will always be something for you. While we would all like elaborate shower designs with enough room to dance in and other wild features, our preference is not always the only factor in play when deciding on the type of shower enclosure to install.
This guide discusses everything you need to know when shopping for a shower enclosure, which will enable you to make a bulls-eye purchase that you will be proud of.
Factors to Consider When Buying a Shower Enclosure
There are limitless varieties of shower enclosures to choose from in the market. Therefore, if you go shopping with no clue of what you are looking for, you may end up getting lost and taking home a cause of regret. Here are some pointers to help you select the right shower enclosure:
The Space Available
The shower space you have available will determine the size of your enclosure. There is a multitude of sizes and layouts to choose from; where larger spaces could have rectangular enclosures and smaller spaces could have other shapes such as D-shaped areas more suited for quadrant enclosures.
Glass Thickness
There is a wide variety of glass thicknesses you can choose from. This depends on your budget or the application of the given glass; for instance, a thicker glass will last longer but will also be costlier than thinner glass. The standard thickness for glasses is 4mm, 5mm, 6mm, 8mm and 10mm.
Preferred Style
The shower enclosure style will be a major influencer of your purchasing decision. Regardless of your intended budget, there is an array of styles from which you can choose.
The Wall Profile
The profiles and frames for shower walls are available in chrome, black and white finishes. A blend of these profiles allows for diverse styling options which could come with or without frames.
These are the little tweaks you would want to be included in your shower enclosure to custom design your showering experience. They include things like the handles and the shower wastes.

Types of Shower Enclosures
When it comes to the type of shower enclosure, there is no right or wrong choice. Depending on your taste, preference and in some cases the space you have, the choice of enclosure type should allow style, comfort, and practicality. Since shower enclosures come in a variety of shapes, you should be careful to select one that does not reduce the potential of your room.
Below are some of the shapes available to choose from:
Rectangular Shower enclosures – a rectangular shape will give your enclosure a similar appearance and shape as a standard bath. To this effect, this type often takes up a great deal of shower space and should be an ideal choice if space is not a problem for you; and if you like to sing and dance in the shower.
Square Shower Enclosures – This is the perfect type of enclosure to make good use of that corner space. There is also a great variety of doors that can be fitted to it, offering great potential for styling and practicality.
Quadrant Shower Enclosures – These enclosures come in the shape of a pizza slice, allowing them to make the best use of bathroom corner spaces. They are therefore perfect when space is a limitation. Although their popularity mainly lies in smaller designs, they are still used in various sizes due to their modern feel.
Offset Quadrant Shower Enclosures – As suggested by the name, these are like the quadrant shower spaces with a twist. While making a neat use of the corner space, the design is tweaked to allow for larger shower rooms without wasting too much space. This is especially applicable where space is a limitation.
D-Shaped Shower Enclosure – The D-shaped enclosure takes the shape of an offset quadrant enclosure, but has a flat back which makes it ideal for the middle of the wall rather than the corner. The curved design in the middle of the wall increases its modern feel.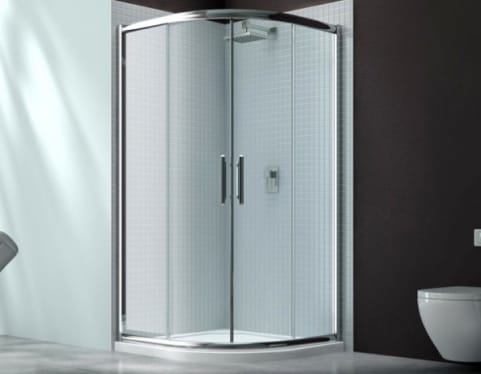 Styles of Shower Enclosure
This is where you custom-design your bathing experience to fit your taste. Depending on how much your budget is, you can go for a modern or a traditional feel, one with or without a frame, and different glass styles. Below is a short description to help you decide;
Traditional/ Modern Style – you can achieve either a modern or traditional feel for your bathroom by mixing the correct shape, choice of material or glass used, type of frame, the choice of doors and even the choice of tray used. This is therefore largely dependent on your taste and pocket depth.
Frame Finish/ Frameless – Your enclosure could have a frame or be designed without one. Regardless of which style you go for, there are an array of sizes and shapes to choose from. The frameless shower enclosure lacks a visible frame, giving it an ultra-modern appearance.
Glass style - A variety of glass styles to use for your shower enclosure enables limitless styling possibilities. Below are some styles you could choose from:
Clear glass. This is a see-through glass that gives that minimalistic elegance loved by many.
Modesty glass – this achieves the same role as the smoked glass, providing both style and privacy.
Mirrored glass – mirrored glass prevents unwanted views into your shower space
How Do You Choose The Best Door For Your Enclosure?
A door is a necessary addition to your shower enclosure. This is the place through which you enter your shower space. Unless you are using a walk-in shower enclosure, you will need a door to prevent water from flowing out of your enclosure. The doors also provide an avenue to be creative with the aesthetics and to save space and other resources. The brand might also play a role in which enclosure you select. At Bathroom Planet we highly recommend you check out our offering's from Aquadart for their broad range of showering solutions. Or Aqata for a truly premium experience.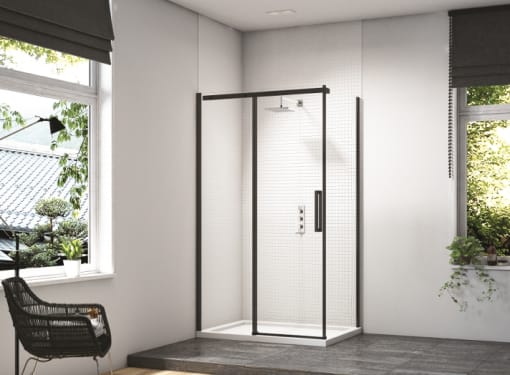 Types of Shower Doors
There are a variety of shower doors from which to choose, each with its own unique selling points and shortcomings. Let's delve into the specifics of the various styles to help you decide which one is most suitable for your shower enclosure.
Sliding Shower Doors
Shower doors are made up of a fixed and sliding panel. The sliding panels sit on rollers on a track and can be pushed behind the fixed panes to allow access. Since the standard access space used is a minimum of 500mm, the minimum size of sliding doors should be 1000mm.
A sliding shower door is best for smaller shower spaces as it does not take up any floor space in the bathroom. The addition of a side panel can facilitate the creation of a corner showering space with sliding doors. This design is also flexible as it can be flipped to open on either the left or right side.
Pivot Shower Doors
This is a simple door design where a pivot or hinge is positioned about 25% into the length of the door at the top and bottom of the door. This means that the door will only open 75% into the shower space, saving space.
The simplicity of the design also minimizes the chances of failure and makes it a cheaper alternative than the other designs.
In-fold/ Inswing Shower Door
This unique design incorporates an arm mechanism that enables the door to open into the showering space, after which it wraps back around in a smooth motion once you close it. It is a great space-saving design since the door opens and closes without interfering with the shower room.
An advantage of these doors is that they come with ready fitting, which could save you some time and extra fitting costs.
Bi-fold Shower Door
This is by far the most practical yet reliable tried and tested design. It is the most applied and can be found in mobile homes, residential properties and even in caravans. Its split-folding design which opens into the shower space can be trusted to save space.
While the bi-fold design can look bulky since it is essentially a frame opening onto another frame, getting it from a premium brand such as Aqata will make it more aesthetically pleasing and reliable.
Hinged Shower Door
This is essentially the standard shower door design, save for the lack of a levered handle and the fact that it is made of glass. It is mainly applicable where space is not an issue. These doors come in different qualities and prices depending on the materials used to make the hinges.
These doors are also available in attractive frameless designs which adds their aesthetic value. They can also be turned upside down during installation to make for either a left or right-side opening.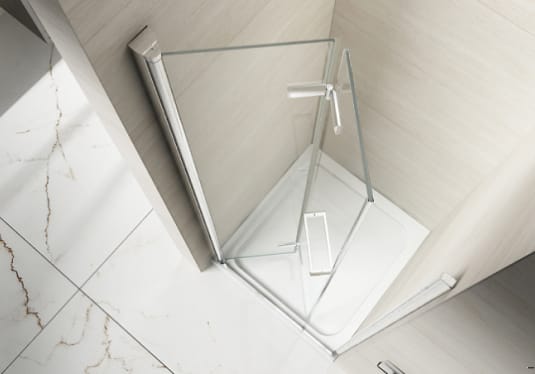 Shower Doors Installation Options
The installation options for shower doors will be determined by the desired shower space, the shape of the shower enclosure, the desired measurements, and the side you want your door to open to. Below are some of the questions you need to answer when deciding on how to install your door;
Where Will You Fit the Shower Door?
Most commonly, shower doors are fitted into a recess or can be partnered with a side panel to enable fitting into a corner. Such a setup is used when the showering space is either rectangular or square.
Although not as common, shower doors can also be fitted as a single wall setup; achieved by the use of two side panels. This is especially handy when there is no alcove or free corner to fit the door on. It is important to check with your manufacturer before opting for this style as not all doors are built with the right profile.
What Are the Correct Shower Width Measurements?
This depends on the size of your enclosure and should be comfortable for you to get in and out. For home use, the smallest width manufactured is 700mm with adjustments on some models which can be as small as 650mm. For most people, this could be a difficult space to fit on comfortably. You should, therefore, ensure you measure out your comfortable dimensions when fitting the shower door.
Which Side Will Your Door Open?
This is totally dependent on your preference since most doors are now reversible with hinges that can be installed either in the right or left. For most designs, this is achieved by flipping the door upside down. For sliding doors, they can be easily fitted on either the right or left side depending on your preference.
With this comprehensive guide, you now have an idea of the shape, style, size and even door type of the shower enclosure you want. If you wish to get yourself the right shower enclosure or other shower accessories, our website is just the right stop for you. Browse through an unlimited catalogue of enclosures where you are guaranteed to find your specific taste. Feel free to contact us for help deciding or any other queries you may have.