Radiator Valves
Radiator valves are often overlooked when designing a bathroom, but they not only provide simple control of hot water flow, they also finish of the look in any bathroom. Our range of radiator valves are simple to install and are available in many different styles to effortlessly tie in with the existing bathroom design. read more
Showing 1 - 23 of 23 items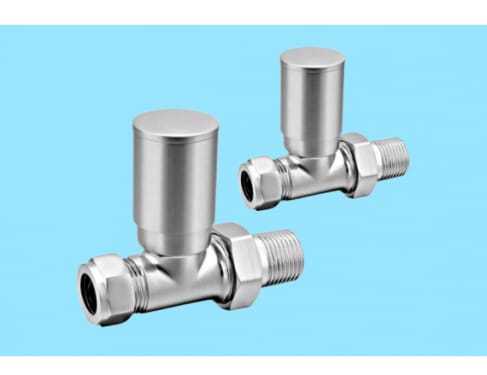 Here at Bathroom Planet we only stock high-quality radiator valves from the best bathroom manufacturers such as Burlington and Reina, meaning that you can be assured of the quality and have the reassurance and reliability of trusted brands.
We stock both straight radiator valves for standard radiators and angled radiator valves for wall mounted units, meaning whichever style you have you can find the right fit. Whether you are looking for traditional radiator valves, contemporary valve sets or thermostatic radiator valves, our website offers it all.

Types of valves
Radiator valves come in different shapes and sizes that can match any décor or style of radiator. There are two shape variations of radiator valves that include straight and angled. Straight valves go right through the floor straight into the radiator. Angled valves as the name suggests are at an angle often at 90°. This style of valve is better for hiding pipework or where your pipework is coming out of the wall instead of the floor.
There are also two main types of valve to choose from which are manual and thermostatic. Manual valves offer complete control your heating allowing you to set a different temperature in each room if you wish. They do not automatically turn off though so can result in a high heating bill if you forget to turn them off!
Thermostatic radiator valves have a built-in temperature sensor which will maintain the room at a constant temperature. This can be a real money saver compared to manual valves as they will only heat up to a certain temperature then switch off by itself.
Valves do have to be purchased separately from a radiator and come in 1 standard size so having valves from a different manufacturer will not be an issue.