Grohe
From its humble beginnings as a family-owned business to its current position as the world's leading provider of sanitary fittings, Grohe has built its brand around the values that resonate with customers the most: quality, technology, design and sustainability. read more
Grohe
From its humble beginnings as a family-owned business to its current position as the world's leading provider of sanitary fittings, Grohe has built its brand around the values that resonate with customers the most: quality, technology, design and sustainability. Equally committed to creating an exceptional experience to ensure efficient, eco-friendly solutions, Grohe's range of products, including taps and fittings for showers, basins and toilets, delivers on all fronts.
With over 450 design and innovation awards under its belt, Grohe is also no stranger to recognising its modern styles and technological advancements. Minimalist sensibilities combined with conscious design choices aimed at water conservation make Grohe products not only attractive and stunning but functional and practical too. And for long-lasting use and durability, everything at Grohe comes with a seal of exceptional quality; with the most demanding endurance tests in the industry, Grohe products are built to stand the test of time.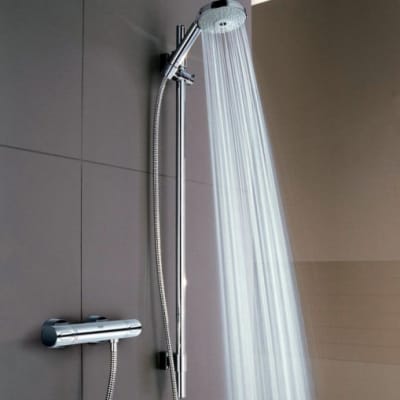 Grohe Showers
Whether concealed or exposed, great showers are made by combining the best components possible to create one streamlined solution. The designers at Grohe have made it their mission to produce showerheads, sets, mixers, and more to raise the standard for all others. With a wide variety of designs available, you'll have the luxury of choice when selecting Grohe products for your bathroom shower.
Throughout its range of stylish, high-quality showerheads, you'll find designs that stand out for their polished finishes, large dimensions and consistent performance. But what sets each model apart from the next is versatility. Within each showerhead is a unique set of spray patterns targeted for different kinds of enjoyment. Whether you want to relax or rejuvenate, you'll find a setting that's just right for you. From the generously sized Tempesta 250 to the multi-dimensional Rainshower F-Series, discover unique designs that are round or square, chrome or nickel, big or small and more.
Grohe's shower heads, hand showers and rain shower systems are designed to outfit exposed showers and offer many of the same characteristics as standard alternatives. Choose from several similar spray pattern combinations and take advantage of Grohe's SpeedClean shower nozzles and Starlight finishes that protect your shower from dirt and limescale buildup to keep it working optimally.
To better control, your shower's temperature and settings, choose from several different valve designs, each crafted to create a pleasant showering experience. Single-lever shower mixers make up the majority of Grohe's offerings and provide a simple solution for most. For more fine-tuning, opt for one of its award-winning thermostatic models from the Grotherm range, for example, designed to keep your shower flowing consistently while also reducing water consumption up to 50%.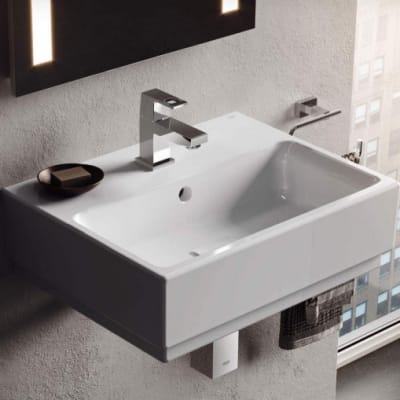 Grohe Basins
Besides the fittings that adorn a variety of bathroom fixtures, Grohe designs and manufactures basins and other ceramics that share the same qualities that make its taps and showerheads so special. Constructed from premium materials and featuring minimalist characteristics, Grohe basins are the natural choice when outfitting your bathroom for a modern or contemporary look; their clean and subtle style is a blank canvas for any or all of Grohe's elegant and sophisticated brassware.
From the Cube Ceramic range, you'll find square and rectangular designs paired with different tap hole options for the ultimate customisation, while models in the Euro Ceramic range feature rounded corners and compact sizes that fit even the smallest cloakroom. Variety doesn't just end at aesthetics either. Discover different installation options like wall-hung, vanity, recessed, pedestal and different tap hole variations that make finding a fit for your bathroom so easy. And with Grohe's Perfect Match capabilities, homeowners can discover other ceramic and fitting designs that seamlessly match their basins thanks to coordinated collections designed for a complete bathroom solution.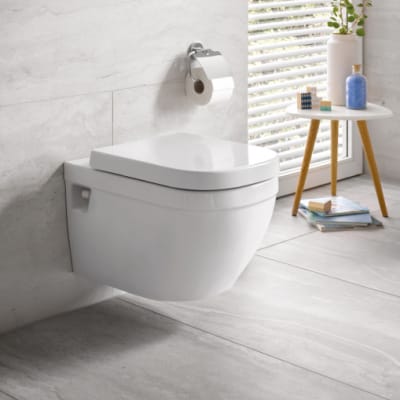 Grohe Toilets
Simultaneously, essential and discreet, a Grohe toilet can be the centrepiece to your bathroom while remaining understated. Grohe strikes this balance perfectly throughout its ranges, offering clean and straightforward models while still efficient and effective. Close-coupled, wall-hung, back-to-wall and more designs make up its selection of toilets that range from standard-issue styles to modern marvels.
Grohe's Bau range, for example, features some of the brand's most classic floor standing models and the lines and curves you'd expect from toilet designs that have been timeless bathroom staples for years. However, it's within the Euro Ceramic range where homeowners will begin to discover modern looks that can help transform a toilet into a sleek and elegant fixture. Designed for a concealed cistern, the Euro Ceramic wall-hung toilet's short projection model, for instance, saves on space and stays out of the way. It and other Grohe toilets also feature rimless designs and a PureGuard hygiene coating created with anti-stick and anti-bacterial properties for low maintenance and easy cleaning. In this way, Grohe makes sure its most vital products are also the ones that demand the least attention.
If you are choosing one of Grohe's striking wall-hung or back to wall pans you can pair it with a flush plate or concealed cistern also from this premium brand. Every Grohe flush plate on offer brings an eye-catching design and outstanding quality, perfect for any modern space.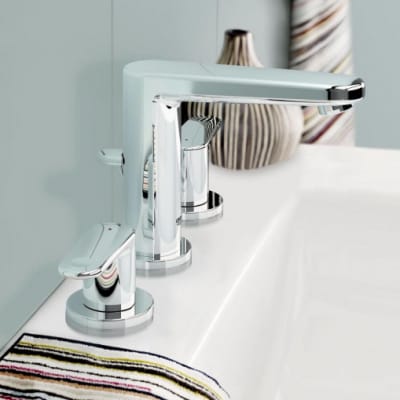 Grohe Basin Taps
When it finally comes time to choose the right brassware for your basin, you can trust that Grohe has just what you need. Grohe basin taps can transform any of its basins into seemingly new and exciting styles while adding a personal touch. You'll find these in a variety of styles and sizes too. For example, robust designs like the Eurocube and Concetto basin mixer taps feature a monobloc installation with a lever that adjusts both temperature and pressure. In contrast, the Eurosmart Cosmopolitan three-hole basin mixer is an excellent example of Grohe's offerings outside the standard one-hole tap for those who prefer dedicated hot and cold supplies.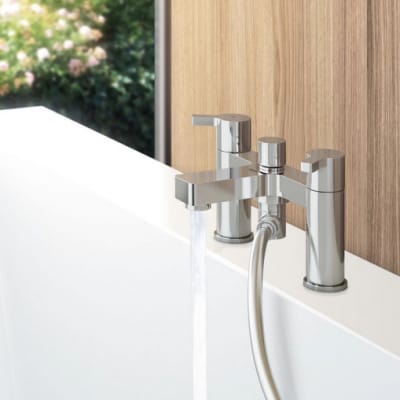 Grohe Bath Taps
Like basin taps, Grohe bath taps come in various styles and installation types designed to fit multiple models. Popular deck-mounted products from the Concetto and Eurosmart range feature a simple two-handled bath filler design while more elaborate ones highlight Grohe's versatility. Its Eurosmart single-lever bath/shower mixer, for example, appeals to both bath and shower fans with a wall-mounted tap that includes a connection to a Tempesta 100 hand shower. The addition of Grohe EcoJoy water conservation also limits water usage for a more efficient experience. Its functionality like this sets Grohe apart from the competition.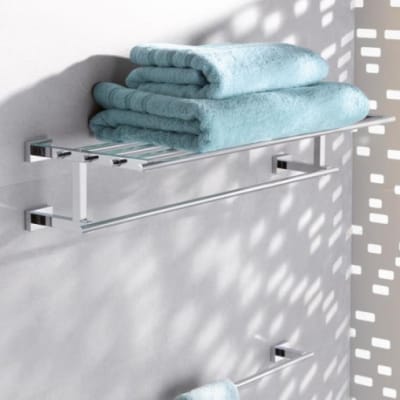 Grohe Bathroom Accessories
Like most products throughout its collections, Grohe accessories have been designed to complement and coordinate with other Grohe products for a cohesive and integrated bathroom solution. From a simple soap dish to the ingenious design of its toilet roll holder, Grohe ensures even its most minor products meet the highest standards. Apart from the little storage solutions a robe hook, towel rail or ring can provide, Grohe makes sure your bathroom is all the more accessible for including its accessories. Solutions like its soft-close toilet seat will prevent slamming, for instance, and its wall-hung toilet brush set will ensure cleanliness is always at arm's length.