Roca Toilets
Balanced by fashionable aesthetics and innovative technology, Roca offers more than just the average to users looking for a complete bathroom solution. Throughout Roca's flagship ranges, quality is the common thread that ties them all together, anchored by premium materials and an exceptional manufacturing process. read more
Showing 1 - 60 of 97 items
Roca Toilets
Balanced by fashionable aesthetics and innovative technology, Roca offers more than just the average to users looking for a complete bathroom solution. Throughout Roca's flagship ranges, quality is the common thread that ties them all together, anchored by premium materials and an exceptional manufacturing process. Toilets that share these characteristics are found in all sorts of shapes and sizes, as well as model and installation types, ensuring that no matter what your bathroom experience demands, Roca toilets will meet your needs.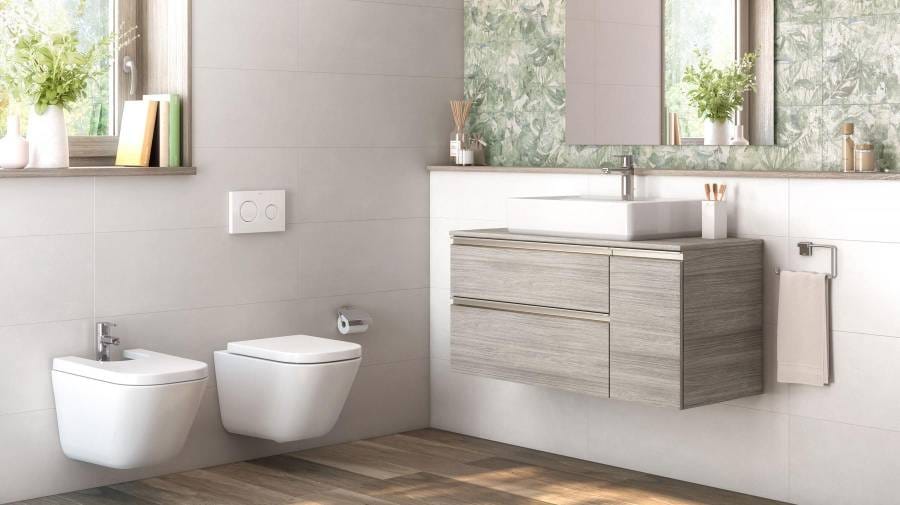 Creating an environment and atmosphere in a bathroom isn't always easy with fixtures alone but with Roca's selection of toilets, you may just find the inspiration you need to bring your vision to life. The addition of a wall-hung model, for example, can help modernise your bathroom space and open up an otherwise stuffy layout. Safely secured to a robust steel frame hidden behind the wall, a wall-hung Roca toilet is not hindered by the depth of one of Roca's concealed cisterns and further creates the illusion of space thanks to the exposed floor space underneath. Wall-hung models from ranges like Roca The Gap and Nexo also benefit from rimless technology, making each one a hygienic solution that's easy to clean and maintain.
For a modern take on a more classic design, Roca back to wall toilets features floor-standing designs that share the compact size and concealed plumbing of a wall-hung model. Available in several configurations, including one for children, you'll find style and function work in harmony to provide the perfect fit. In fact, you'll find back to wall comfort-height models within the Meridian-N and The Gap ranges that are expertly designed to be accessible for everyone, including those with back or joint problems.
With the most variety in terms of style and features, close-coupled models from Roca offer a classic design with technology that's anything but. Compact or full-size, round or square, each model helps create a unique look but benefits from the same Roca standards. With sophisticated functionality and high-quality vitreous china, Roca toilets provide users with an outstanding product that's efficient and effective without compromising style. In the most advanced of the bunch, smart In-Wash technology offers everything from user detection to a cleaning function complete with air drying.
Roca Toilet Frames & Flush Plates
Beyond eco-friendly efficiency, modern aesthetics and state-of-the-art technology, Roca toilets are designed to be comfortable and easy-to-use. Roca toilet seats play one of the most important roles in providing an enjoyable experience, so it's no surprise Roca's selection includes something for everyone. Whether in the squared-off style of Dama-N or the classic curves of Roca Laura, you'll find soft-close hinges and a durable build that feels premium. You'll also find the same quality construction and convenience in Roca flash plates. From the hi-tech performance of the Roca EP-1 Touches Dual, outfitted with sensored flushing and LED indicators, to the manual buttons of the Roca PL1, discreet, minimalistic designs and easy-to-use controls help make Roca toilets ideal for any bathroom.