Flush Plates
Our extensive range of toilet flush plates combines exceptional design, cutting-edge technology and beautiful finishes. This makes a choosing a flush plate that slides straight into your current decor an important finish touch to any bathroom.  read more
Showing 1 - 60 of 84 items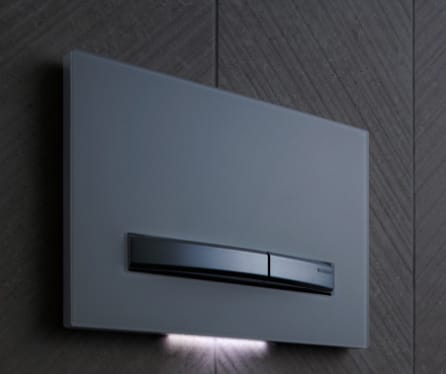 Our extensive range of toilet flush plates combines exceptional design, cutting-edge technology and beautiful finishes. This makes a choosing a flush plate that slides straight into your current decor an important finish touch to any bathroom.
Flush plates allow you to operate your wall-hung or back to wall WC with the touch of a button. This panel will be mounted on your wall and act as a trigger to a concealed cistern or wall hung frame's flush mechanism.
A flush plate can also be used within a bulkhead if your bathroom doesn't have the internal wall space to accommodate a concealed cistern. You will also find that many toilet units work with this style of flushing mechanism. Together they can make a sleek stylish solution which will be a tasteful addition to any bathroom.

Functionality & Features of Flush Plates
You may think that given its size that a flush plate is unlikely to offer any additional features above operating your toilets. Thanks to the incredible advancements in bathroom technology over the years this is far from what you can expect from the flush plates on the market today.
Here are a few of the features that some of the flush plates in our offering bring above what you might expect:
Single or Dual Flush
Many flush plates offer 2 options for the flush mechanism with single or dual flush. The difference in these 2 options is the amount of water that is released with the single flush releasing around 3 - 5 litres of water and the dual 8 - 10 litres. Having a single flush option can significantly reduce your water bill.
Push Button or Electronic Plate
This feature falls under the style of the plate but also its function. The push-button models are mechanical in operation and have 1 or 2 buttons on the plate to operate the cistern.
The other option is to opt for an electronic plate. These flush plates can bring a futuristic vibe to your bathroom. Another benefit is that many plates of this style feature user detection operating the toilet without even having to touch the flush plate. This makes your visit to the toilet far more hygienic.
Orientation Light
Another innovative feature that you can find in modern flush plates is an orientation light. No longer will you have to turn on every light in your home to find your way to the toilet during the night, with an orientation light installed you will find your way there with ease.
Many flush plates with this feature are operated by a proximity sensor which ensures it is not wasting energy when not required.
Surface-Even Integration
If you'd prefer to have a smooth, seamless appearance on your wall there are plates that can have a surface even installation. This small detail can add to the minimalist elegance your flush plate brings to your bathroom.

Styles & Materials of Flush Plates
Flush plates are also available in a broad range of shapes with models coming in square, circle, or elliptical. These options allow you to find a plate personalised to your bathrooms unique style.
When it comes to the finish of the flush plate, there a very broad selection to choose from. You will undoubtedly find something to suit your own style.
Another aspect of flush plates aesthetics is the material they are crafted from. The most common materials used for the front of flush plates are plastic, resin, chrome, glass, brass or glazed ceramic. These will vary greatly from brand to brand. If you do have something specific in mind though, our broad selection will surely have one to suit your needs.
Compatability
It is really important that when you purchase a flush plate you ensure that it is compatible with the other components of your toilet. Whilst there are some flush plates which work across many different products, the majority of plates have been crafted bespoke to suit a specific product.
If you are in any doubt just give our technical team a call and we can make sure you have exactly what you need.