Bathroom Furniture
There are many things that can turn an average bathroom into a room worth showing off but none quite as customizable as a vanity unit. At its core, a vanity unit is the cabinet and/or countertop in a bathroom, home to the washbasin or sink. read more

Vanity Units
With the ability to create storage space and increase the functionality of a bathroom of any size, a vanity unit can also act as a statement piece that takes the design of your bathroom to the next level. Available in a wide range of styles and finishes, a vanity unit is one area where no one would fault you for being a bit self-indulgent.
Whether for fashion or function, you can find wall hung vanity units that free up space beneath to create a minimalistic environment. On the other hand, a freestanding vanity unit occupies more space but can also house more drawers and shelves for storing your bathroom essentials, making it the obvious choice for larger shared bathrooms. For those looking to maximize their small floor space, however, a cloakroom vanity unit fits into smaller spaces by offering a narrow design that doesn't protrude from the wall the same way that most vanities do, often by positioning the washbasin faucet to one side. Our carefully picked collection features many premium brands, even RAK Ceramics vanity units for those looking for something truly stunning.
Beyond their size, vanity units can dictate the style of the space, from traditional to modern, simply because they're often one of the largest pieces of furniture in the room outside of fixtures like toilets and tubs. They also allow for more options when considering design elements like colour and finishes; while most toilets installed in a bathroom will be white ceramic, for example, the choice of colour and material for your vanity is completely up to you.
With the option to get more creative in your choice of unit, manufacturers are able to create unique designs that challenge the idea of what a vanity unit can really look like. Gone are the days where your only options are the cabinet hardware, replaced by a variety of stylish base units, countertops and basins that can be combined to create a look all your own. Companies like Roca are a perfect example of manufacturers that offer a range of base units that can also be combined with stylish and practical countertops and basins. For example, the Roca vanity unit in the Inspira collection draws on modern design elements like clean lines and simple hardware. It also features high-quality materials for a straightforward and functional vanity unit that is available in finishes like City Oak or Glass White with the option of dark mirrored drawers that help add an additional touch of class.
Base unit designs are often available in a number of sizes too. If you have your heart set on a design that may be too big for your space, certain leading companies may be able to offer it in a size that's right for you. The Crosswater Svelte Vanity Unit & Cast Mineral Basin, for example, is a wall hung vanity unit that features an integrated basin, available in 1200 mm and 800 mm sizes. The "120 Unit" fits perfectly in a large bathroom, while the "80 Unit" is better suited for a small room, though both feature the same design and finish options. Alternatively, even those who have the available space may still prefer two of the smaller "80 Units" installed side by side to create his-and-her individual vanity units. It's this kind of flexibility that gives homeowners and designers the ability to make just about any dream bathroom come to life.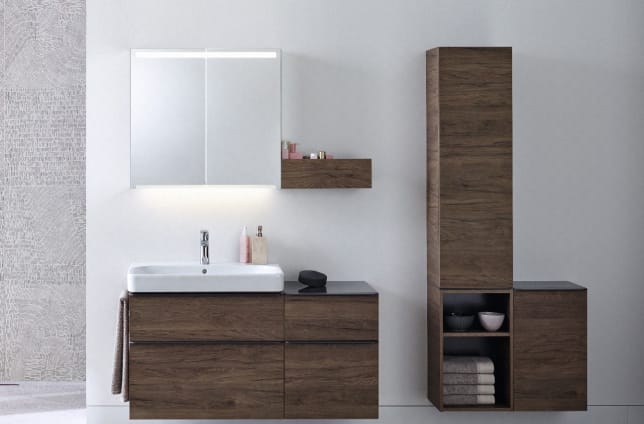 Bathroom Cabinets
Among toilets that flush properly and better water pressure for showers, studies have found that UK residents have a strong desire for more storage solutions for their bathrooms. Beyond the drawers or shelves that a vanity unit can provide, the need for these solutions is usually in direct competition with available space. Larger bathrooms may not be short on storage space but small and even medium-sized rooms are often lacking in this department, meaning that creative storage often requires taking advantage of every available inch. Thankfully, bathroom cabinets come in a variety of sizes and shapes, some of which you may be surprised to learn about.
Floor space in any bathroom can be precious and tall bathroom cabinets are a fantastic solution when it's especially limited. Cabinets that include shelves, doors and drawers can be expanded vertically to offer storage for more than just linens, all the way up to the ceiling in some cases, utilizing otherwise empty wall space. Like vanity units, these cabinets are available in different colours and finishes and can even feature touches like glass-windowed cabinet doors. Bathroom base cabinets can be positioned horizontally if the space can handle it, and expanded far beyond the width of the basin, like that of a typical vanity base unit. For some medium-sized bathrooms, this might mean a bathroom base cabinet that extends from one wall to the other for maximum storage.
Finally, bathroom wall cabinets are unique in that they don't take up any floor space at all. These cabinets can be positioned in places where a standing cabinet wouldn't work, like above the toilet or above a base unit. In some cases, standing units and wall-mounted units can be combined, like those that are attached to the wall around the entirety of the toilet. When space is tight, you'll find storage options become more and more creative.

Traditional Furniture
When practicality isn't of the utmost importance in your bathroom, you're afforded the ability to add a few more flourishes to your space, like in the form of traditional furniture. While some modern bathroom furniture and cabinets, at their worst, can be accused of being utilitarian, traditional furniture is quite the opposite. But that doesn't necessarily mean that traditional pieces can't also be useful. Elegant and full of character, traditional cabinets and basins create an atmosphere of class in your bathroom and, combined with the right fixtures, can send you back in time. Featuring muted colours and panelled doors, cabinets such as these can make a real statement in your bathroom.
Not all traditional furniture has to be historically accurate either. Burlington offers bathroom ranges in the Victorian and Edwardian style but their dimensions and technology aren't necessarily true to the time period. In fact, many traditional furniture pieces take the best parts of their historical counterparts and fit them into the 21st century, keeping with them the spirit of the era and the cosmetic design choices. This can be seen in pieces such as the Burlington Free-Standing 1300 Vanity Unit with Drawers & Minerva® Carrara White. Featuring double vanity basins, it's a piece that stands out and offers plenty of storage, though it wouldn't have necessarily been found in the eras it evokes. The same can be said for the line of bathroom furniture from Bayswater; you don't have to sacrifice elegance for functionality when traditional furniture can provide both.

Fitted Furniture
If your budget allows for it, fitted furniture can offer a customized and personalized solution to your bathroom storage needs and can make even your small bathroom seem larger. Fitted furniture, as its name suggests, is bathroom furniture made and measured to fit your specific bathroom, meaning you'll have the best opportunity to utilize every bit of space available. Especially helpful in rooms that don't adhere to typical bathroom constructs, bespoke furniture can quite literally be fitted in spots where other cabinetry might not be able to work while seriously stepping up your storage options at the same time.
Fitted furniture can also create a streamlined design and style throughout your room that makes it feel modern and fresh. Cabinets and base units will share the same colours, materials and motifs throughout for a cohesive look and feel. Furthermore, fitted bathroom furniture can be cleverly placed to conceal pipework and plumbing. Even in small bathrooms where standard-sized fixtures and furniture may not fit well, slim units that combine the two can hide things like toilet cisterns and show only what you want to show while giving the illusion of more space. Whether large or small, your bathroom can benefit from a custom touch that makes your space work for you.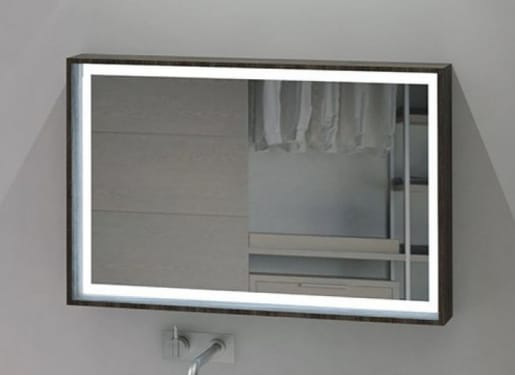 Mirrors
Available in a wide variety of different styles and sizes, bathroom mirrors are responsible for an essential part of the bathroom experience. While bigger is almost always better, mirror designs may be more vast than you think and there are many variations that can elevate this important piece to make it, and your bathroom as a whole, more functional than ever. If your standard mirror isn't cutting it, factors like storage and functionality should be considered when replacing it.
In addition to the storage that comes from bathroom furniture and vanity units, mirrors can also provide a little bit of extra space when integrated with a cabinet. Mounted on the door, just swing your mirror cabinet open for immediate storage of things like toothbrushes and razors. Illuminated mirrors and LED mirrors can also increase the functionality of an otherwise standard mirror. With built-in lights at the top of the glass or around the perimeter, you'll get better, more flattering lighting than what your overhead ceiling lights may offer.
Additional features, like the inclusion of a demister or electrical outlet, can also do away with the drawbacks once associated with bathroom mirrors by eliminating fog and condensation buildup after a hot shower or providing one extra place to plug in a shaver or hairdryer. Though they may seem small in comparison to other bathroom advancements, you may find that it's the finer details together that end up making your bathroom experience a much more enjoyable one.