BC Designs
With a direct focus on quality, originality and innovation, BC Designs has created a professional identity that has allowed them to thrive in a very competitive industry. With over 20 years of experience in the world of designer bathrooms, the well-respected design house has made it their mission to produce beautifully crafted products that cover all aspects of the market. read more
BC Designs
With a direct focus on quality, originality and innovation, BC Designs has created a professional identity that has allowed them to thrive in an otherwise competitive industry. With over 20 years of experience in the world of designer bathrooms, the well-respected design house has made it their mission to produce beautifully crafted products that cover all aspects of the market. From traditional baths and basins to modern originals, BC Designs introduces new styles and timeless aesthetics that will elevate your bathroom.
Their trademark ingenuity also sets them apart from the competition. Proprietary technology like Cian Solid Surfacing and Acrymite highlight BC Designs' knack for creating new ways to enhance their offerings. With the aim of creating durable, long-lasting products that look great too, they rely on the best materials available to ensure you get your money's worth.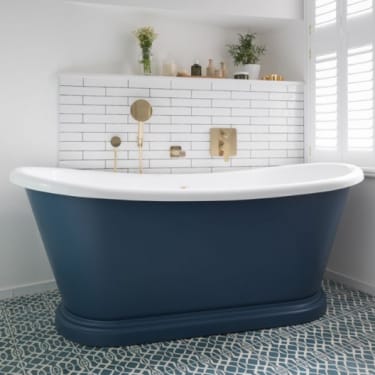 Baths
Known as "The Bath Makers", BC Designs lives up to their name by offering a wide range of unique baths that give customers seemingly endless choices. With no two designs alike, every bathroom style is accounted for. From luxury freestanding baths to multipurpose shower baths and everything in between, every bathroom has a chance to shine thanks to BC Designs.
Naturally, BC Designs' artistic approach to bath design lends itself to traditional stylings and, in particular, the sophisticated look of freestanding baths. But even within this category, you'll find many different design distinctions, colours and finishes. Classic roll-top tubs, for example, can be found in different shapes and dimensions. Their standard Acrylic Boat Bath offers three different sizes (1580mm, 1700mm and 1800mm) so most bathrooms have the opportunity to be outfitted with a timeless reproduction. Featuring an acrylic inner and outer, they can also be painted to order in a variety of colours and include the option for an aluminium plinth.
Copper and Copper/Nickel Boat Baths also feature a traditional double-ended freestanding design but are handcrafted to provide a true one-of-a-kind finished product. Nickel Boat Baths and Tin Boat Baths offer similar metallic finishes that look sharp while recalling simpler times.
Unlike the boat style, Fordham and Mistley roll-top bath models are single-ended and include claw feet. When paired with a freestanding tap, they showcase the intricate details and aesthetic possibilities of traditional baths and provide individual users with unparalleled comfort.
One look at the contemporary offerings from BC Designs and you'll see how modern shapes and minimalistic designs can be just as luxurious and sophisticated as traditional models. PROJEKT Divita, Esseta and Sorpressa baths exemplify the simplicity of scaled back designs and exude class while providing an exceptionally spacious tub with a small footprint. Cast in BC Designs' Cian material, they not only retain heat more effectively, but they're scratch and stain-resistant too.
For space-conscious bathrooms, Amerina, Ancorner, Durham, Lambert and Monica models are all designed to be installed against a wall or in a corner but still provide plenty of depth and room. When paired with a bath panel, certain models can also function as shower baths, though the BC-SolidBlue L and P-shaped tubs offer dedicated designs for such needs. With extra space for standing, SolidBlue baths are available in left and right-hand configurations.
With many more models available that include subtle and not-so-subtle differences in design, you'll have no trouble finding a bath from BC Designs that meets your contemporary or classic needs and suits your personal taste.
Brassware
Recognized for their dedication to reproducing authentic pieces and products true to their time, BC Designs offers a variety of brassware that includes basin, bath and shower taps.
With a number of 2 and 3 hole taps, there are plenty of possibilities when outfitting a compatible basin or bath. Victrion Crosshead and Lever Bath Pillar Taps offer two slightly different handle styles, each able to be mounted on compatible products. Similarly-styled taps can also fit on a number of BC Designs basins. 3 Hole Victrion Crosshead mixers feature the same tap handles independent of the faucet and can be installed on 3 hole baths for more precise water temperature controls.
When it comes to showers, the Victrion range includes a number of deck-mounted, wall-mounted and concealed taps and handsets. To complete your shower, Victrion also offers 8 and 12-inch shower heads, shower arms and even oval and arched shower curtain rings.
Whichever design you choose, you can be assured that each piece incorporates the latest 1/4 ceramic turn discs and thermostatic valve technology. You'll also find that all Victrion brassware is available in six special finishes: Chrome, Gold, Nickel, Brushed Chrome, Brushed Gold and Brushed Nickel.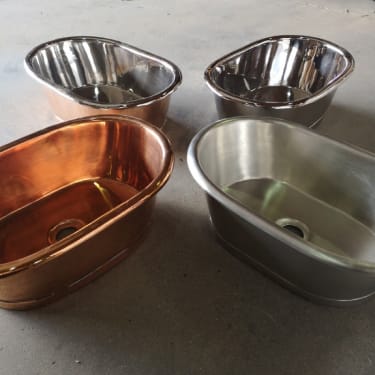 Basins
Like their bath offerings, basins from BC Designs feature both traditional and contemporary countertop designs in different shapes and finishes. Bampton/Aurelius and Magnus/Senator models, for example, perfectly complement their traditional bath counterparts and give customers the choice between oval and rectangle bowl shapes. Both are manufactured in BC Designs' Cian material and are hand polished to a high-gloss white finish. Similarly designed Copper Basins match perfectly with the aforementioned Copper Boat Baths and are available in the same finishes: Copper, Copper/Nickel, Nickel and Tin.
BC Designs' modern contemporary basins are also designed with the brand's bath products in mind and can be paired with their counterparts to create a unified design throughout your bathroom. From the round countertop design of the Delicate Basin to the oval shapes of the Kurv and Tasse/Gio Basins, your choice comes down to personal preference as both are available in polished white or one of the new ColourKast colours.
Finally, the Vive Basin offers the best of both worlds: a rectangle shape with rounded edges. With its clean lines, simplistic design and the option of a unique ColourKast colour, it's the perfect representation of BC Designs' modern basins.
Accessories
To enhance their products and versatility, BC Designs offers a number of bath, shower and basin accessories. From extra storage, like the Victrion Corner and Double Corner Shower Baskets, Shower Tidy and Chrome Glass Gallery Shelf, to a variety of towel rails and hooks, BC Designs makes it easy to keep your bathroom tidy once it's been outfitted with the latest models.
They also offer a variety of more utilitarian accessories that can help make their existing products more effective. Discover both bath and basin wastes and overflows, as well as products like freestanding legs for bath and shower mixers to enhance your experience and get the most out of BC Designs products.