Baths
Available in a wide variety of models, freestanding baths are both an elegant and tasteful addition to a bathroom. But if you think they're reserved for only the most luxurious, think again. Long before the introduction of alcove tubs, freestanding baths were standard in most bathrooms and it seems their advantages have helped them stand the test of time. read more
Freestanding Baths
Available in a wide variety of models, freestanding baths are both an elegant and tasteful addition to a bathroom. But if you think they're reserved for only the most luxurious, think again. Long before the introduction of alcove tubs, freestanding baths were standard in most bathrooms and it seems their advantages have helped them stand the test of time. More accessible than ever, a freestanding tub offers benefits over its fixed counterpart in more ways than one – beautiful, practical, comfortable and enduring, they're everything you could ask for in a bathtub.

In terms of design, freestanding bath styles leave little to be desired; there's seemingly something for everyone. Single-ended baths, for example, feature a classic design that includes a single inclined backrest opposite the faucet and drain, while double-ended baths differ in their placement of the tap, allowing for both ends to be used as backrests. Shapes of the baths themselves also differ from model to model. You'll most commonly find both oval and rectangle baths, each offering different dimensions to accommodate your bathroom style and personal taste.

One of the most iconic freestanding bath styles you'll find is the slipper bath, distinguished by its elevated backrest that dips towards the faucet. It offers additional space and comfort for bathers and a timeless look. While slipper baths traditionally featured cast iron feet and a roll top, contemporary models often include both a flat base and flat top that will appeal to minimalist sensibilities.

Sizing also plays an important role when selecting the right freestanding bath, and it generally allows homeowners to indulge a bit. In spacious bathrooms, a large freestanding tub can truly be on display and serve as the centrepiece of the room without overcrowding. That's not to say that smaller bathrooms are exempt from the splendour of a freestanding bathtub. For instance, a smaller model like the Clearwater Formoso Petite can fit comfortably into spaces the Grande model may not but features the same general design and finishes. It's not only shorter in length but also lighter in weight, meaning it's even easier to get indoors and install.

Beyond the sizing and shape specifications of a freestanding tub, there are also several design elements that can change its look and feel. Modern baths feature sleek, clean lines that make for the perfect addition to your minimalist bathroom, while traditional freestanding tubs, like those from Burlington, feature additional flourishes, like the aforementioned roll top and cast iron feet. Each of these aspects can be adapted and personalized to fit your bathroom. Materials you'll likely have your choice of include steel, copper, acrylic and clearstone, with each one offering different characteristics and levels of durability. Additionally, you can choose between different finishes, like glossy or matte white, or even opt for an unconventional colour, like a dark blue or black. Finally, different faucet styles will help you complete the look. Depending on the style of the bath, you'll have your choice of freestanding or wall-mounted taps that feature an array of different metal finishes. Like baths, modern taps offer a streamlined and clean approach to their design, while taps for traditional tubs are ornate and classically defined.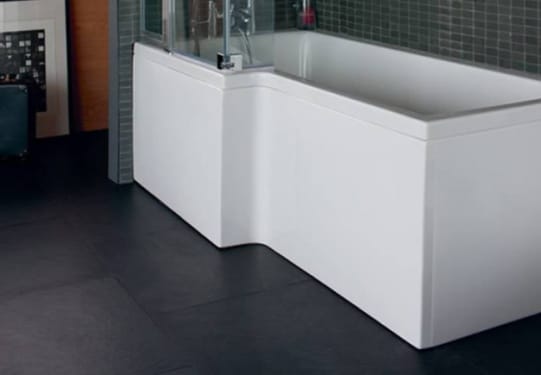 Shower Baths
As its name suggests, a shower bath offers the best of both worlds when it comes to getting clean. Whether you have a quick rinse in the shower or a long, relaxing soak in the tub, shower baths can do it all without sacrificing style or space. This is, in part, due to their unique designs that take both methods of cleaning equally into consideration. P shaped and L shaped shower baths are specially modelled to allow room for movement in the shower portion of the tub and feature distinct curved and angular ends, respectively. Both perform the same function but offer something aesthetically different. A shower bath with an L shape, for example, will look right at home in an ultra-modern bathroom thanks to it's simple, clean lines, whereas a P shape features a more rounded look that falls in line with most other common contemporary fixtures.
Shower baths can also be found without the P or L shapes. In fact, existing standard rectangle tubs can even be retrofitted to become shower baths. While they won't include the purpose-made shower space, the thing that sets them and other shower baths apart from regular bathtubs is the bath screen. Bath screens consist of a single or multiple curved or straight panes of glass that prevent water from escaping the shower while in use. In some cases, bath screens are even designed to create an enclosure with a sliding door.
Not all shower baths follow the same design patterns, however. Burlington's Hampton Shower Bath, for example, takes elements from several bath designs to create an original Victorian-inspired bath. Featuring a clawfoot tub with a back-to-wall installation, it includes a bath screen at one end to turn what's typically a classic tub into something practical, beautiful and unique. In contrast, you'll also find more contemporary designs that break the mould by offering an ecological approach to bathing, such as the Cleargreen Ecocurve Shower. Unlike others, Cleargreen baths are specially designed to limit water waste and heat loss while still looking great.

Whirlpool Baths
As the ultimate luxury item in almost any bathroom, whirlpool baths can create a spa experience right in your home. Fitted with jets, these baths are for more than just washing up. Induce relaxation and melt away your stress with just the press of a button and you'll have turned what was once your standard bathroom into a tranquil hideaway you won't want to leave.

Whirlpool baths are available in different shapes and sizes and, like other tubs, will fit different-sized bathrooms. Though they feature a motor and extra plumbing, you'll find they're strikingly similar to most other baths upon first glance. Choose from a jetted bathtub in P or L shapes, corner and standard models, each with similar layouts to their non-whirlpool counterparts. But it's what's underneath the surface that counts in a whirlpool bath. The motor inside works by taking water from the tub into the pump and forcing it out again through the jets, creating a continuous whirlpool effect that is so highly sought after. Different models feature different numbers of jets and their controls will vary too, allowing you to adjust the pressure as you please.

In addition to the relaxation and stress-relief they provide, whirlpool bathtubs also offer a number of other therapeutic benefits. With the ability to soothe aching muscles and increase circulation, they're the perfect solution for those who are highly active and in need of a break. Similarly, they're also great for people who want to stimulate deep tissue and massage their bodies. They are also known to draw out toxins and lift your mood by helping your body release endorphins and reduce cortisol. When all is said and done, they're a fantastic tool when it comes to getting a better night's sleep.
Even if you're unfamiliar with the specifications of whirlpool bathtubs, you'll likely be familiar with popular brands on the market. Jacuzzi, for example, is synonymous with whirlpools and offers a variety of different models fit for your bathroom. Carron offers a similar level of craftsmanship and is known for its patented Carronite – a finish both stronger and heavier than acrylic for extra durability. A reliable brand name coupled with state-of-the-art features makes a whirlpool bath an installation that can undoubtedly take your bathroom to the next level.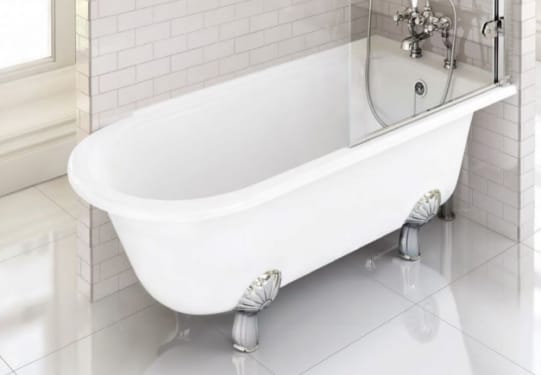 Corner Baths
If saving space is your top priority when installing a bath or you have an unconventional layout, you may find that corner baths can free up your bathroom while still providing an attractive and effective bathing solution. Available in different models and styles, you'll quickly find that corner baths aren't always just a second choice.

True corner baths are typically symmetrical in design and include the tub itself and often a raised seat that can be used while the tub fills or just to soak your feet. A dedicated bath panel is also included to create a seamless integration into your bathroom and a clean aesthetic. Offset corner units, on the other hand, feature an asymmetrical tub that is angled slightly differently. This can be done to allow for a longer tub if space is permitted. There are also single-ended baths that can be fit into a corner with the tap and drain located on the end that is against the wall. These models are available left-handed or right-handed, meaning they'll be able to be positioned into any corner depending on your bathroom's layout.
Even in some larger bathrooms, corner baths are arguably the best fit simply due to their unique style and ability to open up the room. Like freestanding baths, corner baths can serve as an interesting focal point and, depending on its features, can change your bathroom from a place you have to go to, to a place you'll want to be.
Like with most other baths, you can customize and personalize a corner bath by choosing different hardware and faucets but also different bath panels. Choosing the right panel material and colour can help the tub blend in with the rest of the room and make it appear made-to-fit.
Bath Panels
Depending on which type of bath you have, bath panels will help integrate it into your bathroom in several different ways. Not only are these panels designed to hide unsightly plumbing, but they're also used to create a seamless installation so nothing looks out of place. Bath panels typically cover one or two sides of a bath and can be created using many different materials, like acrylic or wood, to ensure your bath blends in seamlessly with the rest of your decor. While most alcove or corner installations will require bath panels to look complete, if you have a freestanding bath, panels aren't something you'll need to worry about.