VitrA
Throughout its storied history that dates back to World War II, VitrA has established a proven track record of innovation that has helped elevate the brand from its humble beginnings in Turkey to its current place on the global stage. read more
VitrA
Throughout its storied history that dates back to World War II, VitrA has established a proven track record of innovation that has helped elevate the brand from its humble beginnings in Switzerland to its current place on the global stage. With a growing portfolio and expanding product ranges, it's this innovation and vision that has allowed VitrA to adapt to an ever-changing market to provide top-of-the-line sanitaryware and bathroom solutions to homes in over 80 countries. Products like the V-care shower toilet showcase just how successful VitrA is at combining technological advancements and a classic aesthetic to offer modern capabilities with a comfortable design.
In order to produce its wide range of deceivingly simple yet dynamic products, VitrA relies on forward-thinking concepts and an investment in the sustainability of not only their production methods but in the designs of the products themselves. Their water-conserving models and manufacturing style help to reduce raw material and power consumption, as well as non-renewable resources. Instead of limiting their capabilities, however, VitrA's ecological approach results in toilets and other bathroom products that are versatile and powerful yet decidedly contemporary in their style; though their plumbing configurations are not like those of typical toilet products, for example, they fit within the confines of a classic, understated WC, without the bulky toilet seat or visible pipes.
VitrA's products, including both sanitaryware and furniture, allow you to create the perfect bathroom for your home, whatever shape or size it may be, with functionality that will make it comfortable to use and easy to clean and maintain. With a minimalist approach to style and design, VitrA's bathroom ranges allow homeowners to dip their toes into a world of more advanced products by creating looks that won't appear out of place alongside existing bathroom decor yet provide modern features of the 21st century and beyond.

VitrA Toilets
If the innovation and ingenuity that help make VitrA a world-class producer of bathroom solutions could be distilled down into just one product, it would be the V-care shower toilet. Exemplifying the best of what the brand has to offer, its two models, the V care basic and V care comfort, help redefine what a toilet can do while retaining the modest, simple elegance of a wall-hung design. In essence, the V-care does it all. With a focus on hygiene and an aim to make the bathroom experience as complete and comfortable as possible, this VitrA bidet toilet will leave you feeling fresh and clean with the confidence to take on the day.
The look and style of the V-care may be unassuming but don't let it fool you: the features are wide-ranging and make a world of difference when compared to your standard toilet. First, V-care's automatic seat cover opening on the comfort model means you can be as hands-free as possible: simply approaching the toilet triggers the seat to rise. You can also control the seat with the help of the dedicated remote: an integral piece of the V-care's technological advancements. With it, the wash and dry functions, as well as other adjustments, can be operated with just the touch of a button. The remote's user-interface is also intuitive and clearly displays the basic function of the WC and its settings.
Aesthetically, both models of the V-care shower toilet offer a streamlined design and feature VitrA Rim-Ex rimless technology. Offering more than just a minimalist design choice, it makes the inside of this VitrA toilet 95% more hygienic than standard rimmed toilets and allows for easier cleaning of the inner bowl. Finally, V-care toilet seats are ergonomically designed to create optimal comfort for the end-user and can be temperature-controlled via the remote.
V-care shower toilets and other models from VitrA also benefit greatly from their wall-hung designs. Offering an elegant and tasteful look, they're just as impressively installed. Concealed behind the wall, VitrA's frame systems are responsible for creating the look you see when you walk into the bathroom and offer flexibility in your project without the need for expensive structural work. With several different frame types that allow for different wall and volume configurations, VitrA frames give you the ability to install the toilet you desire, whatever the specifications. This results in a clean, space-saving bathroom that's easy to use and accessible for everyone. It also means you'll be able to achieve the modern, streamlined look that a wall-hung toilet can provide.
Beyond the comprehensive scope of its V-care models, VitrA also offers a variety of contemporary toilets that are designed to complement the ranges in which reside. The variety and versatility of designs and styles help highlight VitrA's commitment to providing a personalized bathroom for every home.
In its S50 range, you'll find a number of wall-hung and close coupled toilets, as well as cisterns and bidets. For those who prefer the toilet and bidet as two separate units as opposed to the shower toilet design, they'll find many options for pairing. Some toilets in this range also offer the same Rim-Ex technology found in the V-care models, meaning they're easy to clean and maintain and particularly hygienic. The S50 floor-standing back-to-wall unit also stands out for its concealed cistern design available in an oak or high-gloss white finish. When paired with the finish of the S50 vanity unit, you can effectively create a cohesive look that will elevate your bathroom's aesthetic.
The Nest range offers similarly hygienic toilets in varying sizes that expertly combine luxury and practicality for an organic touch of elegance. As the middle ground between the advanced V-care models and the standard models seen in the S50 range, you'll find wall-hung toilets with the option for an integrated bidet function. Allowing you to stay fresh and clean all day long, the VitrA Nest wall-hung WC is a no-frills solution for any beautifully designed bathroom. In addition to complimenting the range in which they're found, Nest toilets also work perfectly with the Nest Trendy range of bathroom furniture and sanitaryware. Featuring contemporary lines and luxurious finishes, Nest Trendy products fall in line with the essence of Nest toilets. Whether it's the aforementioned wall-hung WC with bidet functionality or the similar Nest Rim-Ex design, both work perfectly to enhance the look of your bathroom and provide the functional innovation VitrA is known for.
Unlike the similar shapes and lines of the Nest and S50 ranges, the Sento range from VitrA offers a departure in terms of design and aesthetics. Bringing Scandinavian style to the forefront, this unique look can be seen in products throughout the range but especially in the WCs. The Sento wall hung toilet, for example, includes a curved seat cover and smooth lines that help make it modern and on-trend. It's also available in a number is original finishes, including matte white, matte black, matte mink, matte taupe, as well as the classic glossy white finish.
Whether you prefer the traditional look of standard furniture and fixtures or choose to be more adventurous in your bathroom design, you'll find that VitrA has a toilet that matches your taste in both style and function.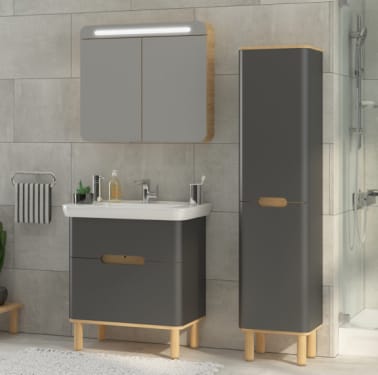 VitrA Furniture
In their pursuit of innovative and comfortable design, VitrA offers many different ranges featuring bathroom furniture that demonstrates the brand's knack for creating products that are universal yet personalized. The VitrA Nest and Nest Trendy ranges pride themselves on comfortable elegance and perform this balancing act with ease. With modular bathroom furniture that is sleek and stylish but also accessible, these ranges provide plenty of storage possibilities without sacrificing the look and feel of high-end furniture. In products like the laundry unit and the tall unit, you'll find furniture that maximizes the space you have while complimenting other furniture, like VitrA's vanity units. Though the Nest and Nest Trendy represent two separate ranges, they're versatile enough to mix and match and offer a contemporary palette of finishes to choose from.
Like the Sento wall-hung toilet, the rest of the VitrA Sento range is just as interesting and original. With fresh and exciting colours to choose from, like matte cream and matte anthracite, the available bathroom furniture is unlike anything else from VitrA. In contrast, the furniture in the S20 range serves to highlight other facets of the bathroom instead of the furniture itself. S20 washbasin units, for example, feature understated designs and finishes but include oversized rectangular washbasins that let you know who the real star of the show it.
In any case, you'll find the furniture and other products from within VitrA's many ranges will meet or exceed the high standards you have for your bathroom designs. Whether that's in the original finishes or the size and storage options available, VitrA products are crafted for you and can help you achieve your dream of a complete and complimentary bathroom