Quadrant Shower Enclosures
If you are looking to obtain and install a shower enclosure, then you are in the right place. There are many different shapes and styles of shower enclosures and your shopping experience will be less hectic if you have an idea of what you want. read more
Showing 1 - 20 of 20 items

What Are the Benefits of a Quadrant Shower Enclosure?
If you are looking to obtain and install a shower enclosure, then you are in the right place. There are many different shapes and styles of shower enclosures and your shopping experience will be less hectic if you have an idea of what you want.
This article will contribute to your research by giving you an in-depth overview of one of the enclosure types; the quadrant shower enclosure.
What is the Quadrant Shower Enclosure?
The quadrant shower enclosure is shaped like a fraction of a circle – or pizza-shaped – where the corner is fit snugly into the bathroom or ensuite corner. The front features a curved shape fitted with either sliding or hinged shower doors. Especially where space is a factor, the use of sliding doors makes them very compact.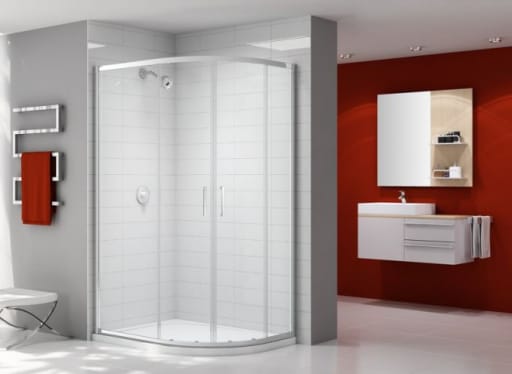 Why Should You Choose the Quadrant Shower Enclosure?
It Saves on Space
Fitting neatly into the corner of your bathroom, the curved design takes up less space than would have been taken by the square or rectangular shapes. The curve creates more space on the sides for movement of the arms when bathing, limiting the unnecessary front and back movements.
Easier to Maintain
Quadrant shower enclosures present only the curved glass surface for cleaning. Compared to the square and rectangular designs that have two whole panes plus the door to clean, curved designs are quicker and easier to clean and maintain.
However, it is worth noting that series such as Merlyn comes with a glass that is easy to clean and able to repel dirt, soap, and limescale, making it naturally easy to clean.
Able to Fit in Odd Bathroom Layouts
All that is required for a quadrant enclosure to be installed is a corner. Even in the trickiest of spaces, this shower design can be installed. It also allows room for the placement of other accessories such as basin, toilet or a sink.
Goes Well with Soft Décor
If your chosen decoration style is rounded, then a quadrant shower enclosure is just the type you need to complete the aesthetic delight. In such a setting, a square or rectangular bathroom would stick out oddly.
Can be Offset
For those with a little more room to spare but not too much, the quadrant design can be offset to increase the shower shape.
Where Can You Shop for Quadrant Shower Enclosures?
Now that you have decided that the quadrant design is the right one for you, what next? To shop for the quadrant shower enclosures, browse our wide catalogue of shower enclosure where you are sure to find something that fits your taste.