Roca Back To Wall Toilets
Roca is a very well established name with all sorts of bathroom products including its extensive back to wall toilets. Designed for bathrooms, cloakrooms and en-suites, these toilets have a conventional fixing style which means they will look good in just about any setting you care to mention. read more
Showing 1 - 15 of 15 items
Roca Back To Wall Toilets
Roca is a Spanish manufacturer with a large portfolio of bathroom and sanitary products which began operating in 1917. It started making toilets and baths as far back as 1926 and began using vitreous china for the first time about ten years after that. In other words, Roca is a very well established name with all sorts of bathroom products including its extensive back to wall toilets. Designed for bathrooms, cloakrooms and en-suites, these toilets have a conventional fixing style which means they will look good in just about any setting you care to mention.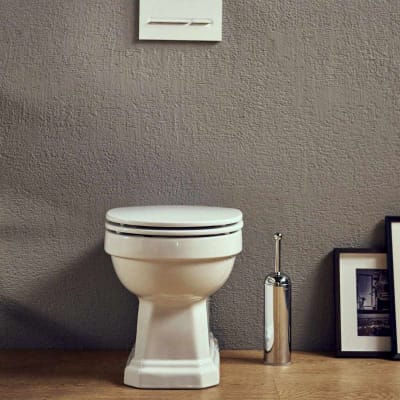 Roca Carmen Back to Wall Toilets
To begin with, the Roca Carmen back to wall rimless toilet is a product that would be suited to both modern design styles as well as more traditional-looking bathrooms thanks to its curved upper design and a fluted aesthetic that is noticeable with the toilet's pedestal. Available with a concealed cistern in two sizes, this particular back to wall toilet comes with a rimless pan. This style makes for a more hygienic Roca toilet that is easier to clean with no rim. The toilet comes with a Supralit soft-close seat and a floor fitting kit.
Roca Dama-N Back to Wall Toilets
By contrast, the Roca Dama-N back to wall toilet has a rounded-off square appearance that makes it look chic and very up-to-date. This back to wall toilet can come with a soft close or a standard toilet seat or you can purchase it without one at all if preferred. Purchase one of Roca's concealed cisterns and flush plate to fit your style separately for the Dama-N and enjoy its glossy white finish.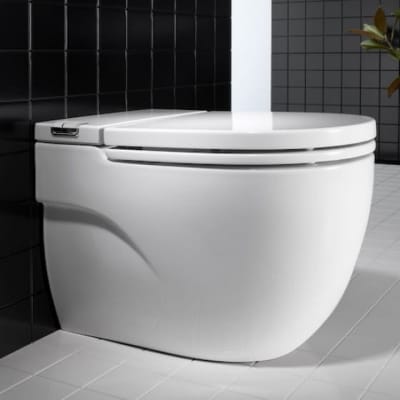 Roca Meridian-N Back to Wall Toilets
There again, you might prefer the Roca Meridian-N in-tank back to wall toilet. This one differs from standard designs because the unit has its own water tank ready for each flush. This feature makes the Roca Meridian-N ideal if there is no panelling available in which you can hide a cistern away. In fact, the water reservoir is cleverly hidden within the bowl itself in a U-shaped cavity. This makes the toilet very quiet when you flush it even though it delivers a strong flushing function every time it is used. It comes with a horizontal waste outlet, a seat and a cover. Please note that you will need mains power for this particular back to wall toilet.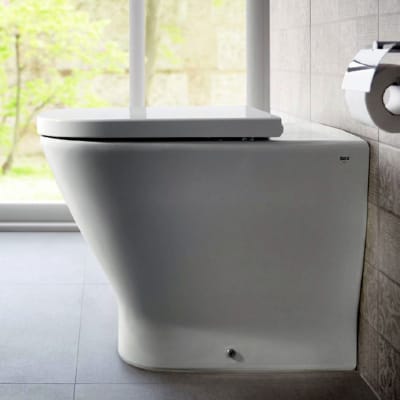 Roca The Gap Back to Wall Toilets
If you are looking for a comfortable toilet, then Roca's back to wall products certainly deliver. A good case in point is the Gap back to wall rimless toilet. It comes in a choice of square or round designs and has a seat that stands higher than the average toilet, making it that bit easier to sit on and stand back up again after use. The rimless technology makes the pan easy to maintain and keep clean while the materials used in the Roca Gap mean it will be extremely durable and offer long life. Standard, soft-close and slim soft-close seats are available for this particular toilet.