Roca Close Coupled Toilets
If you've been looking for the ideal toilet for your contemporary or traditional bathroom, the Roca luxury range of close coupled toilets excels in performance and class. Complete with a stylish toilet bowl and cistern attached, Roca close coupled toilets are affordable, easy to install and hardwearing. read more
Showing 1 - 10 of 10 items
Roca Close Coupled Toilets
In a modern bathroom, the toilet is perhaps one of the most visible and used components. Besides functionality, a stylish toilet can act as an artistic centrepiece, bringing a dash of elegance to your bathroom. If you've been looking for the ideal toilet for your contemporary or traditional bathroom, the Roca luxury range of close coupled toilets excels in performance and class. Complete with a stylish toilet bowl and cistern attached, Roca toilets are affordable, easy to install and hardwearing.
If comfort is what you're missing, this eye-catching Close Coupled Toilet from the stylish Meridian-N range will surpass your expectations. It comes complete with a pan and dual flush cistern featuring an easy-to-use sleek chrome button. You can choose between; the standard model, which features an open back, the compact model with a back to wall design, or a comfortable height toilet for a more cosy sitting position. Each of the models comes with a choice of seat and cover where you can choose between a standard and soft close model. Soft-close seats help to protect your pan and are best for preventing unnecessary slamming.
Do you wish to solve the constant slamming problems without necessarily replacing the whole toilet? At Roca toilet seats, you will find a range of standard and soft-close models built to accentuate and elevate your seating experience to a whole new level. Soft close hinges are crucial for noise reduction and toilet seat protection.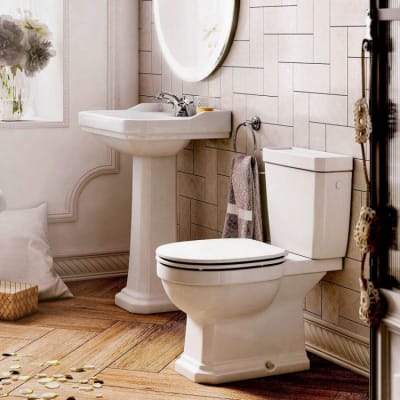 Roca Rimless Close Coupled Toilets
Rimless toilets are increasingly gaining popularity in contemporary spaces, and for a reason. Stylish, easier to clean, and more hygienic than standard toilets, rimless toilets are ideal for anyone looking to add a modern vibe to their bathroom. Available in white and dark grey, the Carmen Close Coupled Toilet instantly elevates your bathrooms into an enviable space. It comes complete with a rimless pan, conventional exposed cistern flush with dual flush (3/4.5L) capability and a classic side-mounted lever. Both the pan and cistern feature durable Vitreous China construction with a sleek finish for robust practicality and lasting gloss.
Exuding elegance and comfort, the awe-inspiring Gap Close Coupled Toilet is another rimless model perfect for a dashing bathroom. As this premium toilet comes in various models, choosing one that's the ideal fit for your bathroom is so easy. You have three models to choose from (standard, compact or comfort) for the pan size, giving you the freedom to style your bathroom as you wish.
The compact model is ideal for tight spaces, while the comfort model, as you can imagine, offers additional height for a more comfortable seating position. Each of these models comes complete with a dual flush cistern that features a stylish chrome button for easier flushing. For your toilet seat, you can choose from the three styles available-standard, soft close and slim soft-close.
Whichever model you choose, consider complimenting the toilet with an equally elegant tissue holder from Roca toilet roll holders for a crisp, sophisticated look.