Roca Vanity Units
Roca is one of the leading makers of bathroom products and sanitaryware globally. The Spanish manufacturer has been producing shower units, basins, toilets and baths for many decades and is firmly established as a company that designs both cutting edge products as well as a more traditional portfolio. In addition, Roca makes some classy vanity units. read more
Showing 1 - 37 of 37 items
Roca Vanity Units
Roca is one of the leading makers of bathroom products and sanitaryware globally. The Spanish manufacturer has been producing shower units, basins, toilets and baths for many decades and is firmly established as a company that designs both cutting edge products as well as a more traditional portfolio. In addition, in the Roca bathroom furniture collection, there are some classy vanity units. Many are designed to fit hand in glove with their hand basins and other bathroom products. However, you can purchase Roca vanity units and adapt them to suit other makers' basins if you prefer. What makes Roca vanity units so popular these days?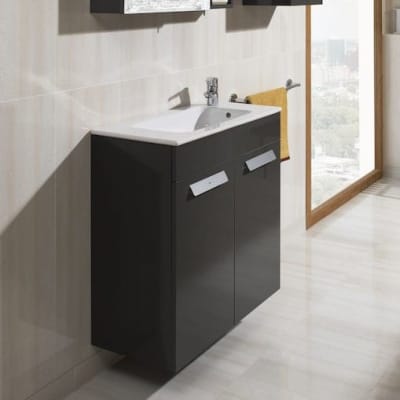 Roca Wall Hung Vanity Units
One of the first things to say about Roca's vanity units is that they produce some excellent wall-hung ones. Of course, one of the principal advantages of choosing a wall hung vanity unit is that it means access to the floor beneath it is much easier. Consequently, bathrooms and en-suites with Roca vanity units that are wall hung tend to be easier to keep clean and free from moisture because you can simply wipe the floor after use. The Rocca Debba compact wall hung vanity unit is a good case in point. Although this diminutive vanity unit only has a 320mm projection, you can put a lot of things inside it. This makes it an ideal storage receptacle for towels, toiletries and cleaning products in downstairs cloakrooms and en-suites where the amount of available space may be an issue. Easy to get past when mounted on the wall of a bathroom, the Debba compact vanity unit has an inner calmness about its design. What's more, you can obtain it in trendy gloss anthracite grey and three other finishing options to suit all styles.
Another good example of the sort of wall hung vanity unit Roca makes these days is their Victoria-N. Available in five different width options, the largest two of which are over a metre long, the Roca Victoria-N wall hung vanity unit comes with a matching hand basin included. Indeed, with the longest version of the Victoria-N, you'll get two hand basins set into it side-by-side with one another! Luxurious soft closing doors and a choice of different drawer formats mean that this vanity unit is great for storage as well as washing, applying makeup and getting dressed. Even better, the Victoria-N wall hung vanity unit comes with an optional mirror and lighting kit so you can feel like a movie star when you're getting ready. Optional legs are also available to help support the unit so it is not entirely held up by the wall.
If you want another style of Roca vanity unit with optional legs, then the Gap-N Unik vanity unit with basin is probably worth investigating further. This one has three finishing options including gloss white and mood teak. A pair of soft-closing drawers are included along with a basin with a preformed tap hole. The whole modern look is set off by a pair of chrome handles while a space-saving waste unit is added for sheer practicality.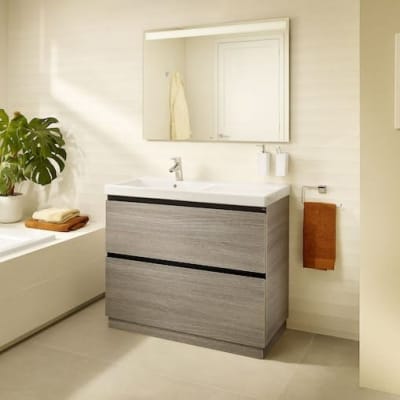 Roca Floor Standing Vanity Units
Not all of the Roca vanity unit range is wall hung, whether or not legs are also included in the design. If you want a floor-standing option, either because the wall you will fix it to is not strong enough to support a unit or because you prefer the look, then how about the Roca Lander floor standing vanity unit? This particular product allows you to arrange your basin to the left, the right or centrally. It comes in a choice of three finishes including a chic Nordic ash look. There's a pull-out internal tray, a gloss white basin with a single tap hole for a monobloc mixer and damp proof wood that is used in the construction process. What more could you ask for?