Roca Bathroom Mirrors
Bathroom mirrors are the ultimate space amplifiers. A strategically placed mirror can instantly elevate an otherwise basic room into a refreshing and tranquil space perfect for relaxation. Other than enhancing your décor, mirrors are valuable in personal care matters. read more
Showing 1 - 11 of 11 items
Roca Bathroom Mirrors
Bathroom mirrors are the ultimate space amplifiers. A strategically placed mirror can instantly elevate an otherwise basic room into a refreshing and tranquil space perfect for relaxation. Other than enhancing your décor, mirrors are valuable in personal care matters. At Roca bathroom mirrors, you will find a premium collection of stylish mirrors in various distinctive frames and shapes to help you create your dream bathroom. Also available is an exclusive range of illuminated mirrors for a more luxurious experience.
If you've been looking for the best mirror for your minimalist space, this stunning mirror from Roca's Luna range will surpass your expectations. Coming in various sizes ranging from 600mm wide to 1300mm, the rectangular mirror is ideal for any modern bathroom regardless of size. The good thing with the mirror is that you can choose to have a demister pad included. The demister pad helps keep your mirror clear even when it gets humid. On the other hand, if you fancy round designs and soft curves, there is a round variation available in two diameters (550mm and 750mm). Thanks to its slim profile of just 28mm, this luxury mirror will fit perfectly in your minimalist bathroom.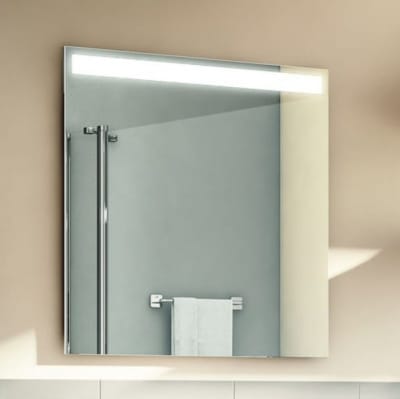 Roca Illuminated Mirrors
As well as facilitating personal care tasks, illuminated mirrors can help create a tranquil setting in your room. Sporting energy-efficient LED lights, this fancy mirror adds a splash of elegance to your space without surging your bills. To ensure the mirror works even in the most humid of conditions is a demister pad that keeps a section of your mirror clear at all times. As it's available in 8 different widths, fitting this stunning mirror in your space will be easy.
If you prefer round shapes, this round LED mirror from Roca's Iridia range exudes pure luxury. Designed and built to last in wet conditions, this stunning mirror will be an eye-catcher in your bathroom for years to come. Like other Roca illuminated mirrors, you can expect soft lighting suited for a luxurious bathroom experience. Both the 800mm and 1000mm options come with a demister pad to keep everything clear.