VitrA Valarte
The beautiful, innovative and sustainable products found in the Valarte range bring a classic appeal to your bathrooom. Inspired but the popular Shaker style, the Valarte range features sanitaryware and furniture that's perfect for any traditional or modern bathroom. read more
Showing 1 - 13 of 13 items
VitrA Valarte
In an industry where brands form their identifies around the quality of their materials and the innovation of their designs, few companies have the capacity to fully develop and manufacture their products in-house. But that's precisely what makes VitrA so unique. Established in Turkey, the cultural motherland of ceramics and baths, VitrA handles the design, development and manufacturing of its bathroom products, giving priority to R&D and its collaboration with renowned international designers. The results are beautiful, innovative and sustainable products, like those found in the Valarte range. Inspired but the popular Shaker style, the Valarte range features sanitaryware and furniture that's perfect for any traditional or modern bathroom.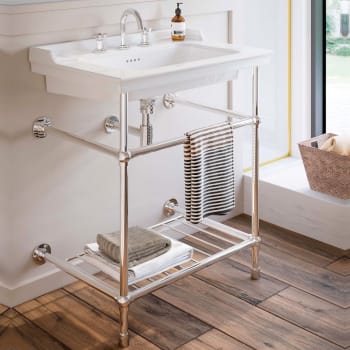 Basins
Featuring an extensive range of designs, VitrA Valarte washbasins allow you to get creative as you outfit your perfect bathroom space. Featuring a selection of models that vary in installation type, size and style, you'll have no trouble finding the fit that meets your needs. Choose from styles like semi-recessed, countertop, pedestal, vanity and more that not only look good but also work to enhance your bathroom. Small bathrooms or cloakrooms, for example, will benefit from models like the 58cm Valarte Countertop washbasin or the 65cm Valarte Vanity washbasin thanks to their compact dimensions. A large bathroom, however, can take advantage of the space with one of VitrA's Valarte Vanity washstand basins or an attractive washbasin unit that features a VitrA countertop basin pre-installed in a storage-friendly vanity.

Toilets
With designs that borrow their inspiration from each end of the spectrum and everything in between, VitrA Valarte's toilet range features style choices that are both old and new. Just as you'll find traditional VitrA close-coupled toilets and floor-standing models, you'll also find more elegant, cutting edge designs that lend themselves to the simple refinements of a modern bathroom. VitrA toilets like the Valarte Rim-Ex Wall-Hung toilet, for example, embody the VitrA design team's innovation. While it features the latest Rim-Ex rimless technology and a concealed cistern to create a minimalistic look, it's beautiful white finish also keeps it feeling timeless.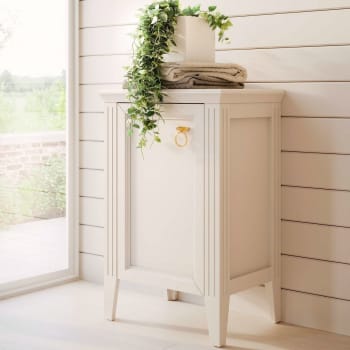 Furniture
While traditional bathrooms weren't as spacious as most are now, they did set a tone and style that many sanitarywares and VitrA's bathroom furniture products continue to aim for today: refined and polished. If your medium to large bathroom is in need of a touch of sophistication, the VitrA Valarte range may have just what you're looking for. Tall, mid and open units offer storage solutions in designs that are detailed with old-world charm as well as modern conveniences. Matte finishes and glass shelves bring these Shaker styles up to date, ready for your modern bathroom, but still timeless enough to fit any period.
Accessories
No bathroom could be complete without its finishes touches. VitrA Valarte accessories are the final piece of the puzzle when creating a timeless bathroom space and they enhance the look of already stylish sanitaryware and VitrA bathroom furniture. Gold handles for your tall and mid storage units or vanity units add a touch of class, while Valarte flat mirrors, available in a variety of sizes and frame finishes, ensure your bathroom is both functional and fashionable.