Vitra Basins
A basin is much more than just somewhere to wash your hands. It is also an expression of your unique style and taste. The Vitra range of basins has something for every bathroom. From something as simple as a compact cloakroom basin to statement pieces housed in sleek vanity units, Vitra has you covered. read more
Showing 1 - 23 of 23 items
Vitra Sinks
A basin is much more than just somewhere to wash your hands. It is also an expression of your unique style and taste. The Vitra range of basins has something for every bathroom. From something as simple as a compact cloakroom basin to statement pieces housed in sleek vanity units, Vitra has you covered.
Vitra has been combining sleek aesthetics with practical reliability since the second world war and the brand stands for quality, premium design and above all beautiful practicality that turns a bathroom into a living space.
Vitra S20 Basins
The S20 washbasin range is a great example of this brand philosophy in action. In the S20 range, you will find wall-mounted basins that are ideal for modern minimalist bathrooms. The basins in the range can be combined with semi or full pedestals to hide unsightly plumbing and round off the appearance of your bathroom. A bigger statement, the Vitra S20 washbasin unit combines a modern large Vitra countertop basin with a wall hung vanity unit that lends an air of sophistication to a modern bathroom. The S20 washbasin unit is available in two finishes: golden cherry and high-gloss white.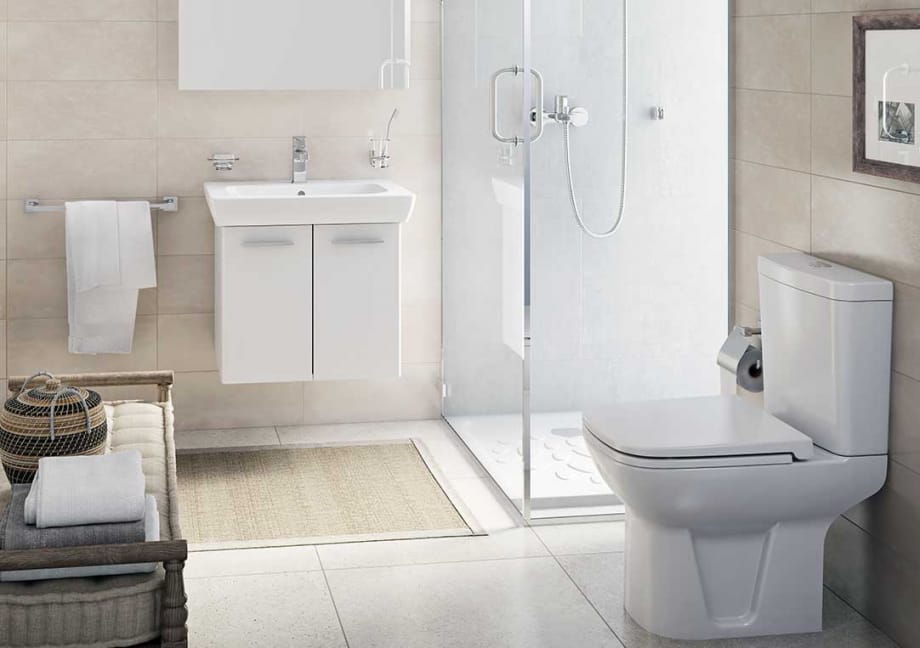 The S20 cloakroom basin is the ideal solution when space is at a premium. The basin is made from ultra-hygienic ceramic and can be installed with or without a pedestal. Vitra S20 cloakroom basins are available in either one-hole or two-hole configurations making them compatible with both mono-mixers and separate pillar taps. Whichever option you choose, your bathroom will look great with a crisp Vitra S20 basin in it. There is also a Vitra semi-recessed basin available for those looking to inset one into their worktop or vanity unit.
The square lines and modern aesthetics of the Vitra S50 basin range are perfectly suited to modern bathrooms. The S50 range includes a basin for every occasion. Take for example the elegant Vitra S50 washbasin unit. This practical washbasin unit perfectly combines a countertop basin with a vanity unit that can be used to house your bathroom essentials. Available in six different sizes, the Vitra S50 washbasin unit is ideal for a variety of bathroom sizes and it comes in a choice of two high-quality finishes that offer timeless elegance.
Vitra S50 Basins
The S50 basin range also includes a refined compact basin that is ideal for washrooms where space is a concern. The simple lines and crisp white ceramic goes well with almost any bathroom design and will give your guests something to notice. All the basins in the Vitra S50 range are made using premium materials and they were designed to remain in vogue for many years to come.
The Vitra S50 corner basin lends an air of sophistication to every bathroom and comes with a space-saving footprint that makes it ideal for smaller bathrooms. The understated elegance of this basin can be further enhanced with the addition of a pedestal to hide pipework.
A perfect basin becomes the focal point of your bathroom and it should combine practicality, excellent aesthetics and ease of use. This is what the Vitra brand stands for and you will notice this every time you enter your bathroom.