VitrA S50
Creating and crafting high-quality bathroom solutions is an elaborate undertaking and one that relies on many moving parts. From the early stages of design and development to the production and manufacturing of its premium products, VitrA is involved in each and every step of the process. read more
Showing 1 - 5 of 5 items
VitrA S50
Creating and crafting high-quality bathroom solutions is an elaborate undertaking and one that relies on many moving parts. From the early stages of design and development to the production and manufacturing of its premium products, VitrA is involved in each and every step of the process. Between its investment in research and development to its work with world-renowned designers, there's no mistaking VitrA's commitment to innovation and sustainability. The VitrA S50 range perfectly encapsulates these values, bringing efficient and versatile designs to your home. Whether with an S50 basin, toilet or furniture unit, you'll find a product that suits your needs and exceeds your expectations to take your bathroom to the next level.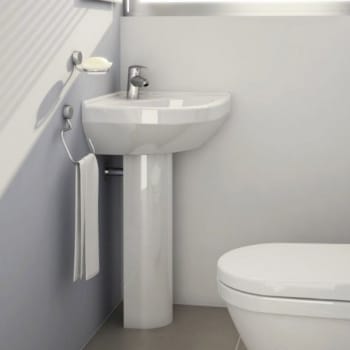 Basins
The square lines and organic forms found in the VitrA S50 range not only make for a diverse collection of VitrA basins but also ensure that each design is versatile enough to fit in almost any bathroom. With a wide variety of sizes and styles, including pedestal, semi-recessed, vanity and undercounter, VitrA S50 basins are adaptable to your space. Take, for example, the S50 Corner Washbasin. Compact enough for a small bathroom or cloakroom but fully functional and just as attractive as larger models, it's a take on the standard pedestal that doesn't sacrifice style or performance. On the other end of the spectrum, S50's larger models, like the Vanity Washbasin, use the same high-quality ceramics and efficient plumbing on a larger scale, making use of every bit of space you can afford to make your bathroom comfortable, convenient and classy.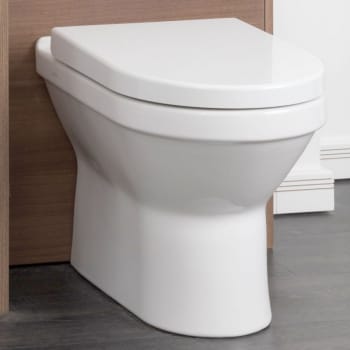 Toilets
Simple and discreet is how many homeowners want their toilets to be and the VitrA S50 range meets the mark when it comes to aesthetics. Between its close-coupled and wall-hung models, the S50 range of toilets is deceptively simple – while their white ceramic finishes keep things uniform, there are plenty of features hidden within the collection that ensure you'll find a toilet that meets your specific needs and tastes. Discover short projection models that work well when you're short on space, accessible comfort height designs, incorporated Rim-Ex technology for improved hygiene and more. In addition to these products, The VitrA S50 range also includes a variety of cisterns and bidets to enhance the functionality of its toilets and provide a complete bathroom experience.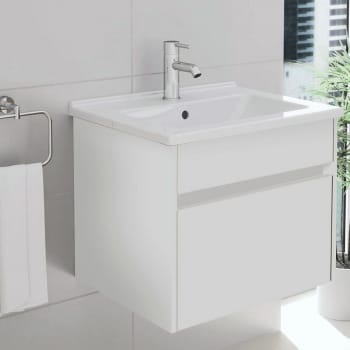 Furniture
To create a truly versatile and accommodating bathroom, finding the right furniture is essential With the S50 range's efficient and practical designs, you'll find products that make your space easy to navigate and also stylish, combining fixtures and storage into compact units. The S50 Floor-Standing Washbasin Units, for example, feature a countertop basin in white or dark oak cabinets that provide storage and conceal plumbing. Similarly, FS50 Floor-Standing Back-to-Wall units for your toilet conceal your cistern and make flushing a breeze. Finally, Classic Mirror Cabinets available in 60, 80, 100 and 120 cm sizes offer additional wall-mounted storage that will help make the most of your space by hiding it behind a bathroom staple.