VitrA Toilets
Coupling elegant design aesthetics with forward-thinking technology, VitrA manufactures some exemplary sanitaryware that provides both comfort and elegance. Among its many toilet products, VitrA has flush plates, concealed cisterns, close coupled toilets and bidet toilets. read more
Showing 1 - 54 of 54 items
VitrA Toilets
Coupling elegant design aesthetics with forward-thinking technology, VitrA manufactures some exemplary sanitaryware that provides both comfort and elegance. Among its many toilet products, VitrA has flush plates, concealed cisterns, close coupled toilets and bidet toilets. There are also some superb examples of wall-hung WCs and VitrA back to wall toilets, both of which look superb in contemporary bathroom settings. Indeed, some high-tech products make use of the latest communications systems, such as VitrA's infrared or smart flush plate panels. With such an established bathroom products design house that has been operating for over 80 years, there is bound to be a toilet product to suit your bathroom.
For example, the VitrA Integra range includes a number of different toilet designs that will suit its other products in this style, such as its washbasins and storage units. The wall-hung, the back-to-wall and the close-coupled Integra WCs offer an elegant shape and straightforward functionality. Made from vitreous china, their classic white look and 10-year guarantee ensure total buyer confidence. Equally, if you look at VitrA's impressive M-Line range, you will see that the toilets come with multiple buying options, including whether or not an integrated cistern will be required and a choice of different seats. With a squarer appearance, the M-Line range affords a thoroughly modern look.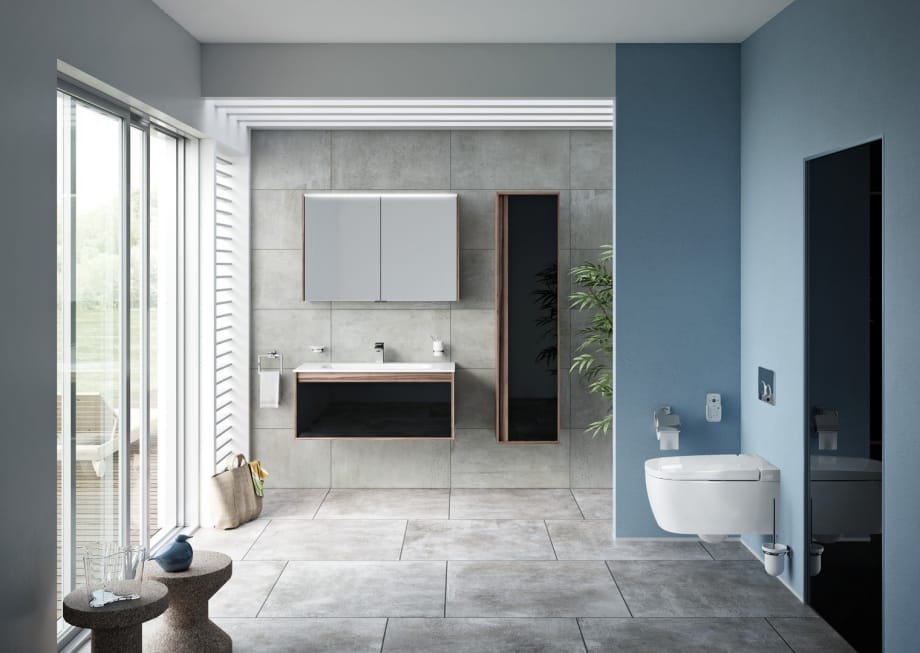 Equally as pleasant and sophisticated are the VitrA S50 and S20 toilets. These products coordinate perfectly with the other bathroom products in the range and offer exceptional value despite their sleek appearance and high-quality finish. Both types will look great in luxurious bathrooms as well as smaller en-suites where space may be at a premium. Alternatively, why not check out the innovative VitrA Virtus? Suited to both back-to-wall and VitrA's wall hung toilets, the Vitrus is an elegant glass concealed cistern that comes in both white and black finish options and with either 4-litre or 6-litre capacities.
Of course, there are many other top-quality toilets made by VitrA that will also complement their other ranges, such as Layton, Shift or Valarte, to name but a few. Within these sumptuous styles, the designers at VitrA have often sought to provide as much water conservation and low power consumption as possible. Bear in mind that, rather than limiting their functionality, such sustainable design offers no discernible dip in performance. Overall, VitrA's ecological credentials allow buyers to proceed with confidence that the brand's toilets and other bathroom products are responsibly made and long-lasting.
The durability of VitrA's toilets and associated sanitaryware does not mean that its versatility should be underrated, however. Many of its decidedly contemporary toilets have a style that will suit numerous interior décor looks, both traditional and ultra-modern. By making clever use of contemporary toilet styles that, for example, ensure that pipework is hidden away, the products on offer from VitrA are discreet, comfortable and, perhaps above all, easy to keep looking good years after they have been installed thanks to designs that take moments to wipe down. Although they're fit for the 21st-century bathrooms of the future, they will still look great with legacy bathroom décor, thereby offering the best of both worlds in terms of contemporary interior design.