VitrA Bathroom Furniture
Is your bathroom feeling a little cramped and stuffy? Do you need some handy storage for your towels? VitrA offers an extensive collection of high quality, stylish vanity units, shelves, mirrored cabinets, freestanding countertops and mirrors that add both practicality and style to your home.  read more
Showing 1 - 10 of 10 items
VitrA's Stylish Bathroom Furniture
Is your bathroom feeling a little cramped and stuffy? Do you need some handy storage for your towels? VitrA offers an extensive collection of high quality, stylish VitrA vanity units, shelves, mirrored cabinets, freestanding countertops and mirrors that add both practicality and style to your home.
Toiletries never display well, nor do extra towels lying around. With a choice of contemporary and traditional units, storage never has to be boring. Reduce clutter and add interest in your space with VitrA's Mid-height or VitrA Bathroom Cupboards. VitrA's storage units benefit from outstanding artistry with modern technology for the ultimate stunning, classic look. Plus, each of these pieces of décor is available in 3 trendy matt finishes, so you can always choose your style. If you're looking to add a unique touch, this Wall-Mounted Unit from VitrA gives you plenty of space to store all your supplies while enhancing the style and design. VitrA also provides fancy Open Units that transform any basic bathroom into a stylish space.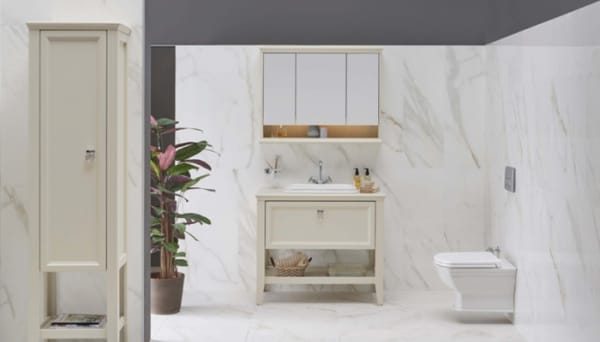 VitrA Mirrored Wall Cabinets
Perhaps you're in search of a high-quality, fashionable cabinet. Well, look no further! VitrA's awe-inspiring Valarte Mirror Cabinet is a shining example of excellent engineering combined with exquisite style. Available in 3 stunning finishes: Matt White, Matt Grey, or Matt Ivory, this beauty is sure to blend in various bathroom styles. The cabinet also comes with appealing LED lights to illuminate the lower shelf for some added visual effect. If looking for extra storage space, VitrA's Integra Mirror Cabinet offers excellent storage for any family size in style.
While often used for checking appearances, grooming or applying makeup, mirrors can add depth to your bathroom. Available in 3 trendy finishes, this Valarte Flat Mirror will perfectly pair with other VitrA furniture, resulting in a beautiful, cohesive combination. On the other hand, if looking for a statement VitrA mirror for your spacious bathroom, the elegant Integra mirror cabinet will instantly spruce up your space and give it a practical edge. Tired of constantly wiping steam off your mirror when you shower? This LED Lit Mirror comes with a demister, ensuring it remains usable no matter the heat. Plus, given it's a statement even by itself, it will provide an excellent focal point of your home.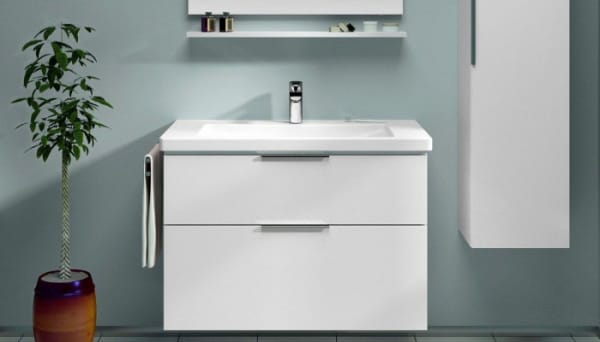 VitrA Bathroom Storage
Among all the furniture pieces you can use to upgrade your bathroom space, perhaps, the vanity unit is the most customisable of them all. Vanity units offer an intelligent storage solution that can be used as extra space or hide unsightly pipes. For example, this High-quality Vanity from VitrA allows you to create a seamless designer theme in your bathroom. Available in golden cherry and high-gloss white, VitrA makes it very straightforward to add a unit to your basin regardless of your style. Suppose you're looking to add a touch of elegance to your vintage-themed bathroom. In that case, you'll find this carefully curated Integra Washbasin Unit a godsent. For more finishes, explore the VitrA's Valarte Washbasin Unit that comes in three captivating options at a fantastic price point.