Burlington
Burlington Bathrooms is known for its beautiful period designs combined with contemporary features. Taking influences from Victorian, Georgian, Edwardian, and contemporary styling this leading brand brings you the best parts fused with modern bathroom innovations. read more
Burlington
Burlington Bathrooms is known for its beautiful period designs combined with contemporary features. Taking influences from Victorian, Georgian, Edwardian, and contemporary styling this leading brand brings you the best parts fused with modern bathroom innovations.
Period styling has stood the test of time. This makes it the ideal choice for adding a timeless edge to your bathroom. Giving your bathroom a Victorian feel will never be out of season. Due to this, it will come as no surprise that classically styled products are always a popular option.
When it comes to product offerings, Burlington has a complete collection covering anything you may need. You will have no trouble designing your entire bathroom in their products.
It is very clear that designing this collection took a lot of thought and planning into how it all ties together. Matching finishes and complementing styles a common occurrence within their ranges. This saves you from having one part of your new bathroom looking out of place. When you opt for a Burlington bathroom in your home, it will be the envy of anyone who visits.
Product quality is also very clearly at the forefront of Burlington's mind. This can also be seen by the extensive guarantees ranging from 2-years for a toilet seat all the way up to 25-years for basins.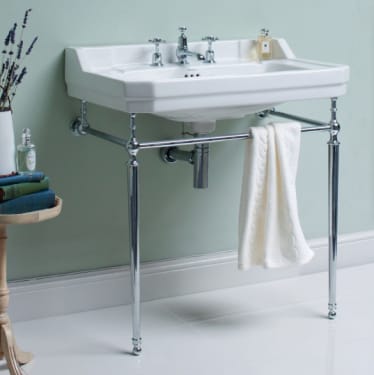 Burlington Basins
When it comes to basins there is a wide selection of styles available. This is a prime example of the design innovation that Burlington is known for. There are Classic, Edwardian, Victorian, and contemporary models within the range. Within each of these, there are options for one, two, or three tap hole basins.
Most of the basins are crafted from Vitreous China there is however a range made from natural stone. When combined with a washstand this option can make a real statement in your bathroom.
The classic basins also come with a Nanoglaze coating which created an incredibly smooth surface. This is six times smoother than standard ceramic. These basins can also be combined with washstands or pedestals depending on the vibe you are going for in your bathroom. The finish is another area that offers choice with Burlington's basins. Certain models being available with the option Medici, Black as well as the standard White finish.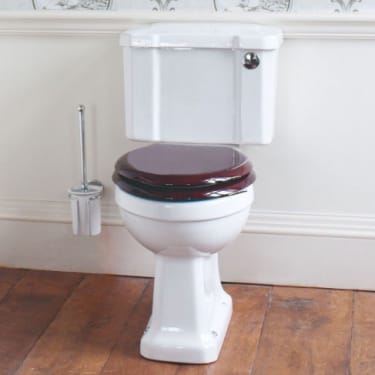 Burlington Toilets
Burlington also offers a broad selection of toilets including close-coupled, low, medium and high-level, wall-hung, and back to wall. With such a wide selection on offer, you are sure to find one that will slide straight into your bathroom. The entire range of WC's also benefits from a Nanoglaze coating making them far easier to keep looking in perfect condition for longer. All toilets also come with a 25-year guarantee from Burlington.
The range of close-coupled toilets offers a wide range of choices. With the pan there is an option of standard or regal height, regal offers additional height. This can be of great benefit to someone who has limited mobility or is less abled. There is also an option for a rimless pan which will significantly cut down on the area that bacteria can hide in your toilet. This is undoubtedly the future of toilets and is another example of how Burlington meld traditional styles with modern bathroom innovations. The last pan option for Burlington is an S Trap model. This style hides all pipework although it does mean that you will need to have your pipe going through the floor.
The other part of the toilet is the cistern, Burlington offers two options with a button or lever to operate the cistern. With the lever, there are three options for the finish with white, black, and walnut options to choose from. All Burlington close-coupled toilets also come complete with WRAS dual flush fixings. This can help you reduce the amount of water you use, saving you a few pounds on your bill.
If you are looking for something with more of a traditional feel you might prefer to go for a low, medium or high toilet. The main difference between these options is the height of the toilet. The low-level models measuring 1075mm in height all the way up to high-level variations coming in at a staggering 2380mm high.
The pan selection offers the same selection as the closed-coupled options apart from rimless only being available in the medium-level option. The medium-level WC also has the option of having it as in either White or Medici pan and cistern as well as the standard white.
With the cistern, the low and medium-level variations are available ceramic white with the same options as the close-coupled WC. However, with the high-level, you have the choice of a selection of finishes with white ceramic, aluminium, white aluminium, and chrome options available. It is even possible to have a high-level cistern with an angled flush pipe to suit oddly shaped bathrooms or add an extra level of visual interest to your bathroom.
No toilet is complete without a seat and Burlington doesn't let the quality slip here. The selection of styles and finishes available will leave you overwhelmed with your choices. There are currently 10 finishes available these include all four finishes of Burlington's furniture range. It is also possible to have your toilet seat as soft-close giving your toilet a luxury feel. If you are looking for a real period feel, consider the solid wood throne seats that come complete with ornate brackets.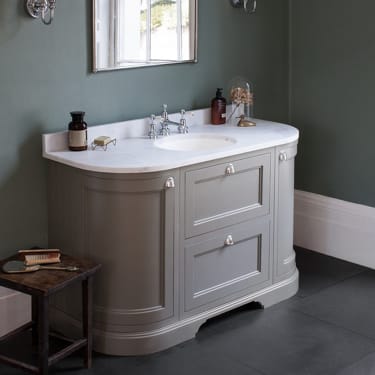 Burlington Furniture
Made from the finest material the furniture offering from Burlington can make for an eye-catching centrepiece. With a 10-year manufacturer guarantee, you really can't go wrong.
The entire offering is very feature-rich with extruding quality every piece of furniture being meticulously prepared with 5 layers of primer. Another benefit of this finish is UV stabilization that will mitigate any colour fading that could occur over time from sunlight. After this, a topcoat is applied to give your unit a premium finish.
The entire Burlington furniture offering is available in 4 distinct finishes with matt white, sand, dark olive, and classic grey variations available. This consistency in finish across all product lines help you tie together a bathroom with a very luxurious vibe.
It is also possible to have your bathroom furniture painted any colour you wish. The matt white option comes ready to be painted. If you are looking to create an interesting feature adding a splash of colour or match in with your current decor Burlington has you covered. It's recommended to start with a water-based primer followed up by an eggshell paint for the best effect.
With Burlington's vanity units you have the choice between freestanding or wall hung. Regardless of the size of bathroom you have, there is a suitable vanity unit to suit. They are available in all sizes ranging from cloakroom units at 510mm wide all the way up to an astounding 1340mm.
Colour is not the only way Burlington's furniture can be personalised with many models having the option of doors or drawers as a storage option. This allows you to have the ideal solution for your needs. Both the doors and drawers are soft close and can be fitted with motion-activated internal lighting keeping that premium vibe going. If chrome handles don't suit the style of your home nickel options are also available.
The larger vanity units have variations which are curved or rectangular with sharp corners. The softer corners on the curved units can contribute to a more contemporary feel in your bathroom. Particularly when paired with a Minerva worktop which elegantly pulls it together.
The Minerva worktops are crafted in 3 contemporary finishes with a White, Carrara White and Black Granite options available. These worktops come with many benefits which include not requiring any specialist cleaning with the majority of dirt being able to be removed by a damp cloth with soapy water.
Other benefits of Minerva worktops include being non-porous. This means unlike alternatives such as granite or marble Minerva is resistant to most household chemicals that can lead to damage and discolouration.
Also, the worktops are supplied with an integrated basin, with either single or double options available depending on the size of the unit. This can keep that minimalist, clean theme going across your bathroom.
There are no tap holes predrilled on the worktop, it does, however, come with templates for drilling the holes on site. These templates indicate the size and position of the tap holes. As it doesn't come with the holes pre-drilled, it makes no assumptions about how you will install the taps in your home. This means you would be able to go for any style to suit, even wall-hung which would add a very contemporary edge.
If your worktop does happen to get damaged, you will be able to buff out all tiny scratches and scuffs with the Minerva care kit. The kit comes complete with everything you will need for sanding/buffing your worktop back to perfection.
These worktops are also available in 1200mm lengths without the basin inset. This is ideal if you would like to have that same premium finish across many surfaces in your bathroom.
Also, in the furniture range, there are a broad selection of wall hung cabinets, base units, and WC units. Everything in this section is still available in the same range of finishes to keep that style consistent. One benefit of this selection is that the units can be combined together to create a bespoke storage solution for your bathroom. There are also units within the range that have a mirrored door, this can save you from having to leave space on your wall for a mirror instead of having even more practical storage.
If you would prefer a mirror instead Burlington does offer a selection to suit bathrooms of all sizes with models 600, 900, and 1200mm wide. The finish of the frames is also available in the same matt white, sand, dark olive, and classic grey. If you would rather have a bit more light in your bathroom these mirrors are available with LED illumination in all the same sizes.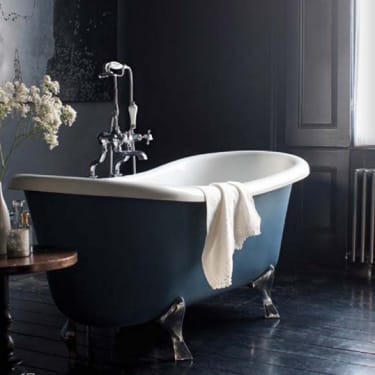 Burlington Baths
The bath in your home is a place to relax after a long day and can be an attractive centrepiece in your bathroom. Burlington offers a wide range of options to suit with a broad range of styles available. These include single-ended, double-ended, slipper, corner, roll-top and standard models within their collection. Each of Burlington's baths comes with a generous 10-year guarantee. If you have a large space available in your bathroom or are keen to fit a bath into a smaller room there are models available to suit. For example, the London Round measures a spectacular 1800mm in length. This bath will make a bold statement in your home taking pride of place in any large bathroom. On the other end of the scale, the Hampton comes in at 1500mm in length and fits in a corner. This not only saves on space with length but as it is positioned in the corner of the room you will not need space around the bath.
Selecting a bath is another area where you can add a modern vibe to your bathroom with models such as the Bateau able to have its exterior painted with any acrylic-based paint. Adding a dash of colour to the outside of this bath can give your bathroom a bit of personality or help it slide into your current decor.
When it comes to material many of these baths are made from TSFR acrylic. This material is acrylic mixed with stone resin. This makes for a very durable bath again showing the outstanding level of quality that you would expect from Burlington. Another benefit of this material is that it is far lighter than a stone bath coming in at around 60% of the weight. Burlington's range of TSFR baths weight between 39-60kg. This can make a real difference when you are trying to get your bath into the right space in your home.
There are also options which are made from ClearStone with the Balthazar taking pride of place within the range. Although this bath does weigh more, it also extrudes quality. It's made from a ClearStone interior and stainless-steel finish. The bath can be finished with a black or white powder coating or just have the stainless steel. The Balthazar is a truly impressive model.
If you have opted to style your bathroom around Burlington's stylish furniture finishes you also have an option to have your bath suit. The Arundel offers a premium bathing experience with 2 sizes available which are 700 & 750mm in length. It also needs to be fitted with a combination of front and side panels depending on how you wish to install it. The panels come in all four finishes the same as the rest of Burlington's offering helping you maintain that consistency.
Many of these baths also require bath feet. Burlington offers 18 options for your bath with luxury and standard models available. Each of these styles comes in 3 distinct designs which are all available in black, white, and chrome. Again, really opening the range of options available for your bathroom.
Burlington Taps
Selecting the ideal brassware for your traditional bathroom can be a challenge. Burlington's brassware selection offers an extensive range which without a doubt has a tap that will be the perfect finishing touch to your bathroom. All the brassware comes with a 10-year manufactures guarantee covering you in case of any manufacturing faults or defects.
The first way that you can personalise your new tap is with the tap head. There are four variations available which include Claremount, Birkenhead, Anglesey, and Kensington. One of these styles will suit any type of traditional bathroom. Also, with the tap head, there is a choice of finish with white or black. The Kensington model also has a walnut option. This can help you find a tap that slides straight into your bathroom.

The tap heads also have the option to be either traditional screw-down or quarter turn. The quarter-turn is another example of how modern bathroom innovation can be combined with classic styling. The Kensington taps are only available as quarter turn.
All brassware comes with two Neoperl devices. These include a flow straightener which is used for lower pressures and an aerator which will be used for higher water pressures. Burlington is also the first traditional brand to introduce water-saving features within its taps despite the varying pressures.
The entire brassware collection is also innovative by design with taps delivering the maximum flow regardless of the coming water pressure. Basin taps run at 13 l/m, bath taps are 14 l/m, & bath shower mixers run at 22 l/m.
The basin taps offering come in one, two, and three tap hole variations. The one-tap hole options again bring together contemporary and traditional features to provide modern functionality that will not appear out of place. Burlington's pillar tap offering keeps that classic vibe with a truly traditional solution. There are also 2 tap hole option which flows through one spout giving you the best of both solutions.
With the bath taps, there are models that are wall or deck mounted. So, if your bath cannot support rim-mounted taps it will still be possible to add that traditional flair to your taps with a wall-mounted variation.
Throughout the entire selection of brassware, there is a 'regent' option. This adds an extra 3cm to the base of the tap and can give your bathroom a little extra personality.
If none of the other tap head options appeals to your style, there is a 5th option with Burlington's Chelsea range. This range of taps is not compatible with the rest of the tap offering's tap head choices. It can, however, have its lever finish as either white, black, or walnut and come with a choice of curved or straight spouts.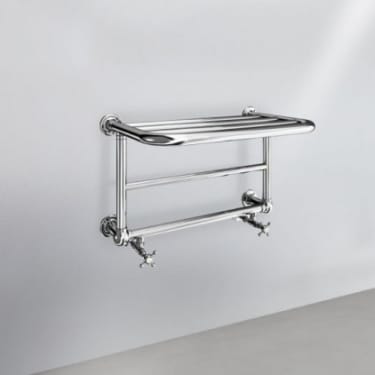 Burlington Heating
Burlington also does offer a range of radiators and towel rails. Whilst it is not as broad as their other categories it offers a selection that will add a premium finish to your home. With the radiator, there are options available that are white or black. This could make it far easier to tie your bathroom together with the Jet collection. With the exception of the Strand, every model can be fitted with extra fittings to turn it into dual-fuel allowing it to warm your towels all year round.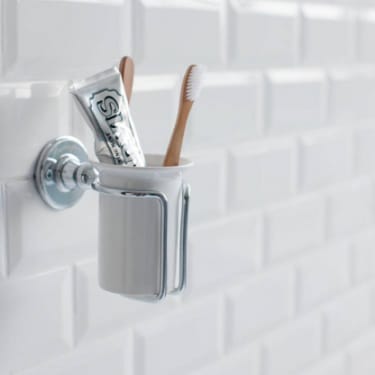 Burlington Accessories
No bathroom is complete without accessories. If you have gone to the effort of styling your ideal traditional bathroom full of premium good the last thing you will want to do is cut corners on the finishing touches. Burlington offer everything you might need from shelves, soap dishes, and rails to toilet roll holders and robe hooks. All finished with period styling. There is a section of accessories that are available in either black or nickel finishes are well as the standard white. Again, making it far easier to finish off your new bathroom. They also come with an outstanding 10-year guarantee.