Britton
Offering high-quality products packed with clever features, Britton is the perfect example of a bathroom brand that proves you don't have to choose between style and practicality in your home: you can have them both. read more
Britton
Offering high-quality products packed with clever features, Britton is the perfect example of a bathroom brand that proves you don't have to choose between style and practicality in your home: you can have them both. With their wide ranges of innovative products for the whole family, you'll find they offer elegant styles and timeless colour combinations that match every taste. They're also practical. With many different configurations, shapes and sizes, you'll easily find products to fit your bathroom, whether it's furniture, a bath, basin, toilet or tap.
Whatever piece you're looking for, you'll also discover Britton's high standard of production and manufacturing creates a first-rate product made from superior materials. Solidly-constructed furniture features fibreboard sourced from sustainable forests and drawers made of solid wood, while all baths utilise naturally slip-resistant LUCITE acrylic sheet in their moulding. Even Britton's Zamori shower trays are created using an anti-bacterial zeomic agent that protects against bacteria and mould growth.
When all is said and done, a bathroom created around Britton products will exemplify elegance and performance while providing a contemporary solution that makes your bathroom effortlessly stylish and easy to use and maintain.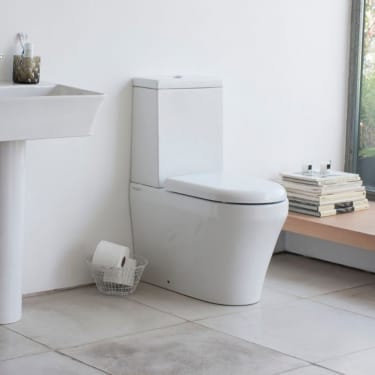 Britton Toilets
Toilets are one of the most-used pieces within a bathroom, so their designs must perform above all else. Britton's WC collection does just that while also offering a contemporary look that is clean and understated, whether close-coupled, wall-hung or back-to-wall.
On select Britton toilets, you'll find a unique NANO Glaze coating that strikes this balance perfectly. The ultra-smooth surface provides a high-shine finish that looks great but is also six times smoother than standard ceramic, making cleaning easy and maintenance low. Paired with the rimless design on Sphere, Milan and Shoreditch models, proper hygiene is easily achieved.
For every size and shape of bathroom, Britton also offers toilets that suit the space. In the MyHome collection, you'll find short projection toilets that help maximize the space in smaller bathrooms without compromising function or style. The Compact WC also offers smaller dimensions in close-coupled, back-to-wall and wall-hung designs. But when space allows for it, there are designs to accommodate a larger bathroom and even larger people too. The TALL collection includes toilets that sit a little higher than standard WCs for added comfort when used by tall, elderly or differently-abled people.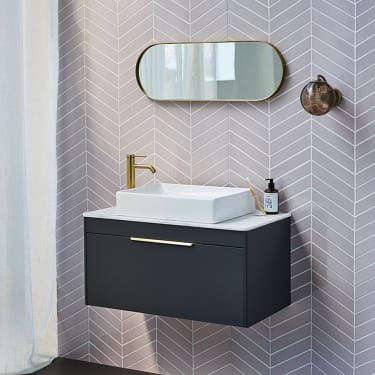 Britton Basins
Much like Britton's range of toilets, their selections of ceramic basins will appeal to all tastes, bathrooms sizes and installation specifications. Whether semi- or full pedestal, wall-mounted, semi-recessed or countertop, Britton's basins are available in six simple shapes that all allow for the mixing and matching of Britton's other products, like taps and wastes.
The Fine Basin style offers a large rectangle bowl while its similarly angular counterpart, the Cube Basin, is more compactly designed with a square bowl. The Curve Basin and Compact Basin offer a rounded look while also considering bathroom size.
The real space-savers, however, are the thin-rimmed Milan Basin and MyHome Basin. The perfect solutions for especially small bathrooms, these models are available in semi-recessed and cloakroom designs that can be installed into a countertop or make use of otherwise neglected corners to ensure every inch of the room is utilised efficiently.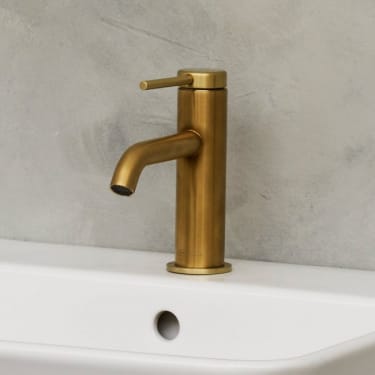 Britton Taps
Designed to complement Britton's basins and baths, their selection of taps and brassware can be seamlessly integrated to enhance look and function easily.
Because all Britton basins feature a 1-tap hole design, their single taps can be mixed and matched to achieve the exact style you're aiming for. The basin mixers from the popular Hoxton range, both standard and tall, offer up a simple yet elegant shape that is available in three different finishes: Matte Black, Chrome and Brushed Brass. The MyHome basin mixer and mixer mini offer similar functionality in a smaller package. Designed to adorn the space-conscious MyHome basins, they're shorter and project less to fit the small bowl.
Britton's selection of bath taps offers a bit more diversity but sticks to the same principles as all of the brand's other products: practical, stylish designs that serve to complement your bathroom. Like the basin taps from the same collection, the Hoxton bath/shower mixer, floor-standing mixer and panel valves feature a modern design available in three finishes, though each is designed to work with a specific bath.
Other offerings include the compact MyHome filler and mixer, as well as Britton's more streamlined single lever bath filler, deck-mounted bath filler.
Britton Furniture
Created specifically with the bathroom environment in mind, Britton furniture is manufactured to the highest standard and features solid construction using some of the finest materials available. Each piece is designed to be water-resistant and strong enough to hold up to years of use while also maintaining its aesthetic charm.
Both floor-standing and wall-hung basin units perform the same function but you'll find their differences allow for more versatile installation depending on your bathroom size. Floor-standing models include more under-basin storage and are available in concealed or closed designs depending on your space. The Shoreditch furniture stand and basin unit, for example, comes in four different sizes ranging from 600mm to 1000mm and is finished in black. Conversely, the MyHome cloakroom basin and floor standing units provide storage even with space constraints.
The wall-hung basin units from the same Shoreditch range, on the other hand, are available in multiple sizes and drawer configurations, each available in one of three different finishes: Matte Blue, Matte Grey and Caramel. These finishes offer a beautifully bold and dramatic contrast to the white ceramic of Britton's toilets, basins and baths, and help make the brand's furniture stand out.
Britton's selection of fitted furniture is also designed to match up perfectly with their other products to provide extra storage and maximize space. Semi-recessed basin units are designed with Britton basin dimensions in mind and their tall unit is the perfect choice for large bathrooms.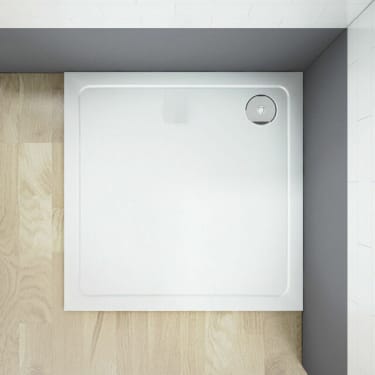 Zamori Shower Trays
To line the bottom of your shower, Britton offers their Zamori line of shower trays that feature a wide variety of benefits to enhance your bathroom and ensure safety and hygiene.
Made with an anti-bacterial zeomic agent, Zamori shower trays are inherently anti-microbial and help protect against harmful bacteria while also suppressing the growth of mould. Not only does this protect you, but it also helps cut down on cleaning and makes your shower much easier to maintain.
Zamori shower trays are also safe thanks to their anti-slip finish. Swiss Grip Antislip is thermo bonded to the tray to ensure durability and it's this material that ensures the tray complies with DIM51097 class C – the highest anti-slip rating.
Beyond the surface, you'll find Zamori trays are manufactured with durable, high-quality materials that help reinforce their shape. With an outer layer of acrylic capped ABS, followed by a bonding layer and thickness control pad, it's the steel frame structure at the centre that ultimately ensures it will hold up to daily use for years to come.
You'll also have the option to install the tray flat on the floor, sunken into the floor or raised above the floor, depending on your accessibility needs. And with over 150 models to choose from, each with a different size, shape and dimensions, there's one for every shower type.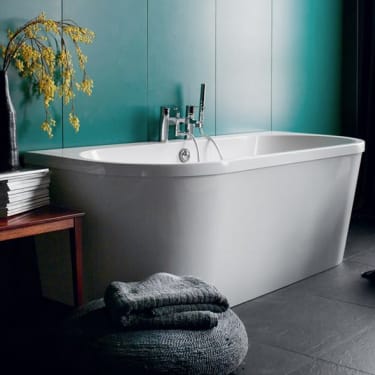 Britton Baths
With a total of 47 models across all designs, there's no shortage of choices when it comes to Britton baths either. Whether you prefer a single-ended, double-ended, showering or freestanding design, each is made in the exclusive high-strength Cleargreen format. Unlike the cost-effective Clearline format that's available in only the most popular Britton bath models, Cleargreen baths include an 8mm reinforcing rod and additional Cleargreen reinforcement for maximum durability.
High-quality materials aren't just used at the centre of each bath. On the outermost layer of each design, you'll find 5mm LUCITE acrylic sheet that is naturally slip-resistant and strong. Floor-mounted leg fixings also help keep the base of the baths stable and able to adjust to uneven floors.
As far as styles go, Britton offers some variety in each bath type. For example, The Sustain single-ended model features a modern square design while the single-ended Reuse model features a more contemporary curved back for additional comfort. The same can be said for the Enviro and Verde double-ended bath with the latter offering a rounder shape the fits the contours of the body for a truly relaxing bath.
Showering baths are available in several different shapes and each takes advantage of the offset design to help maximize bathroom space. The EcoCurve, EcoRound and EcoSquare all offer something different aesthetically and can be combined with a bath screen and shower/bath mixer to complete the unit.
No matter the shape or size of your bathroom, you'll find a bath, basin, toilet or furniture from Britton that will make it functional and beautiful at the same time.