Crosswater
In their over 20 years of bathroom design and innovation, Crosswater has established a tradition of excellence that can be seen throughout their collections of premium products and in homes across Europe and the UK. read more
Wall, floor and deck mounted bath taps, we have a vast range of styles colours and finishes available you can even get matching bath and basin taps

Crosswater
In their over 20 years of bathroom design and innovation, Crosswater has established a tradition of excellence that can be seen throughout their collections of premium products and in homes across Europe and the UK. Offering a complete bathroom solution, their influence extends beyond just one element of design and instead, helps to create a cohesive bathroom space, whether it's modern and cutting-edge or traditional and timeless.
As a one-stop-shop for fixtures, furniture, brassware and more, Crosswater's diverse yet distinct products are functional without sacrificing beauty. Made from the highest quality materials and crafted using state-of-the-art technology and time-honoured manufacturing techniques, the results are nothing short of exquisite.
With the goal of achieving perfection and an end product that best reflects their trademark service, Crosswater's luxury designs have made them a leading supplier of premium products in Europe and one capable of elevating every bathroom space. With no shortage of unique showers, baths, basins, toilets and even more bathroom fittings, Crosswater products can help create seemingly endless design possibilities within your bathroom space to turn it into a room worthy of showing off.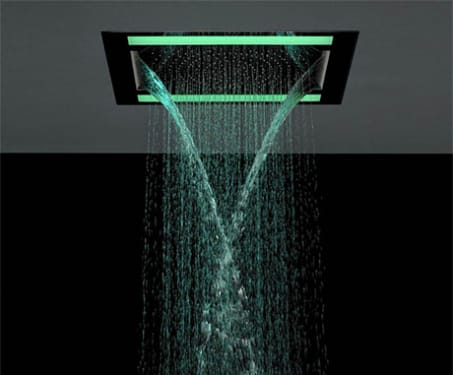 Crosswater Showers
From enclosures and wet rooms to valves and accessories, Crosswater offers a wide range of shower solutions for the modern bathroom. Their Crossbox design perfectly exemplifies this marriage of style and innovation and can effectively future-proof your shower once installed. A concealed thermostatic shower valve, Crossbox features all the benefits of Crosswater's standard recessed valves while adding a level of inventiveness that sets it apart from others like it. Available in a 2-outlet design that allows each to work either independently or at the same time, as well as a 3-outlet design that's more compact and space-saving than other comparable valves, Crossbox works to enhance almost any shower. It's also one of the quietest solutions you'll find for your bathroom thanks to its added sound and waterproofing capabilities. When the time comes to make a change, Crossbox is also easily upgradeable as technology develops so you can stay current and fitted with the latest advancements in shower tech and design.
On top of it all, Crossbox trim finishing kits are available in Atoll, Marvel, MPRO and MPRO Industrial, making it a universal valve that can fit in with most Crosswater collections and your new or existing bathroom decor.
MPRO is one of Crosswater's most popular collections and it offers sleek, minimalist designs suitable for nearly any modern shower. Choose from individual showerheads and handsets, as well as dedicated shower kits, that offer forward-thinking design choices and simple, understated lines for the ultimate aesthetic. Crafted from high-quality, durable materials, the feel and function of the brassware in the MPRO collection is matched only by its aesthetic to create an enjoyable and luxurious showering experience right in your home. Available finishes include polished chrome, polished nickel, stainless steel, brushed brass and matte black. When used in your shower, the MPRO collection of valves and showerheads can help accentuate the beauty of your bathroom and provide an accent that speaks to the precision and attention to detail found across all Crosswater products.
Like MPRO, Crosswater's Kai collection features beautifully designed shower kits and trays that make a strong case for quality materials. Where the MPRO collection chooses minimalism and simple, flat finishes, the Kai collection instead opts for a highly-polished look that is sure to brighten up every shower and offer an added touch of sophistication. Choose from showerheads, valves and handsets that feature the same level of innovation that all Crosswater products do and benefit from their latest advancements. Push-button technology, for example, allows you to control water temperature and flow with precision, whether you choose a single or double outlet option. When all of these elements are combined, they create a bathroom environment that caters to your every need and one that looks luxurious and elegant while doing so.
Furthermore, shower trays available in the Kai collection are made from durable, long-lasting materials and feature a complimentary aesthetic that fits in alongside the most superior bathroom products.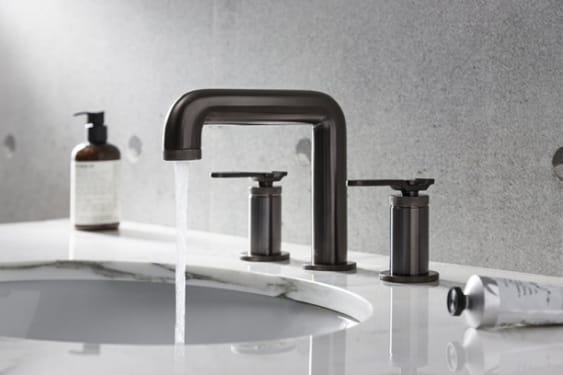 Crosswater Brassware
Regardless of which fixture you're outfitting, you'll find brassware that features the outstanding materials and design aspects you've come to expect from the Crosswater brand. The MPRO collection, in particular, has been engineered to combine the best of function and precision, while also featuring some truly unique touches. In addition to modern finishes like brushed brass, matte black and polished chrome, the MPRO collection also features finer details in some of its products, like a trademark knurled finish. Available on the basin monobloc tap, for example, it adds a tactile sensation not present in other finishes that further highlights its state-of-the-art design elements.
Beyond this one tap design, you'll see there's a lot to love about the wide variety of Crosswater's brassware range. For baths, showers, basins and more, you can choose from taps that feature 1, 2, 3, 4 and 5-hole designs, bathroom mixers, showerheads and more to complement your modern bathroom style. With most finishes available for each of these components, you'll have no problem achieving superior flow performance and a winning aesthetic.
In the same way that MPRO products serve the looks and styles of the modern minimalist bathroom, Crosswater's Belgravia collection features traditional designs that class up any fixture with elegant lines and popular finishes. Unlike contemporary brassware, the Belgravia collection provides a sense of sophistication in its designs that incorporate intricate shapes and exposed plumbing. Though the technology throughout these traditional components offers advanced innovation, the styles remain consistent with expertly-crafted, hand-polished brassware.
Whatever your basin, bath or shower type, the Belgravia collection features brassware that's made to fit your fixture. Single and multiple-hole basin styles can benefit from the polished and detailed look of Belgravia taps and, unlike the simplified design of modern Crosswater brassware, you'll find the additional flourishes in this collection lend themselves to traditional bathroom schemes. Inscribed indices and white lever handles, for example, will elevate the typically-polished chrome or brass finish of each tap and highlight the brand's attention to detail and dedication to their craft.
Thermostatic shower valves and sets also offer this classical approach to design and you'll find they create a seamless theme across your entire bathroom when combined with other Belgravia brassware. For completists, their range of towel bars, towel rings and mirrors in the same collection will also help to tie your bathroom together and provide a level of consistency in both style and quality that help place it in the premium category of bathroom fixtures and furniture.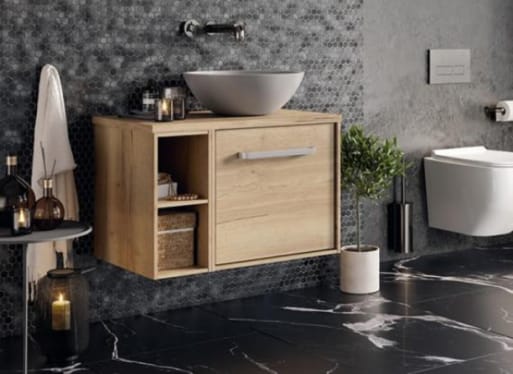 Crosswater Furniture
Bath design isn't limited to fixtures or brassware, so it should come as no surprise that Crosswater takes every opportunity to extend its influence and product lines as far as possible in order to create a complete bathroom solution. Beyond basins, baths, toilets and showers, Crosswater has designed and crafted furniture that takes every bathroom to the next level while keeping things simple and elegant. The Infinity collection is an excellent representation of what Crosswater can do with otherwise ordinary items, turning what is normally an afterthought into a work of ingenuity. With their line of wall-hung storage furniture, Crosswater invites you to build your perfect piece in just three easy steps: choosing a modular base, adding your preferred worktop and hardware, and including an optional drawer. With varied possibilities, it's a collection that's true to the Infinity name and Crosswater's goal of achieving perfection without limitations.
The Svelte collection builds on the streamlined, simplistic designs of the Infinity collection, offering more storage, more space and simply more to look at – with curves and shapes that are bold and contemporary, Svelte furniture is striking yet minimalist while retaining the same level of quality seen throughout the brand's extensive product range. Available in a variety of wood finishes and basin or worktop combinations, the Svelte collection allows you to take chances without risk – you can effectively push the boundaries of style while still reaping the benefits of a premium product designed by experts who aim to please.