Merlyn
Innovative & design-focused, Merlyn is the leading shower enclosure supplier in the UK with a mission to do just one thing: provide its customers with the ultimate showering experience. Through its passion & focus on design & craft, Merlyn has developed a collection of products that showcase its continued level of excellence and its reputation for attention to detail. read more
Merlyn
Innovative and design-focused, Merlyn is the leading shower enclosure supplier in the UK and Ireland with a mission to do just one thing: provide its customers with the ultimate showering experience. Through its passion and focus on design and craft, Merlyn has developed a collection of products that showcase its continued level of excellence and its reputation for attention to detail. In the 17 years since its establishment, Merlyn has never sacrificed its integrity to meet the demands of its commercial success, but instead, doubled down on its commitment to providing shower enclosures and trays made with only the finest sourced quality materials and manufactured to the highest standards. Expertly engineered and rigorously tested, Merlyn products offer mid to high-level luxury with effortless ease to give its customers the shower of their choice and the satisfaction they deserve.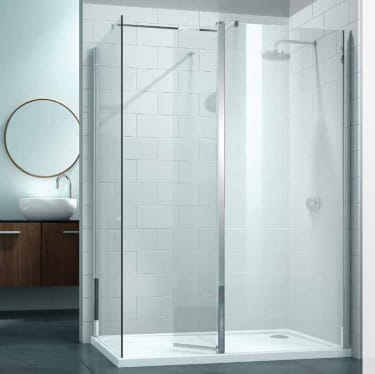 Merlyn Series
In order to meet the demands of its diverse clientele and to cater to all tastes, Merlyn offers a number of ranges within their varied collections. Merlyn Series marks the brand's signature collection of premium shower enclosures, trays and bath screens and promises the ultimate showering experience.
Merlyn 10 Series is the collection's flagship range and it stands out for its luxurious style and elegant lines, designed to fit any space. What sets it apart, however, are the unique characteristics that take it to the next level in terms of quality and space. With a height of up to 2100mm, for example, Series 10 is expansive and accommodating when showering and highly accessible for all. The glass used in the range also adds to the atmosphere but offers more than just a sleek and modern design. With a thickness of up to 10mm, the safety glass is durable and tough, providing a quality feel and unique colour options, such as a smoked black tint. As the weight of Merlyn shower doors, you'll also recognize 10 Series' high level of quality in its choice of handles and quiet glide wheels. Both finished in chrome and integral to the design, they offer easy access to the enclosure and ensure you can open and close it with minimal effort.
Another range in the Series Collection is the popular Merlyn Series 8. Available in both a standard and frameless design, Series 8 works on a number of different levels and offers homeowners the choice between defined lines and an ultra-modern aesthetic. As a happy medium within the collection, you'll find the 8 Series to be both stylish and functional with a great deal of focus on the tactile sensation of its use and the unmistakable feeling of quality. Choose from a number of different enclosure and door styles to suit your bathroom dimensions perfectly – from a pivot door for recess and corner locations, to a sliding door with a smooth rolling action thanks to the easy clean double rollers. Tailoring the enclosure to your space is also possible thanks to Merlyn's range of inline panels that can be added to standard enclosures to give you the option for almost any width, from 650mm to 1900mm.
For a unique look, the 8 Series Frameless models offer a more daring aesthetic and one that looks and feels modern and minimalist. Stylistically, it may offer a simple approach but practically, it still provides the quality and durability you'll find in the standard series.
Finally, the Series Collection is rounded out by the Merlyn 6 Series range. As its name suggests, you'll find 6mm thick glass and similar spacial dimensions to those of the 8 Series. It also features Mershield Stayclear – a protective coating for your glass shower enclosures that is featured throughout the collection to make cleaning easier and to keep your glass shining.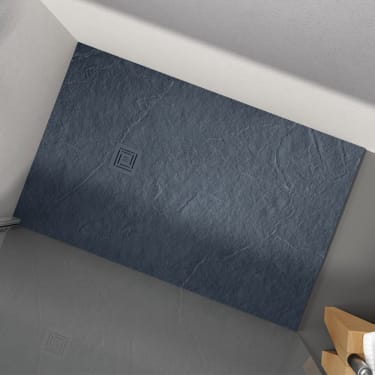 Merlyn Truestone
To supplement Merlyn enclosures and complete the look and feel of quality, Truestone shower trays offer a natural element that enhances the visual elegance of your bathroom while also providing a luxurious texture and feel. Available in five different finishes – White, Grey, Black, Fossil, Graphite and Sandstone – and made from high-grade stone resin, there's no doubt you'll find one that can complement your decor and maintain the modern and clean aesthetic of your Merlyn shower. With a 30mm low profile that stays true to the designer finish of a bathroom on the cutting edge, you'll find a Truestone Merlyn shower tray offers an incredible difference with very little effort, even noticeable in the discreetly-integrated 90mm fast flow waste.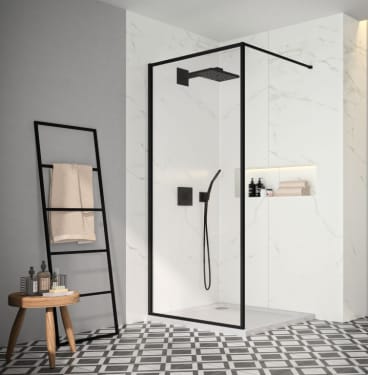 Merlyn Black
As another example of Merlyn's focus on design and innovation, the Black range highlights the brand's unique vision when it comes to showers and how simple design choices and colour palettes can elevate a bathroom. Shower options in the Black range offer stunning frameless and framed designs that highlight the contrast in any space and adds a touch of class in a simple way. Featuring anodized aluminium with a matte black finish, the Merlyn Black range is sleek and sophisticated and a departure from most other showers within the same categories. The finish also offers increased durability when compared to standard powder coatings and comes with Merlyn's lifetime guarantee.
As for the designs of the showers themselves, homeowners will find a number of different style options that vary in their accessibility. Sliding door and hinge and incline models stay true to most enclosure designs while framed and frameless showerwalls offer more open concepts that create space, are suitable for wet rooms and can act as modern statement pieces.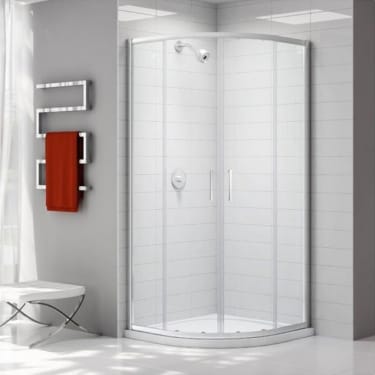 Merlyn Ionic
Built to last, the Merlyn Ionic collection is a testament to Merlyn's fusion of style and substance. Featuring shower enclosures that not only look beautiful and sleek but are also engineered with precision, homeowners will get the best of both worlds with an Ionic shower enclosure.
Essence is Ionic's range of framed enclosures featuring sliding door, 1 and 2-door quadrant, pivot and bifold designs, each offering a different creative solution for every bathroom type. What they all have in common, however, is the durable materials and fixtures that hold up to regular use. The Essence Frameless range shares the same concept but features frameless designs that add to the elegance of your bathroom without taking away functionality.
The Express range, on the other hand, takes simplicity and ease of use even further. With one design featuring a low-level sliding door, it's the easiest fit system on the market and offers a creative solution for the right bathroom. Other models, like infold door and quadrant types, make use of corner locations and offer a space-saving option for smaller bathrooms looking to maximize available space. Affordable shower enclosures are also available in the Source range and a bath screen in the same range can provide contemporary protection that works well with shower baths.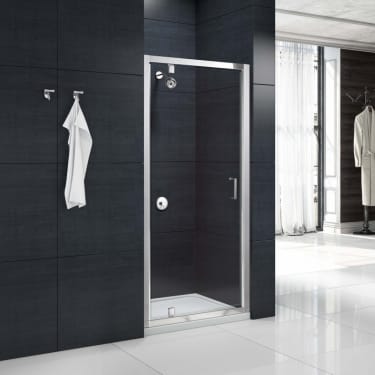 Merlyn MBOX
Ideal for loft spaces and low ceilings, the Merlyn MBOX range will make the most out of the available space in your bathroom; with a standard 1900mm height and pre-assembled fixtures, it's easier than ever to make a fit. 49 available shapes and sizes also mean you'll be able to find the best shower enclosure possible for the dimensions of your bathroom, whether that's a 1 or 2-door quadrant, pivot door or another. Like with other shower range collections, Merlyn MBOX enclosures feature Mershield Stayclear protection, making the 6mm toughened safety glass durable and easy to clean. Beyond the technical aspects, the MBOX features sleek and sophisticated frames that will elevate your space to new heights. When paired with a square, rectangle or quadrant Touchstone tray, you'll complete the look and benefit from the high-grade feel.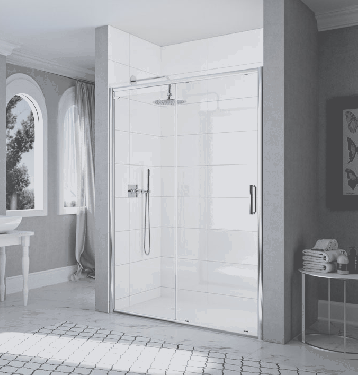 Arysto
The Arysto Collection promises the ultimate showering experience and offers it with a number of different enclosures. Like the Merlyn Series collection, Arysto also features three ranges named for the thickness of the enclosure glass – Arysto Ten, Arysto Eight and Arysto Six.
The Arysto Ten range feature's one of Merlyn's tallest enclosures, topping out at a towering 2015mm. With 10mm-thick glass and innovative Halo lighting technology options, it's one of the most sophisticated and luxurious shower enclosures you'll find on the market. The touch and feel of quality in the materials is apparent from the very first use and you'll have peace of mind knowing it's built to last.
The Arysto Eight range feature's an ultra-slim frame that's "virtually frameless". With all the qualities of a framed design, it features the same level of performance and longevity but adds an aesthetic touch to your bathroom, making it minimalistic and elegant. With a height of 2000mm, it's also one of the taller options and effectively helps create a feeling of spaciousness and room.
Finally, the Arysto Six range features 6mm-thick glass and a 1950mm height. With soft closing doors built into bold chrome frames, the Arysto Six range features a different look than the other two offerings in the collection but what it lacks in flash it makes up for in space-saving and affordability. No matter what style you choose, however, you'll be satisfied with the quality build and next-level showering experience from an enclosure by Merlyn.