Reina
Constantly innovating and continuously creating quality high-end products, Reina is the leading supplier of designer radiators and heated towel rails in the UK. Thanks to the strength of their diverse designs that combine functionality with style, Reina products help transform your bathroom environment and meet the heating needs of every interior. read more
Reina
Constantly innovating and continuously creating quality high-end products, Reina is the leading supplier of designer radiators and heated towel rails in the UK. Thanks to the strength of their diverse designs that combine functionality with style, Reina products help transform your bathroom environment and meet the heating needs of every interior.
Featuring radiators and towel rails made from some of the finest materials available, Reina's wide variety of products are created to fit every bathroom size and meet the demands of regular use. Whether vertical or horizontal, aluminium or steel, you'll find that Reina designs cater to all different tastes and specifications. Choose from a wide range of classic models and modern, energy-efficient designs to enjoy timeless aesthetics and an environmentally-conscious operation.
With over a decade of success in the market of designer radiators, it's easy to see how Reina's expertise and sophisticated product line can elevate your bathroom and improve your experience.
Reina Radiators
Conceptually speaking, radiators today remain very similar to radiators of the past: they're positioned along a wall, allow for water to pass through to heat a room and can be controlled relatively easily. What has changed, however, is how radiators are incorporated into the style of a room and how they can ultimately contribute to the look and feel of an environment. Available in several materials, colours, finishes and sizes, incorporating a radiator into your bathroom space is not only easy to do, but it's also quite beneficial.
High-end radiators from Reina take these ideas to the next level and offer unparalleled quality for the ultimate value. Not only do they heat your bathroom effectively, but they add a touch of sophistication to your home. Aluminium models, in particular, create a sense of modernity and elegance that complement surrounding decor. Fano, Fermo and Bolca models all feature Reina's high-quality vertical aluminium construction in a variety of finishes: satin, satin bronze, satin blue, white and anthracite. Not only do they look striking, but they also provide plenty of heat output at anywhere from 1650 to 4950 BTUs, depending on their dimensions.
Mild steel and stainless-steel radiators are also an obvious choice to heat your bathroom as they can more efficiently conduct heat and retain it even longer than aluminium can. There's no shortage of design choices, either. From the bold, chunky lines of the Capri, Trento and Riva to the more toned-down looks of the Serena, Vasto and Nardo, you'll have your choice of chrome and anthracite finishes to complete your bathroom's transformation. You'll also have peace of mind knowing that the efficiency of these models will allow you to turn them off and still benefit from their heat output for much longer than other styles.
Traditional radiators can also be used to enhance the classic look of your bathroom while heating a smaller space. Constructed from a combination of materials with chrome and white finishes, models like the Victoria, Alicia, Oxford and Camden fit perfectly alongside other traditional bathroom fixtures and deliver sufficient heat output for their small size.
Reina Towel Rails
Like radiators, towel rails offer a direct heating source in the bathroom. But unlike a radiator's job of maintaining optimal temperature, towel rails are designed instead to warm your towels and reduce water usage and laundry loads. Available in many different varieties, just like radiators, Reina towel rails give you the option to choose specific sizes, finishes, colours and more to suit your needs and taste.
As the perfect example, the Reina Diva comes in both Flat and Curved designs with nearly two dozen different height variations, meaning you'll almost certainly be able to find a size that fits your bathroom, whether large or small. As the size increase, so too does the heat output.
Like the standard Diva ladder rail model, homeowners can also choose from a wide range of Diva White variations. Though similar in design to the Diva, the Diva White is available in 33 exciting RAL colours, including Traffic Yellow, Mint Green and everything in between to enhance the appearance of your bathroom. The Diva Black, on the other hand, features many of the same design traits as other Diva models but opts for a slightly flatter steel design that's available in black only.
For those searching for a chrome towel rail similar to a steel radiator, the Capo Chrome Flat & Curved design offers a highly polished finish with a heat output of 914 to 2371 BTUs, depending on size.
Designer Radiators
With many standard options for radiator designs, Reina also offers designer models made from high-quality materials in shapes and sizes that break the mould and add an element of artistic flair to your bathroom space. While these designs are more adventurous, creatively speaking, they still do an excellent job of heating your room and providing a level of comfort that only Reina can.
Models like the Felino, Florina and Ginosa are steel radiators available in primarily chrome finishes, each featuring an asymmetrical design that offers a striking contrast to the more typical ladder shape. Conversely, models like the Lago 1, 2 and Breno take things in a different direction completely with smaller squared-off styles that take up very little space while still adding a touch of class.
You'll find some designer models also double as a towel rail. The Giada, for example, features a vertical design that sits out from the wall but in doing so allows for multiple towels to be hung. The Ella features an asymmetric design that can also easily hold several towels and the Elvina even offers additional towel storage with a wall-mounted top rack. When browsing Reina's line of designer radiators, you'll find there's no shortage of unique creations available to enhance and heat your home.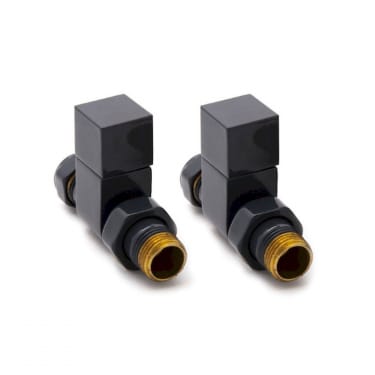 Accessories
In addition to radiators and towel rails themselves, Reina also offers accessories that aim to improve their functionality and increase their efficiency. Heating elements from Reina allow for you to heat your radiator or towel rail using alternative energy sources, like electricity. The standard heating element does just this and can be easily installed.
Similarly, you'll find Reina offers a thermostatic heating element available in three power options: 300w, 600w and 900w. With its included remote control, you can program the element for up to 7 days and select between temperature and water temperature. It can also be installed on both horizontal and vertical radiators thanks to its rotatable display. Reina also offers a touch thermostatic heating element available in the same power options.
Whichever radiator or towel rail you find suits your bathroom best, know that with Reina, you'll be able to make the most of its capabilities and save on energy costs thanks to efficient operation and varied accessories.