VitrA Shower Valves
Shower valves are capable of providing you with a personalised means to regulate temperature and water pressure with a simple flick of the wrist. Not only are these valves equipped with the latest technological innovations, but the configurations offered by VitrA are ideal if you are looking to add a touch of class within any enclosure. read more
Showing 1 - 7 of 7 items
Shower valves are capable of providing you with a personalised means to regulate temperature and water pressure with a simple flick of the wrist. Not only are these valves equipped with the latest technological innovations, but the configurations offered by VitrA are ideal if you are looking to add a touch of class within any enclosure. Let us take a quick look at what our customers can expect to enjoy.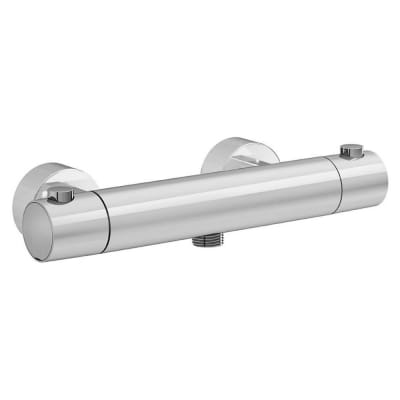 VitrA Exposed Shower Valves
As the title already suggests, exposed shower valves are unique due to the fact that the primary control mechanisms are located outside of the wall. These designs can often represent the best options in the event that you are looking to embrace a more "industrial" flavour within your bathroom. Also, it should be mentioned that servicing exposed shower valves is simple thanks to unfettered access to the various parts.
The VitrA Sento is a perfect example of how an exposed shower mixing valve can simultaneously boast beauty and functionality. Its stunning chrome accents will provide a welcome addition to any enclosure and it is ideally suited for more modern bathrooms. Or, you might instead prefer the VitrA Aquaheat thermostatic mixer. The cubist design of this model is certainly a slight departure from the norm and yet, it can be seamlessly included within an existing shower design thanks to its subtle appearance.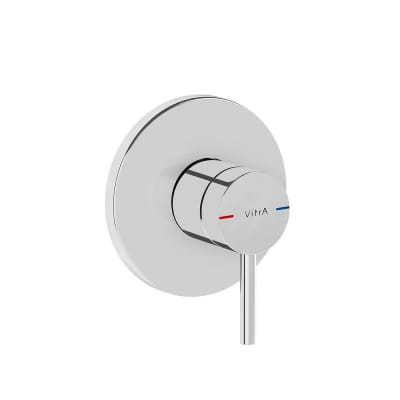 VitrA Concealed Shower Valves
While the appeal of exposed shower valves cannot be denied, what about our line of concealed valves? In this case, only a minimum amount of hardware is present to the naked eye. Some homeowners prefer these alternatives due to their decidedly muted nature. The line of VitrA Sento built-in valves perfectly illustrates the benefits that you can expect to enjoy.
One-touch controls, a flawless chrome finish and sturdy backplates are some of the features which serve to define these configurations. The concealed nature of these mixers is also great if you happen to be dealing with a limited amount of space, as they will not overwhelm smaller bathrooms. The user-friendly nature of the Sento line could likewise be a good choice if you have young children or should you be suffering from mobility issues.
All About Style
These VitrA shower valves will help to transform the appearance of any bathroom thanks to their stunning designs. Their durable and low-maintenance configurations likewise helps to ensure years of continuous use with few issues. This is one of the main reasons why all of our VitrA shower valves are backed up by an impressive 10-year guarantee. After all, it is impossible to put a price upon peace of mind.
Please note that these shower valves and mixers can be used in combination with other VitrA bathroom products such as VitrA's toilets, taps, basins, and baths. Coordination is therefore never a problem. Feel free to take a closer look at these accessories and as always, contact us if you would like to learn more or to place an online order.